Japanese honeymooners celebrate by visiting Keisuke Honda before heading off to "boom boom"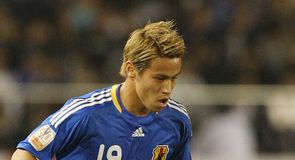 For several weeks now on the site we've been promoting the cause of VVV Venlo's superb Japanese playmaker Keisuke Honda, who is currently lighting up the Dutch Eredivisie as arguably the best player currently playing in Holland. Yet, however much we are fans of the peroxide-blonde star, our admiration for the footballer pales into comparison with that of his own adoring fans back home in Japan.
That neatly brings us on to a report from Dutch TV which found two Japanese honeymooners opting to spend their first few days of Mr. & Mrs. by travelling to meet their idol.
After speaking to the interviewer in English about trying to get to meet their favourite footballer, finally the newlyweds got to live out their dream as Honda was brought over to meet the couple and sign some autographs.
And then came the funny part of the interview.
All excited after meeting Honda, the interviewer turned back to the happy couple and asked unashamedly, "you boom boom now?" Clearly not understanding the question, the pair simply nodded their heads as the smiles were plastered over their faces.
The interview can be seen here.
---