Jamie Redknapp defends Cristiano Ronaldo for his substitution strop (video)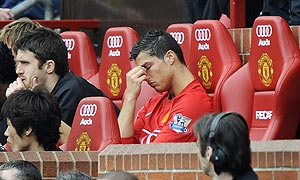 Those who have a distaste for Cristiano Ronaldo will of had their opinions crystalised by the Portuguese winger's antics yesterday. Others, like Jamie Redknapp, were able to put a different spin on CR7's histrionics after seeing Sir Alex call his number on the hour mark yesterday.
Redknapp defending Ronaldo for throwing his toys out his pram, argued that Ronaldo "has his eye on the golden boot. From a selfish point of view he wants the golden boot… He wants to play. He wants to be the best. He wants to score goals." The talking head did have the awareness however to defend Sir Alex's decision to haul off his goalscorer insisting that "there are bigger fish to fry" for Ronaldo.
Andy Cole chipped in by wondering whether Fergie would whip out the "hairdryer" or fine the footballer a couple of weeks wages, before the former United striker claimed that any disciplinary action would be kept in-house.
Analysis of the Ronaldo tantrum from yesterday broadcast on Sky Sports can be seen here.
Best football betting tips & free bet offers
Click here for more Premier League betting tips
---