James Rodriguez hits back at claims he's fat, hints a move to Man United is unlikely (Videos)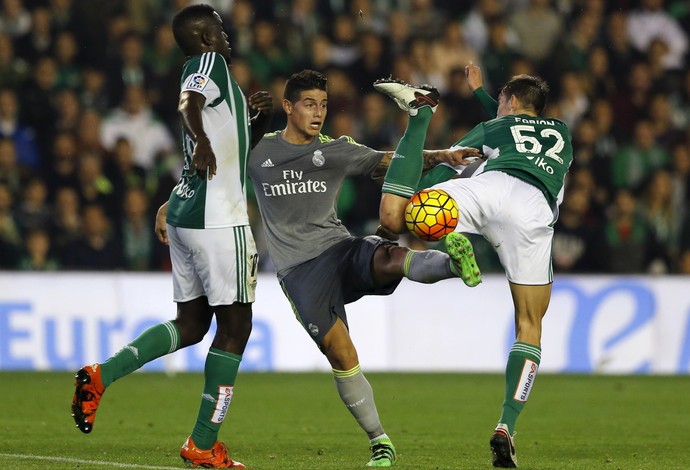 One of the stories printed in the English press over the weekend was the claim that Man United are trying to sign James Rodriguez from Real Madrid.
On Sunday night the Colombian international was back in action for Los Blancos, and he set up the goal in Real's 1-1 draw at Betis.
It's been a difficult few days and weeks for James, who has been slammed in the press for not performing for Madrid.
Indeed, he's been accused of having weight problems, while his lifestyle has also drawn criticism.
After the Betis game James spoke to the media, and he took the opportunity to hit back at his haters:
The talk really bothers me. Everyone who is close to me knows how I act and that I always look to take good care of myself. 
I'm a great professional. What's been said about me going out a lot at night is a lie. It pisses me off that people doubt me and say I am fat! I've given a lot to football and I keep giving everything every day. 
James, without mentioning Man United by name, also appeared to commit himself to staying in Spain for a while longer revealing his happiness with new coach Zinedine Zidane:
The change has been good, now we listen more to the new coach.
This happens, it's part of all this, of what football is. Some come and others go and you get along better with some than others.
Asked about an incident last week where it seemed like he was refusing to warm up, James denied it.
He also denied trying to speed away from police several weeks ago:
I didn't know that I had to keep warming up, we didn't talk to the coach. He is in charge and I have to pay attention to him.
We have a good relationship and we are talking a lot, all is well.
I wasn't going as fast in the car as they say, it was not so serious, but I ask forgiveness because one can commit errors.
Tweets and videos on the topic are below.
Zidane: "I told James he had to move, not only outside but also inside. I'm very happy with his performance. It's his first start."

— M.A.J (@UltraSuristic) January 24, 2016
James: "My dip was due to an injury this season. Patience is needed. I played to day & will pick up the pace. In the 2nd half I did well."

— M.A.J (@UltraSuristic) January 24, 2016
James: "Everything is exaggerated in the press. In any case one must ask for forgiveness after making a mistake. It wasn't that serious."

— M.A.J (@UltraSuristic) January 24, 2016
James: "It hurts that people would doubt me & say that I'm fat. That really pisses me off." pic.twitter.com/6noIeX6aBb

— M.A.J (@UltraSuristic) January 25, 2016
James: "It hurts that people would doubt me & say that I'm fat. That really pisses me off." pic.twitter.com/6noIeX6aBb

— M.A.J (@UltraSuristic) January 25, 2016
James: "Only when I got to Valdebebas did I see the police behind me. I made it clear I wasn't speeding." pic.twitter.com/HB9hDXH3Z7

— M.A.J (@UltraSuristic) January 25, 2016
Click here for more Premier League betting tips
---