Jack Wilshere doesn't think Adnan Januzaj should play for England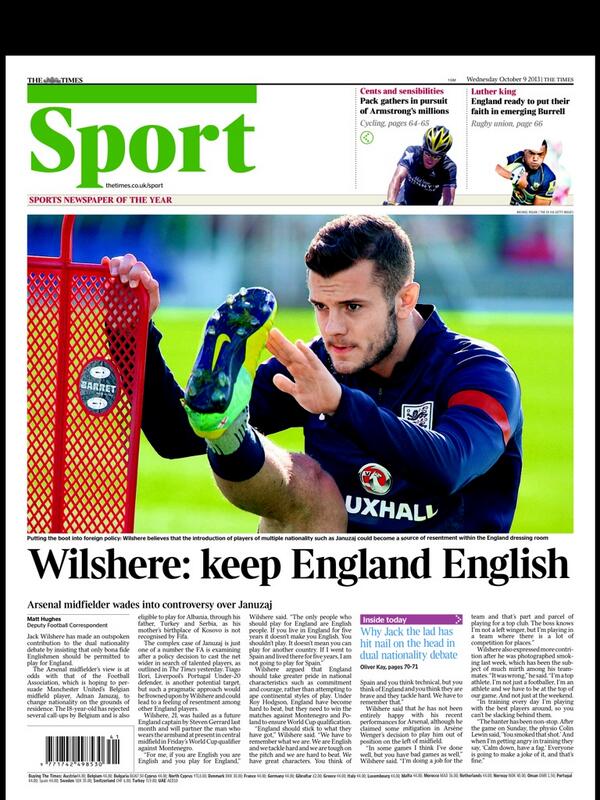 Arsenal midfielder Jack Wilshere leads many of the back pages this Wednesday morning after he was put up in front of the press at England HQ on Tuesday.
Wilshere was questioned about whether England should push to bring in Manchester United's Adnan Januzaj – which was hinted at as a possibility by Roy Hodgson after his two-goal haul at Sunderland.
As is now commonly known, Januzaj is eligible to represent Belgium, Albania, Turkey, Serbia and Kosovo, who have yet to be recognised by Fifa and could be able to play for England in 2018.
Wilshere is not a big fan of the idea: "No, for me, if you are English, you are English, and you play for England. The only people who should play for England are English people."
The England schemer added: "If you've lived in England for five years, for me, it doesn't make you English. You shouldn't play. It doesn't mean you can play for that country. If I went to Spain and lived there for five years, I'm not going to play for Spain. For me an English player should play for England really."
Wilshere was then asked whether England should have an English manager: "I think it's better if there is an Englishman [in charge], but don't get me wrong, Fabio Capello did a lot for my England career. He brought me here, gave me my debut and stuck with me form a young age, so he was a good manager as well."
---