'It's party time in Uruguay': Luis Suarez interviewed by Brazil's Sport TV post-match, bite not even mentioned!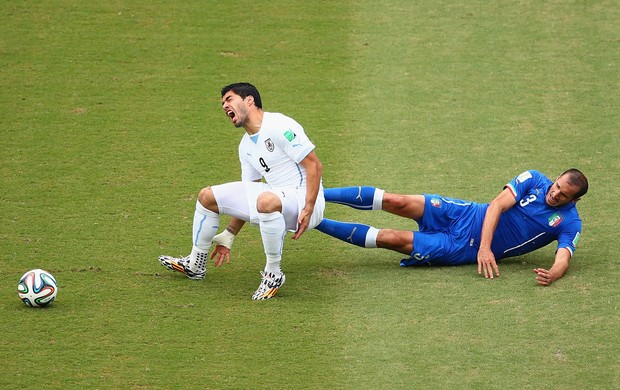 SPORT TV, Brazil's biggest sports broadcaster, and hence biggest player at the World Cup, managed to get an interview with Luis Suarez at the final whistle of Uruguays win over Italy.
And, for some unknown reason, the Brazilian broadcaster failed to question Suarez over the game's biggest talking post – his bite on Chiellini.
Instead, Suarez was interviewed as if it was just another game, and was innocently asked how he felt.
'It's party time in Uruguay,' he said.
We need to celebrate this qualification, and then start thinking about our next opponents.'
To be honest I was very tired, it was very hot out there. But we did what we had to do, we played our game and we scored the goal that we needed.'
Does this carte blanche given to Suarez corroborate with Chiellini's accusations, that FIFA couldn't send off Suarez, because they need the stars to be omni-present?
And with the Internet now inundated with literally thousands of bite pictures and memes, the picture SPORT TV used on their article is the one of the left here, a non-descript one of Suarez and Chiellini.
---
GAMBLING CAN BE ADDICTIVE, PLEASE PLAY RESPONSIBLY