Is Pep Guardiola "cracking up" ahead of the Champions League Clasicos?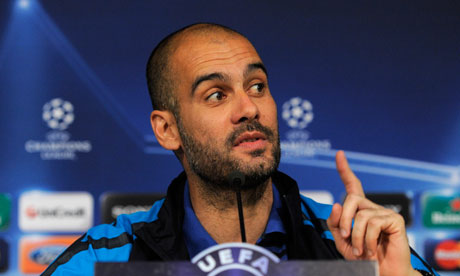 Forget the previous two Clasicos in La Liga and the Copa del Rey, yesterday may well have seen the third instalment before the semi-final first leg of the Champions League is played on Wednesday night at the Bernabeu, as Pep Guardiola finally let rip on Jose Mourinho.
The undoubted highlight of Guardiola's tirade was that he swore twice during the tirade: "In this room [Real Madrid's press room], he is the chief, the fucking man. In here he is the fucking man and I can't compete with him."
But in truth there was a long list of points made by the Barcelona coach, from the moment he sat down and started with "As Mourinho has spoken so candidly about me and spoken about me by name, and using tú [the informal form of you], then I will do the same."
First off, there is no doubt that the pressure may be getting to Guardiola. A draw and a defeat in the previous Clasicos has meant Real Madrid do have the momentum going into the Champions League games and Barcelona's defensive problems could well come to haunt them.
But, a watch of the videos shows that Guardiola was calm and measured when he spoke in his press conference yesterday. The Barcelona boss may well have been angry and "lowered himself" to Mourinho's level but this was no Kevin Keegan ranting about Sir Alex Ferguson.
And when asked if his response was just "mind games," Guardiola summed up a coach's position when he said: "What? You think my players will run around more because I looked for Mourinho's camera? It's a semi-final!"
Videos:
1. Pep Guardiola pre Champions League first leg against Real Madrid (English subtitles).
2. Pep Guardiola pre Champions League first leg against Real Madrid (English voice over).
3. Jose Mourinho pre Champions League first leg against Barcelona (English voice over).
Best football betting tips & free bet offers
Click here for more Premier League betting tips
---