Is Joey Barton the new Eric Cantona?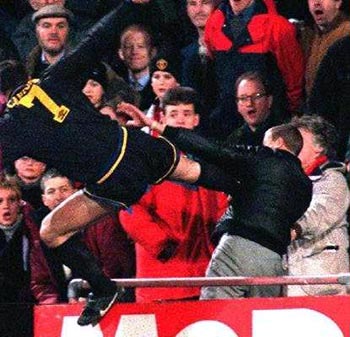 Comment & analysis round-up
Quote of the Day: "I can't wait to play against Arsenal. I've not been sleeping at the moment thinking about running out there. I've always wanted to play in a North London derby. People want to see characters. They don't always go just to watch the football, they'll come to abuse me…. [Paul Gascoigne] was my favourite player. The first shirt I ever got was a Tottenham shirt with 'Gazza' on the back. He was everything to me, a footballer who enjoyed his life and played with freedom." – David Bentley.
Runner-up: "We cannot hide the fact that we need new players. Everybody knows it. I know it, the players know it – we have to get five or six players in before the season starts. It is OK getting fit, but you have got to be able to play better. There is not enough competition for the players to realise that if they play poorly they will not be selected. We are a long way away from where we think we are going to be, but that is due to several different circumstances. We are having to use some of the lads more than we would like to, but some of them are just not playing well. Some of them are going to have to start looking at their own performances because we do not have any competition [for places]. Maybe it is a little bit easy for them. We do not have enough players to cope with what we have got just now. It is a big concern." – David Moyes.
Today's overview: Joey Barton is strung up like a piñata this morning, with everyone taking a swipe at the ex-con.
Louise Taylor reports on how the FA are planning to suspend Barton for 15 games, although Colin Young believes Barton only "faces a 10-match ban." George Caulkin claims the inside scoop on how Newcastle have disciplined their midfielder ("Barton has been stripped of other perks at Newcastle, such as a corporate box at St James' Park and the occasional use of a club driver"). While Lawrence Donegan ("Barton could do something more tangible to illustrate his determination to rehabilitate himself") and Tony Cascarino ("He deserves two punishments") position themselves as judge and jury.
David Bentley's move to Tottenham is also chewed over. Henry Winter begins to salivate over "Spurs' attack for the first day of the season at Middlesbrough on Aug 16 [with] Bentley on the right, Arshavin in the hole behind Pavlyuchenko and Luka Modric on the left." Sam Wallace tries to ratchet up some controversy claiming Bentley is unhappy with his squad number, and Wayne Veysey and Oliver Pickup, speak to Martin Keown and Justin Edinburgh about Tottenham's ability to break into the big four.
Other Premier League stories include Glenn Moore's review of the comings and goings at Craven Cottage, asking "Is Roy Hodgson's judgement better than that of Lawrie Sanchez?" Paul Little gives his verdict on Robbie Keane's move to Liverpool. Kaveh Solhekol lists Britain's 25 richest young footballers.
In the best of the rest, Gabriele Marcotti reacts to his readers' comments on a previous article in which he questioned the valuations of Ronaldinho and Ronaldo, Giovanni Spinella questions why some African players struggle to deliver their potential in Serie A and Barney Ronay has a chin-wag with England goalkeeping legend, Gordon Banks.
Finally, turning attention Stateside, Shaka Hislop blows his own horn when reacting to the the MLS All-Star win over West Ham, and Jonah Freedman talks to Benny Feilhaber about that goal in the Gold Cup final, his subsequent move to Derby County and his international aspirations.
After all the brouhaha surrounding Newcastle's home welcome for Joey Barton, Louise Taylor (Guardian) reports on how the FA are planning to suspend Barton for 15 games for his assault on Ousmane Dabo. "Newcastle are furious and privately suggest this represents a tentative form of double jeopardy. However, the FA can cite countless examples whereby workers have been disciplined independently by their professional governing bodies after the resolution of criminal actions… With the FA running a respect agenda and public outrage growing at Newcastle's refusal to sack Barton – who was released from prison on Monday after serving time for a separate assault – sanctions threaten to be severe. Significantly, any amateur footballer whose livelihood did not depend on the sport could expect a lifetime ban in similar circumstances."
The Daily Mail's Colin Young claims that Barton "faces a 10-match ban for his attack on former Manchester City team-mate Ousmane Dabo after the FA yesterday charged him with violent conduct. He could also be hit with a fine of more than £75,000 for the training ground assault on Dabo, who was left unconscious… Astonishingly, Newcastle, who have faced widespread condemnation for their decision to stand by Barton, contested the announcement from Soho Square."
Reporting on the Barton story for The Times, George Caulkin claims the inside scoop on how Newcastle have disciplined their midfielder. "The Times can reveal that Barton has been stripped of other perks at Newcastle, such as a corporate box at St James' Park and the occasional use of a club driver, but the English game's governing body insists that football must have a role in policing itself. The 25-year-old was recently given a four-month sentence, suspended for two years, ordered to pay £3,000 compensation and to perform 200 hours of community service as a result of the Dabo incident."
Lawrence Donegan (Guardian) adds his two cents, claiming Barton's behaviour has failed to win back the support of the public. "Barton is a changed man, his supporters say, but we have heard that before so forgive us our scepticism. Forgive us, too, for suggesting that Barton could do something more tangible to illustrate his determination to rehabilitate himself, be it financially or by making some kind of contribution to society. All we know is that he hasn't had a drink for seven months, gave £25,000 to charity and refuses to take a pay cut from £65,000 a week to 30 grand."
Tony Cascarino (The Times) comes out all guns blazing, citing precedent to argue the that FA were right to punish Barton. "The FA imposed bans on Eric Cantona, John Hartson and Ben Thatcher for their violent acts. What's different here? That Barton has already gone through the courts for the assault doesn't change the FA's entitlement to punish him. He broke both the law of the land and the laws of the game. He deserves two punishments."
The Telegraph's Henry Winter gazes into his crystal ball to predict what Spurs' midfield could be come their opening match against Middlesbrough. "[Spurs'] turnover in personnel is remarkable: Spurs' attack for the first day of the season at Middlesbrough on Aug 16 could be Bentley on the right, Arshavin in the hole behind Pavlyuchenko and Luka Modric on the left. Ramos stressed he would juggle his resources depending on the assignment."
In the Independent, Sam Wallace tries to ratchet up some controversy claiming Bentley is unhappy with his squad number. "Bentley, who was presented as a Spurs player yesterday, has cultivated his public image as carefully as Beckham, and the No 7 shirt at Spurs was intended to be part of the package. He was dismayed to learn that Lennon was given the number, previously worn by full-back Paul Stalteri, by manager Juande Ramos over the weekend and wore it in the friendly against Leyton Orient on Wednesday. Bentley has agreed to settle for No 5."
Henry Winter's fellow Telegraph colleagues Wayne Veysey and Oliver Pickup, speak to Martin Keown and Justin Edinburgh about Tottenham's ability to break into the big four. According to Edinburgh, "Now we have lost Robbie Keane, our equal top scorer. If Dimitar Berbatov is not at the club next season, we will have to find two new players who can score 40 goals. Also, the new signings are going to take time to settle – maybe even a season. There are exciting times ahead but I think top four this season will be too much of a tough ask."
Football365's Sarah Winterburn explains why she would have a season tickets at White Hart Lane this season. "Most realistic Spurs fans would tell you that they don't expect to crash the Champions League places this season, but what they can expect is to be entertained. Like a 21st Century (and better) version of Ossie's five-man attack, Juande Ramos is putting together a team that could feature Giovanni Dos Santos, Luka Modric, Andrei Arshavin and David Bentley – probably behind a single out-and-out striker. That's four new, young-ish attack-minded players (and possibly five if Roman Pavlyuchenko joins the revolution) and that is a concept that must appeal to neutrals who have got bored with the Premier League and the thou-shalt-not-pass tactics of even the supposed chasing pack."
Fulham receive some much needed attention from Glenn Moore in the Independent, with the Cottagers being the "most active Premier League operator in the transfer market, with this week's capture of the right-back Fredrik Stoor from Rosenborg taking their summer acquisitions to eight, and Andrew Johnson next in line." "The question exercising owner Mohamed al-Fayed's mind will be: 'Is Roy Hodgson's judgement better than that of Lawrie Sanchez?'… The truth will not be revealed until the season starts, but there does look to have been more quality on Hodgson's shopping list. The veteran, itinerant manager has used his extensive contacts wisely, making Fayed's largesse go further by bringing in several players on free transfers."
Paul Little (Football365) gives his verdict on Robbie Keane's move to Liverpool. "Keane's ability and flexibility mean that he can play as a front man (useful should Torres need a rest or be injured), as a second striker, or indeed on the right or left of a three behind Torres. Given how much Benitez likes to tinker, Keane is a dream. The Irishman is a punchier, more creative, and more compelling support player to the Spanish striker than Dirk Kuyt – and should allow Steven Gerrard to drop back into the centre of midfield or to the right side of a midfield four (as he has done with great effect in the past) should Liverpool go 4-4-2."
The Times' Kaveh Solhekol lists Britain's 25 richest young footballers. "11. Kieron Dyer (West Ham United), £12 million – Broke a leg soon after moving to Upton Park last summer but that has not stopped £80,000 rolling into his bank account every week."
Gabriele Marcotti reacts to comments which were sent to him from angry readers following his last column in Sports Illustrated in which he commented on the valuations of Ronaldinho and Cristiano Ronaldo. "Richard of Davis, Calif., seems to have a worrying degree of faith in clubs' ability to evaluate investments: 'Be assured that they have done more due diligence than you have,' he says. 'Signing the big stars is inherent in the synergistic effect of maintaining the clubs' prestige.' Having met many of these people who approve these enormous transfer fees, I can tell you that you're mistaken in terms of 'due diligence.' In the summer of 2006, AC Milan had a $27 million bid for Ronaldo (not Cristiano, the Brazilian one, the original Phenomenon) turned down by Real Madrid. Six months later, Milan offered $10 million and Real accepted. So much for 'due diligence.'"
With Inter netting Sulley Muntari this week, Giovanni Spinella (Football Italia) questions why some African players struggle to deliver their potential in Serie A. "George Weah is unquestionably the leading success story. In his five seasons at Milan he won two Scudetti, scoring important goals and becoming the first non-European to win the Ballon d'Or in 1995. But other players, such as Sunday Oliseh, Shabani Nonda or Mido, came to Italy, often with impressive résumés, and vanished without leaving a trace… In part, this has been due to club Coaches' own lack of familiarity with the players, failing to appreciate and properly integrate them into their tactics. In part this is also because most African players arrive in Italy having been formed in other Leagues, such as Ligue 1 or even the Premiership. In these cases they face the same difficulties in adapting to Italian football's different demands and requirements that any other French or British player could face, only exacerbated by diffidence."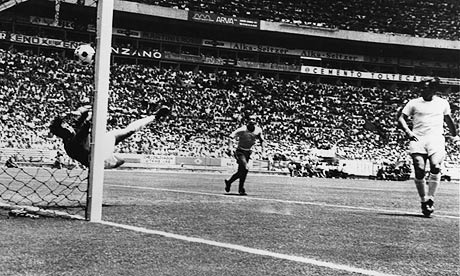 On a lighthearted note, the Guardian's Barney Ronay has a chin-wag with England goalkeeping legend, Gordon Banks. "What do you get asked about most: that Pele save or winning the World Cup with England? The Pele save. Definitely. I will be remembered for that. Not for the World Cup in 1966. People are always saying to me 'what a great save that was from Pele in 1966!' And I have to say 'No, it wasn't 1966.'"
In a horrible article of self-glorification, Shaka Hislop tells his Guardian readers why his analysis of the MLS was proved correct in the All-Star match against West Ham. "I have to admit I fully expected an MLS All-Stars victory but not as easily as some of the hundreds of press men who had descended on Toronto seemed to think… An under-strength but still competitive West Ham became the All-Stars' fifth consecutive victims in a game that showcased all that was good and not so good about MLS – the things we've been speaking about all season it seems."
Keeping Stateside, Jonah Freedman (SI) talks to Benny Feilhaber about that goal in the Gold Cup final, his subsequent move to Derby County, and his international aspirations. "I was on top of the world last summer… I felt like I couldn't do anything wrong. My confidence was so high. Every time I stepped on the field, I felt like could bring something special to the team… Then the whole process starts over. It seems like I hit the worst bumps along the road. I'm not sure I ever fit in to the style of play they wanted at Derby."
Click here for more Premier League betting tips
---