Is Francesco Totti set to retire? Legend says 'this will be my last Roma shirt'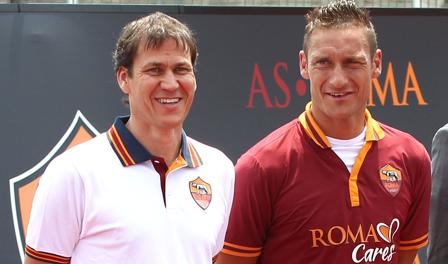 Panic set in to all Roma fans on Thursday when Francesco Totti upset the unveiling of the cub's new 2013-14 kit to intimate that next season maybe his last year of professional football.
Asked about his thoughts on Roma's new kit, Totti told reporters: I have worn many Roma shirts. But this is the last.
Totti's existing deal with Roma expires on June 30, 2014. Previously the Giallorossi had said they would renew the club's talisman deal, however as of yet no talks have been held with the most capped player in the club's history.
Totti has played his entire career at the Stadio Olimpico, and few believe that the trequartista would ever feature for another club. In total Totti has played  678 times for Roma to-date, scoring 282 goals whilst positioning himself as the second highest goalscorer in Serie A history.
So is 36-year-old Totti set to bow out of football? A series of the best tweets on Totti's announcement can be read below.
Good to see Totti stand up against American ownership.Sending out a clear message to Pallotta to renew his contract &not take it for granted

— Joe (@WFilignano) July 11, 2013
It's massive rocket sent by Totti to the mgmt. To put pressure on contract extension which hasn't still proposed.Bad times for the mgmt…

— Tancredi Palmeri (@tancredipalmeri) July 11, 2013
I won't believe Totti is retiring until he gets up and clearly states he will never play again. I think this is a ploy for a contract.

— A.S Roma Channel (@ASRomaChannel) July 11, 2013
Totti signed a 5 year contract on 30 November 2009 which also included an extra 5 years as a club director. Totti will stay in Rome.

— Dani Lissoni (@Daniel741L) July 11, 2013
Nicklas Bendter has the same amount of Scudetti as Francesco Totti. I quit football.

— Julian of Martinis (@JulianDM11) May 5, 2013
Francesco Totti: The Roma forward created the most clear cut chances (22) in Serie A last season

— WhoScored.com (@WhoScored) July 11, 2013
Roma won't be the same without Totti, Serie A won't be the same without Totti. No Totti, No Party:( #GrazieCapitano

— Al! (@BigAlosaurus) July 11, 2013
---
GAMBLING CAN BE ADDICTIVE, PLEASE PLAY RESPONSIBLY