Iran's Carlos Queiroz trolls South Korea pinning a sad picture of their coach on his shirt
A war of words broke out in the days before the massive World Cup qualifier between Iran and South Korea on Tuesday.
Iran coach Carlos Queiroz and his South Korean counterpart Choi Kang-hee traded verbal insults as tensions between the nations heightened.
After beating Uzbekistan last week to secure their pole position in the Asian qualifying group, South Korea coach Choi said he wanted to take revenge against Iran for October's 1-0 defeat in Tehran where he believed his team were "badly treated" with below-par training facilities. That comment was refuted by Queiroz, who retaliated by saying Choi had embarrassed the Iranian people and he called for an immediately apology.
Instead of an apology, Choi Kang-hee issued a second round of insults:
It looks like Iran is nervous. When feeling burdened or chased after, you talk a lot and engage in unnecessary provocation. I will defeat Iran no matter what. Coach Queiroz will be watching the Brazil World Cup on TV.
The former Manchester United coach reacted to that latest round of insults by pinning a sad face of Choi Kang-hee onto a black polo shirt as the coach took part in a photo op before the match.
Update: Iran beat South Korea, leaving both nations to qualify for the World Cup.
Carlos Queiroz celebrated Iran qualification to Brazil 2014 by dishing out an 'up yours' sign to the South Korean bench, and the Persian commentators loved it.
See pictures of Carlos Queiroz trolling South Korea by putting the face of Choi Kang-hee on his shirt below.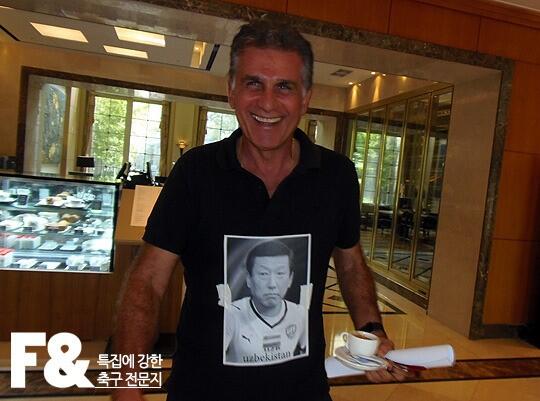 ---
GAMBLING CAN BE ADDICTIVE, PLEASE PLAY RESPONSIBLY