Individual video highlights: David Beckham vs Slovakia, Lionel Messi vs Venezuela & Cristiano Ronaldo vs Sweden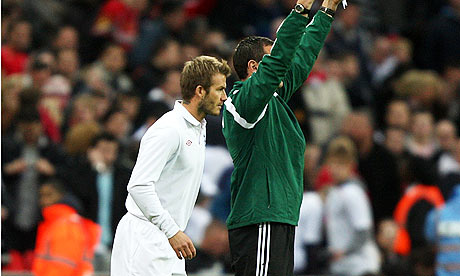 With the first round of international matches having been dispensed with over the weekend, it is time to shine the spotlight on some of the world's most popular footballers to highlight how they got on whilst representing their country.
David Beckham's second half performance for England carried with it the bonus of taking Goldenballs onto 109 England caps, surpassing the great Bobby Moore. And happily Beckham used the occasion as more that just a historical milestone, putting in a stellar 45 minute display down his favoured right touchline that showed off his touch, ball retention skills and lethal delivery with his famous right-foot.
Highlights of David Beckham's performance against Slovakia can be seen here.
***
He may not have it cemented in stone, but Lionel Messi, not Cristiano Ronaldo, is currently the best player in the world.
LM10 was in inspirational form for Maradona's Argentina as they crushed Venezuela 4-nil, Messi assuming the responsibility of being the fulcrum of the side's attack. And so it proved with the Barcelona star opening the scoring (his fourth in the qualifiers) and then setting up the second for Carlos Tevez after the break.
And there was still ample time for Messi to show-off his trademark showboat dribbles, with Tim Vickery making specific comment on one specific late run.
Vickery: "The dribble Messi produced at the very end of the 4-0 win over Venezuela was worthy of Maradona himself. It ended with a poke that was inches wide. After the game Maradona said that had the ball gone the other side of the post then the crowd would have been obliged to leave and pay to get in again."
In case anyone has forgotten Lionel Messi is just 21-years-old.
Highlights of Lionel Messi's performance against Venezuela can be seen here, and footage of the dribble referenced by Tm Vickery can be seen here.
***
And talking of the world player of the year, Cristiano Ronaldo had a frustrating night against Sweden as the Nordic opponents parked the bus in Portugal with the hosts unable to find a breakthrough in 90 minutes.
During the first half Ronaldo operated mainly on the left wing or through the middle, looking to orchestrate attacks but finding himself too often forced to pass the ball sideways or backwards in the face of a row of yellow shirts.
The second half proved even less fruitful for Ronaldo, CR7 cast as an isolated figure on the left wing with usually two Swedish players doubling up on the winger. Ronaldo's frustrations were again painted clearly on his face, his grimaces visible whenever the camera zoomed in for a close-up on Portugal's most high-profile asset.
Highlights of Cristiano Ronaldo's performance against Sweden can be seen here.
---
GAMBLING CAN BE ADDICTIVE, PLEASE PLAY RESPONSIBLY