Individual match highlights: Nani (Manchester United) v Arsenal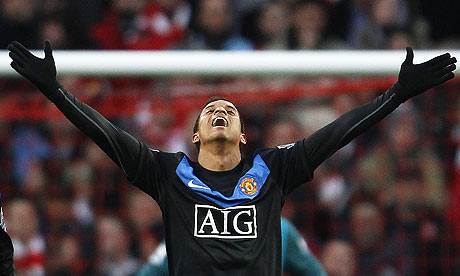 "Nani has settled down now and is getting maturity. He has been pretty immature since he came to the club, but you are seeing the development now. He is a shy boy and you hope games like at Arsenal will give him the confidence to know he is a United player. We are all delighted with him. It is amazing when you talk to the players, they all think he is fantastic and want him to play. Now, we are getting consistency from him. It gives me a massive decision between Nani and Antonio Valencia." – Manchester United boss Sir Alex Ferguson.
Nani's performance for Manchester United at the Emirates yesterday has sparked a number of questions. Foremost among them is, has Nani come of age? And can the Portuguese winger replace the most famous Portuguese winker of them all – Cristiano Ronaldo.
The 23-year-old has been at United since 2007 and has consistently flattered to deceive, until Manchester United's 3-1 win yesterday. So good was his skill for the first goal, that it is a major surprise that the "Nani shuffle" has not been hailed alongside "The Cruyff turn" and Ronaldinho's "no look pass." A bold claim but it was some outrageous skill and Nani was desperately unlucky that Manuel Almunia's incompetence means the Spaniard's name officially belongs to the opener.
Of course it wasn't just Nani's dazzling wing play that has set the pulses racing, he produced an imperious display for Manchester United down the right and played in Wayne Rooney for the second goal. The former Sporting Lisbon winger was a threat throughout his 89 minute appearance and often made the right choice in the attacking third.
Of course, some will point to Gael Clichy having an absolute mare and the fact that the Arsenal midfield seemed unable to get close to anyone in a Manchester United shirt. On the flip side, Nani has been great in recent weeks and was also sensational in the drubbing of Hull last weekend.
Individual match highlights of Nani's performance for Manchester United against Arsenal yesterday can be seen on this video.
---
GAMBLING CAN BE ADDICTIVE, PLEASE PLAY RESPONSIBLY