Individual match highlights: Luka Modric (Spurs-Athletic Bilbao)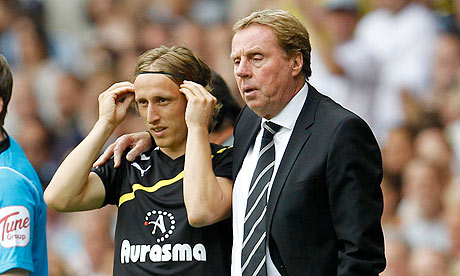 "He is an exceptional professional. Whatever is going on in his mind, I can honestly say that it has not affected his approach to training. You can see today that he is in good condition. It (his performance) was typical of the player and the person that he is. He is a great lad. He is a good pro and a nice person. I think the players and the public appreciate him as a football player. But in the dressing room the players appreciate him as a person and a football player." – Spurs first-team coach Joe Jordan.
The big story of Tottenham's 2-1 friendly win over Athletic Bilbao on Saturday was the rapturous reception Luka Modric received from the Spurs faithful.
Modric came on as a first-half substitute due to an injury to Steven Pienaar, and instead of entering with a raft of half-time substitutes, returned to White Hart Lane with no dissent and plenty of love just weeks after saying he wants to join Tottenham's London rivals Chelsea.
An injury to Steven Pienaar necessitated the switch and Modric was immediately involved in the centre of the park where he picked up from where he left off in 2010/2011, with intelligent prodding and probing from midfield.
His best moment came for Tottenham's equaliser, a terrific scooped pass for Gareth Bale who in turn crossed for Peter Crouch to score. Modric attempted another similar through ball later in the game but Jermain Defoe could not quite get there.
Luka Modric's showreel v Athletic Bilbao can be seen here.
Related link: Highlights of Spurs 2 – Athletic Bilbao 1.
---
GAMBLING CAN BE ADDICTIVE, PLEASE PLAY RESPONSIBLY