Individual Match Highlights: Gabriel Obertan (Manchester United) vs Everton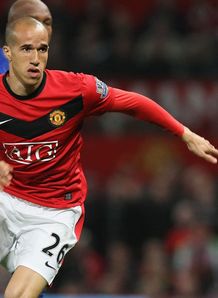 Is Gabi Obertan the anti-Nani?
Against Everton on Saturday the young Frenchman again impressed when brought on as a late substitute by Sir Alex Ferguson, after the match was already firmly in control of the Red Devils. Obertan neatly settled into his now familiar wide-left position, working in tandem with Patrice Evra in United's all-Gallic left-side of their team.
Without doing anything spectacular, Obertan used his cameo appearance to sure-up his reputation as a trustworthy left-side midfielder, while using every opportunity to streak forward using his lightning pace. Further, Obertan, in direct contrast to Luis Nani, showed excellent decision-making in constantly finding teammates when in possession and noticeably not falling into the trap of giving the ball away cheaply.
That said, one has to wonder when Obertan will really begin to show his attacking prowess. A little too often the young Frenchman appears to be looking to find a teammate rather than taking responsibility and beating his opponent. Adding a certain degree of aggression and attacking prowess to his game is surely the next step for Obertan.
Individual match highlights of Gabriel Obertan's shift against Everton can be seen here.
---