Individual Match Highlights: Arjen Robben debut (Bayern Munich) vs Wolfsburg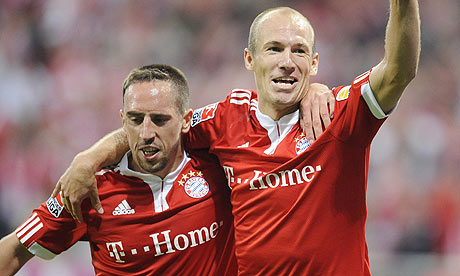 That's the way to make an introduction.
Having been deemed surplus to requirements at Real Madrid, Manuel Pellegrini last week agreed to sell Arjen Robben to German powerhouse Bayern Munich and the Dutchman's first outing in the Bundesliga was a truly memorable event.
Playing against the reigning champions Wolfsburg, coach Louis van Gaal opted to save Robben's debut until the second half of the match. But as soon as he got on the pitch, Robben's impact was instant.
As was the case for most of Robben's time in Spain, the former Chelsea wide-man was asked to play on the right-hand side for Bayern. Comfortable in that role, Robben gobbled up his opportunity to shine in front of his new employers, in particular by grabbing a brace in his first match at the Allianz Arena.
The ease at which Robben managed to dovetail with Franck Ribery in the Bayern attack was effortless. With Mario Gomez the head of Bayern's new 4-3-3 formation, the Ribery-Robben partnership just behind the main striker has the potential to be one of the most frightening forward-lines in Europe.
The advantages are obvious. The "Rib-Rob" tandem are able to switch positions all over the field to unnerve defenders and enjoy the artistic licence that their creativity demands. Both players come fully equipped with pace, two-brilliant feet and the crucial ability to beat defenders with consummate ease.
And so it was last Saturday. Robben beat Wolfsburg defender Andrea Barzagli to curl his shot wide of goalkeeper Diego Benaglio on 68 minutes, before Ribery then set up Robben again on 80 minutes as the defending champions were comprehensively out-played.
Individual match highlights of Arjen Robben's debut for Bayern Munich can be seen here.
---