All the incredible stats after Leo Messi scores another hat-trick for Barcelona v Rayo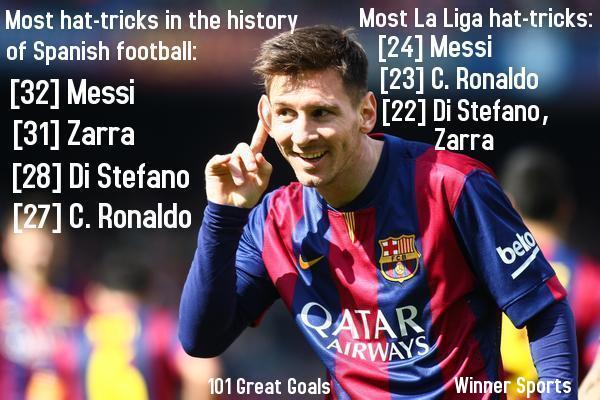 Barcelona are back on top of La Liga.
The Catalans took full advantage of Real Madrid's defeat at Athletic Bilbao, as Barcelona trounced Rayo Vallecano at the Camp Nou on Sunday.
Luis Suarez and Gerard Pique put the Catalans 2-up, before the incredible Lionel Messi got in on the act.
Messi scored an amazing 11 minute hat-trick against Rayo, with goals in the 57th, 63rd and 68th minutes.
Messi became the first player in La Liga history to score 24 career hat-tricks in the division against Rayo.
For the record, Cristiano Ronaldo has 23 career hat-tricks.
Messi swelled his goal tally for Barcelona to 342 goals in his last 340 official games.
In addition, Messi's brace took the Argentine to 41 goals and 21 assists in his 38 official matches with Barca this season.
It's also worth pointing out that Messi, who scored his second goal from the penalty spot, has now taken the same amount of penalties with Barca as Cristiano has with Madrid (60 each). Cristiano has scored 55, while Messi has only scored 47 times.
Final stat: Leo Messi is now the first player to record 40+ official goals in six different seasons in the history of Spanish football.
Back Liverpool to beat Blackburn at 3/1!!!
---