In Pictures: Fenerbahce fans banned from the BATE game turn the sky red by raining flares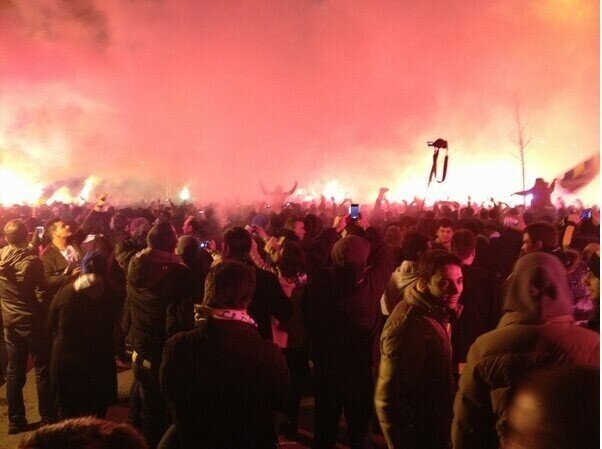 Just because they were banned from inside the ground, Fenerbahce fans were still able to influence the Europa League match with BATE on Thursday night.
The FenerBATE second-leg, which the Turks won 1-0 on aggregate thanks to Cristian Baroni's penalty on the stroke of halftime, should have been devoid of atmosphere after UEFA banned the Turkish fans from attending as a punishment for supporters throwing missiles at Borussia Monchengladbach in December.
Yet Feber's fans refused to be silenced so easily.
Locked out from their Sukru Saracoglu Stadium, Fener fans turned up in their thousands to watch the match just outside the stadium on a giant screen.
Moreover, the Fener fans made sure their players knew of their presence outside the gates by (a) screaming like nutcases when their team took the lead and, (b) by lighting up the Istanbul's night sky with an incredible red flare show which rained down from the heavens.
The Fener fans also hung up a banner inside the ground saying "As If We Were Here."
Footage of the Fener fans celebrating their team's goal is below the fold, while pictures of the flare show are below.
Click here for more Premier League betting tips
---