In Pictures: Bolivian President Evo Morales puts a big poncho on little Lionel Messi
Following Bolivia's 1-1 draw with Argentina in World Cup qualification on Tuesday night, President Evo Morales made a point of visiting superstar Lionel Messi.
According to local reports Morales wanted to deliver a special honour to the world's greatest footballer, yet many may wonder whether Evo's gift was really all that special.
With the cameras rolling as the President met the Argentine legend, Morales placed an earthy-looking poncho on the Barcelona star which made Messi look tiny in the overflowing garment.
In return Messi gave Morales an Argentina jersey.
Pictures of Bolivian President Evo Morales putting a poncho on Lionel Messi can be enjoyed below.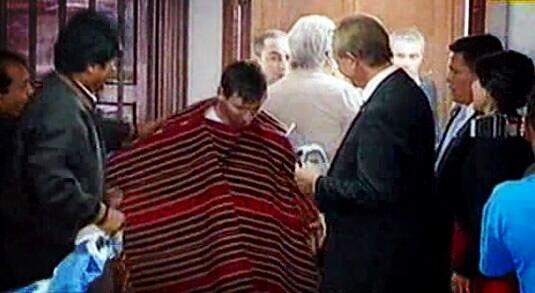 ---
GAMBLING CAN BE ADDICTIVE, PLEASE PLAY RESPONSIBLY