How transfer rumours work: Why Eduardo isn't heading back to Arsenal!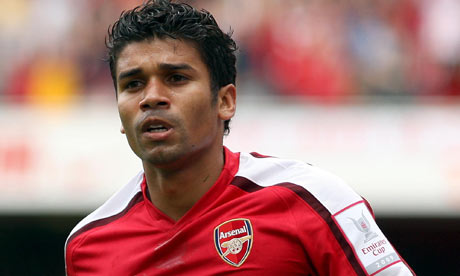 So far the January transfer market has been very quiet.
Nevertheless, plenty of rumours have been peddled online and in newspapers on a daily basis.
Here at 101GG, we attempt to bring you the big stories from trusted sources and believe that often reliable foreign websites are quicker than their English counterparts.
The advent of social media and literally thousands of football websites, means that it can become very hard to separate the wheat from the chaff.
Croatian journalist Aleksandar Holiga Tweeted an excellent example of how completely baseless transfer rumours start and can ping back and forwards on the internet.
The example used is Arsenal – who are set to be linked with any number of strikers or forward players now that Theo Walcott is out for six months.
Even before Walcott's injury, Arsenal were linked with moves for Diego Costa, Alvaro Morata, Dimitar Berbatov and plenty more…
It is a fine illustration of how the football media works and is worth bearing in mind when you check out the transfer gossip in the coming weeks.
Another amusing example of how transfer rumours work… A dude at Sports Direct News (yes…) writes a short piece on Walcott, Arsenal etc

— Aleksandar Holiga (@AlexHoliga) January 7, 2014
He has an idea: ' One option that could be considered is the return of da Silva – commonly known as Dudu' (he means Eduardo…)

— Aleksandar Holiga (@AlexHoliga) January 7, 2014
His editor thinks: 'Hey, no one thought of that yet. Why not brand it 'exclusive'?' And so they do. http://t.co/MiKho1bX0q

— Aleksandar Holiga (@AlexHoliga) January 7, 2014
Then, a dude at Večernji list somehow stumbles upon that (why do you read SD News…?) and his editor gets very excited about it.

— Aleksandar Holiga (@AlexHoliga) January 7, 2014
'The Exclusive of the English:Wenger bringing Eduardo back!' cries the headline pompously, splashed on the front page http://t.co/2IdjkkAl2n

— Aleksandar Holiga (@AlexHoliga) January 7, 2014
The piece says 'English media say Wenger is seriously considering the possibility of bringing back Eduardo' http://t.co/1PNfm4qWQ8

— Aleksandar Holiga (@AlexHoliga) January 7, 2014
No, it's not the English media who say that. It's one dude who works for Sports Direct. It might not be the worst idea, though.

— Aleksandar Holiga (@AlexHoliga) January 7, 2014
And Večernji could now find themselves quoted in UK papers tomorrow. And then they can again say: 'UK media say Wenger, Eduardo…'

— Aleksandar Holiga (@AlexHoliga) January 7, 2014
And then Sportske novosti jump the bandwagon: 'Bomb from the Island: Wenger bringing back Eduardo?' http://t.co/XFlmbswcoJ

— Aleksandar Holiga (@AlexHoliga) January 7, 2014
To be fair, they quote Sports Direct News as well. #BigInCroatia

— Aleksandar Holiga (@AlexHoliga) January 7, 2014
And Index: 'Arsenal want to bring Eduardo back, Sports Direct News exclusively find out' http://t.co/GN18oswP7U

— Aleksandar Holiga (@AlexHoliga) January 7, 2014
---
GAMBLING CAN BE ADDICTIVE, PLEASE PLAY RESPONSIBLY