HOW?! Golazo! Luc Castaignos (Holland U21) scores impossible swerver from the corner flag! (v Georgia)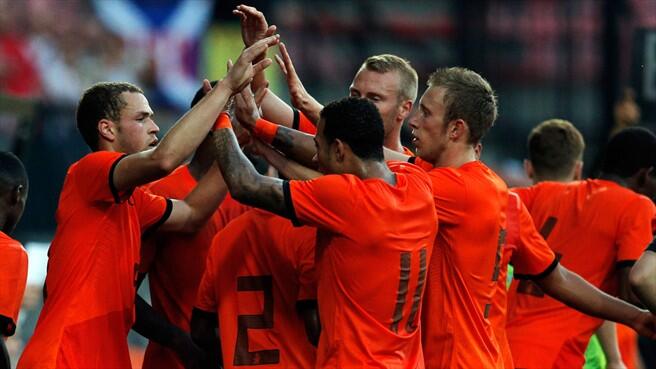 The first question to address with this goal, is whether it's a 'Golazo' or a 'Faux-lazo'.
As outrageous as it may seem, Luc Castaignos may have actually shot to kill from the corner flag against Georgia tonight.
The young FC Twente player received the ball from a throw-in and instantly found himself, literally, cornered at the corner flag.
With little recourse left, he slashed across the ball with the outside of his boot, and it soared and swerved gracefully beyond the flapping keeper into the far corner, before ricocheting straight back out again.
Obviously, whether he meant it or not is up for debate, and Castaignos' rather embarrassed celebration would indicate that it may have been a fluke; but watch the second replay: why would he cross the ball with the outside of his boot from that position and angle?
The only deliberate result would have been for the ball to float aimlessly wide for a goal kick.
Watch Castaignos' impossible swever for Holland U21 tonight on the clip below, and decide for yourself whether it's a Golazo or a Faux-lazo.
[gthumb id="363556″ size="large" autoplay="1″]
---
GAMBLING CAN BE ADDICTIVE, PLEASE PLAY RESPONSIBLY