How did Terry get away with a rugby tackle & Comolli is portrayed as the Cock at Spurs
Comment & analysis round-up
Quote of the day: "United signed Dimitar Berbatov for £26m; that would be Aalborg's budget for players and other staff over seven years." – Bruce Rioch.
Runner-up: "My information is that Hackett told Mark Halsey to rescind the red card [of John Terry] and he would not do it. Now I understand that Halsey is being made to referee in the Second Division this weekend. I just don't understand how this could have happened. If it had been a Manchester United player, Hackett would never have done this for us." – Sir Alex Ferguson.
Today's overview: For anyone living in the real world, the news of Lehmann Brothers' collapse has sent shockwaves throughout the financial economy. Sandy Macaskill reviews every Premier League club to see how the credit crunch will likely affect their ambitions. At the other end of the scale, David Conn looks at the regulations in place in the Conference for maintaining club's solvency.
Paul Doyle reports on Chelsea's easy win over Bordeaux last night, which gave credibility to their favourites tag. But the main news around Stamford Bridge this morning centres around John Terry's red card which was overturned. Jeremy Wilson highlights the talking points, noting that "Halsey indicated that he had issued the red card for serious foul play rather than a professional foul."
Ian Ladyman explains that "as a red card cannot be downgraded to a yellow, the England captain escaped with no punishment." But not everyone is happy about the decision, Rob Hughes fails to hide his anger at the decision – "The act for which Terry was red-carded was a rugby tackle from behind. It was as blatant and as cynical an abuse of the laws as it is possible to get."
The second main topic of the day sees pressure mount on Tottenham's sporting director, Damien Comolli. David Hytner reports "Comolli is on thin ice, his record under increasing scrutiny," Oliver Brown adding "Chairman Daniel Levy has reportedly become exasperated at the failure to achieve stability within the squad but while Tottenham's unease has grown after three defeats in their first four league games." The dissenting opinion is served by Jason Burt who argues that Juande Ramos has not escaped criticism either – "Almost a year into the job and Ramos's failure to speak publicly in English has irritated some while, more importantly, his team selections, chopping and changing line-ups and formations, have raised eyebrows."
With the financial meltdown gripping the world economy, the Telegraph's Sandy Macaskill reviews every Premier League to see how they credit crunch will likely affect their ambitions.
In contrast to the glamour and big-spending of the Premier League, the Guardian's David Conn looks at the regulations in place in the Conference for maintaining club's solvency. "The Conference has introduced a new system this season for the 68 clubs in its Premier, North and South divisions, to help them keep on top of their debts. In a system developed with the FA, the clubs will report to the Conference every quarter on what they owe HMRC, and are required to show after two months that they have paid their tax in full, or have a written agreement scheduling the payments. Again, the system has teeth – if a club fails to pay its tax, the Conference will impose a transfer embargo."
Paul Doyle (Guardian) reports on Chelsea's easy win over Bordeaux last night, which gave credibility to their favourites tag. "Whatever about Bordeaux, the pressure of public scrutiny certainly didn't perturb Chelsea, on whom most European eyes surely were. A dominant first half display indicated that the favourites tag does not weigh particularly heavily on them, and that Phil Scolari's lack of experience in the Champions League is no barrier either. Stiffer challenges than Bordeaux await, of course, but Chelsea were certainly more convincing tonight than they were against Rosenborg this time last season. Then again, all that really suggests is that Scolari is at least as comfortable in this tournament as another novice was last season – Avram Grant."
The other good news for Chelsea this morning is John Terry's successful appeal against his red card against Manchester City, with Jeremy Wilson (Telegraph) highlighting the talking points. "It is understood that Chelsea's appeal was based on the fact that Terry was not the last defender. However, in his match-report, Halsey indicated that he had issued the red card for serious foul play rather than a professional foul, meaning that the position on the pitch and the presence of other players were not relevant. It meant that the commission would have based its judgment on whether Terry's foul really did constitute 'excessive force or brutality against an opponent when challenging for the ball when it is play.'"
Ian Ladyman (Daily Mail) offers some further background into why Terry's red card was rescinded. "As a red card cannot be downgraded to a yellow, the England captain escaped with no punishment. It is the third time in recent years Chelsea have successfully appealed against a Halsey dismissal and Hackett had wanted the official to accept he had made a mistake and publicly revoke his decision. The referee refused, hence the humiliation of this weekend's demotion to League Two."
Failing to hold back any punches, Rob Hughes (IHT) comes straight out and criticises the decision to overturn Terry's red card. "A referee's decision, and his credibility, have been overturned and a player who is a figurehead to millions of impressionable youngsters has evaded due punishment for premeditated foul play. The act for which Terry was red-carded was a rugby tackle from behind. It was as blatant and as cynical an abuse of the laws as it is possible to get… Terry's foul was reckless rather than dangerous. He was beaten for pace and skill, but Chelsea was ahead 3-1, and there were possibly two defenders who could have caught Jo before he could score. If Terry was aware of all this, why did he kick out at Jo as the Brazilian passed him? Why did he then grapple at Jo from behind, dragging him to the turf with an arm around his waist? Why, why, why did five Chelsea players – Frank Lampard, Ashley Cole, Deco, Ricardo Carvalho and Nicolas Anelka – join Terry in confronting the referee, Mark Halsey?"
On Liverpool's win in Marseille, Ian Herbert (Independent) salutes the performance of Steven Gerrard. "Steven Gerrard, given the freedom to operate centrally which he so craves, was Marseilles' nemesis – just as he was in the 4-0 win here that brought Liverpool group qualification at the death last December. But the achievement was even more remarkable. With only 28 minutes of competitive football behind him since undergoing surgery on the groin trouble which has plagued his early season, Gerrard provided the fluency which gave Liverpool the belief that this game could be theirs and that a fervent Marseilles desire to avenge defeat – "L'OM n'a rien oublie" (Olympique have forgotten nothing) was the way L'Equipe put it yesterday – would come to nothing."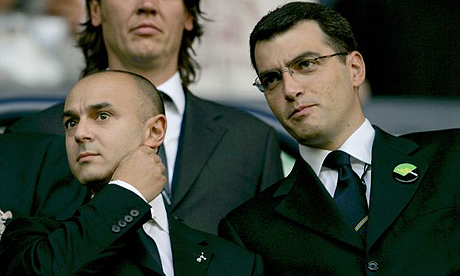 In a story that refuses to go away, David Hytner (Guardian) argues that the net is closing in on Spurs' sporting director Damien Comolli after a perceived failing in the transfer window. "Having failed to sign the experienced striker he was chasing in the final hours of the summer transfer window, Damien Comolli, the Tottenham sporting director, blamed 'agent activity'. Yes, the Frenchman would have got away with it if it hadn't been for those meddling agents, the very people he must nurture to help press transfer deals over the line, which is, essentially, the purpose of his employment. Comolli had not delivered but hang on, those agents, eh? What can you do?… Comolli is on thin ice, his record under increasing scrutiny."
Comolli's troubles at White Hart Lane are also picked up by the Telegraph's Oliver Brown. "Chairman Daniel Levy has reportedly become exasperated at the failure to achieve stability within the squad but while Tottenham's unease has grown after three defeats in their first four league games, it is understood that Comolli's position is not under immediate threat and that his responsibilities are instead being redrawn to leave Ramos with a more exclusive say over player decisions. Ramos has not been shy to assert his authority; indeed, he is known to have opposed the transfer window being open for the first two weeks of the season and he believes that a lack of contact time with his team dented their preparations. Roman Pavlyuchenko had scarcely kicked a ball before he was handed his debut in Monday night's 2-1 defeat to Aston Villa, in which he was anonymous."
The Independent's Jason Burt concurs that Comolli is under pressure, but he argues that Juande Ramos has not escaped criticism either. "For now at least, the scrutiny is firmly on sporting director Damien Comolli rather than head coach Juande Ramos although, within the club, the Spaniard has not escaped criticism. Almost a year into the job and Ramos's failure to speak publicly in English has irritated some while, more importantly, his team selections, chopping and changing line-ups and formations, have raised eyebrows."
Click here for more Premier League betting tips
---