How did David Navarro get away with his elbow assault on Cristiano Ronaldo? (Levante 1 – Real Madrid 2)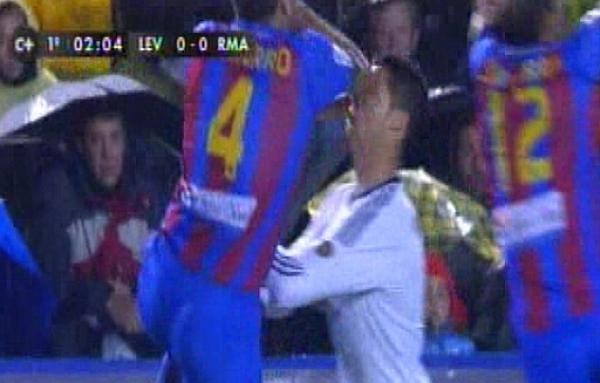 Just a couple of minutes into Levante's home clash with Real Madrid on Sunday night, David Navarro sent his elbow into Cristiano Ronaldo's face in what looked a pretty sickening clash.
The images were made much worse by the subsequent blood gushing down Ronaldo's eye and face as he received treatment.
Two aspects of this incident remain fairly mysterious. Quite how Navarro emerged without even being booked by the referee, after this criminal assault is crazy.
And Cristiano Ronaldo, usually derided as a player that goes down easily, put Real Madrid 1-0 up just 20 minutes later, where it appeared he could only see with one eye.
Now David Navarro is a player who has attracted controversy before. The 32-year-old defender usually picks up numerous bookings and red cards over the course of a season and was once responsible for one of the worst bust-ups in Champions League history.
Cast your mind back to the March 2007 post-match brawl between Valencia and Inter Milan. Navarro was the cheeky Los Che number 5 who punched the Nerazzurri players and ran away.
First video below is the Cristiano Ronaldo injury v Levante (ouch!) followed by David Navarro's responsibility for starting a crazy Champions League brawl.
[jwplayer config="For-all-videos" mediaid="258262″]
---
GAMBLING CAN BE ADDICTIVE, PLEASE PLAY RESPONSIBLY