"Hodgson was fortunate that Torres had no real suitors beyond Chelsea's rather lukewarm interest" – Tim Rich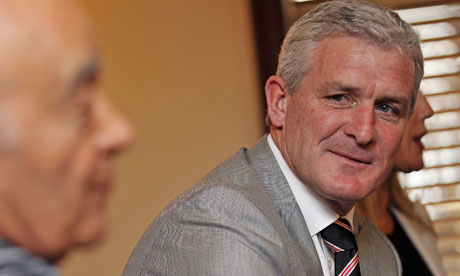 Comment & analysis round-up
Quote of the day: "After we put him [Roy Hodgson] where he is now, he took advantage and left us. We gave him all the support, we believed in him and he just let us down. Roy disappointed the fans and the players. I forgive him anyhow and I am sure he is going to get Liverpool downhill. He [Mark Hughes] is a nice guy. He is much better looking [than Hodgson] and I am sure that he will do a great job. There will be no complications. We're happy to have Mark in place. I'm sure this guy can get us to the championship." – Mohamed Al Fayed.
Runner-up: "Yossi is an intelligent player, very intelligent. Tactically he knows everything about the game very well. Joe Cole is quicker than Yossi, but tactically Yossi is better. He understands what I tell him." – Carlo Ancelotti.
Today's overview: Is the glass half empty or half full?
While most would have expected the fifth estate to be excited that Fernando Torres is staying in the Premier League with Liverpool for another season, some hacks find room to downplay the big Scouse news and even attack El Nino's character in the process.
Fulham also feature after Mark Hughes was unveiled at the Cottage on Tuesday, while Blackburn receive attention as a takeover at Ewood Park is said to be back on the cards.
The Daily Mail try to get attention with a bizarre Rob Green story and a sheadload of transfer gossip, while in "the smut" we're spoonfed news of a Becks' new beer venture.
Happy Scousers: Party-poppers at the ready as Fernando Torres has committed himself to another year at Anfield.
Daniel Taylor and Matt Scott team up to stress the importance of El Nino staying put. "Torres's importance for Liverpool can be gauged by the fact they won only 38% of the league games he missed last season. The 26-year-old had a difficult World Cup, however, losing his place after several substandard performances and then injuring a groin after coming on as a substitute late on in the final, but he is already established as one of the more prolific strikers in Europe, with 72 goals in 116 appearances for Liverpool since signing from Atlético Madrid for £26.5m three years ago."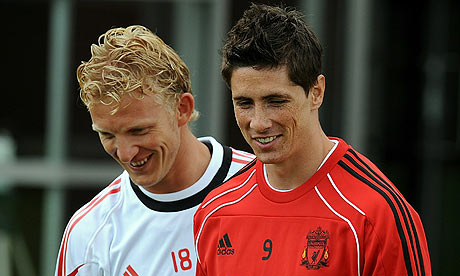 Tim Rich applauds Roy Hodgson involvement in keeping Torres at the club. "If there was one thing Rafael Benitez lacked, it was the personal touch. Torres, who recuperated after the World Cup near Santiago de Compostela in North-west Spain, said yesterday that Hodgson's determination to fly out to do business face-to-face was an important gesture… Like Gerrard, Torres appears to have been impressed by Hodgson's first moves at Anfield – especially the signing of Joe Cole, the announcement of which immediately preceded Gerrard's own statement of loyalty."
Feeding off the good vibes, Stuart James makes one of the quickest judgment calls of the new season barking, "Roy Hodgson has kept Steven Gerrard and Fernando Torres, won a game in Europe and signed Joe Cole – a dream start… No one is saying that Liverpool are going to win the league because of what has happened this summer, but at least some of the gloom around Anfield has lifted. And it has happened much quicker than Hodgson could ever have imagined."
Despite the overall happiness surrounding Torres's decision to stay, some find room to dampen the atmosphere.
First to poop on Torres's parade was Rory Smith. "It is a measure of football's moral code that a man's decision to honour a £110,000-a-week contract signed little more than a year ago is viewed as an act of loyalty, a pledge of allegiance. In truth, though, there was little else Fernando Torres could do."
Similar sentiments were raised by Tim Rich. "Hodgson was fortunate that Torres had no real suitors beyond Chelsea's rather lukewarm interest. Had Manchester City qualified for the Champions League and offered £70m in cash, the club's resolve may have been more firmly tested. If he is still offering Europa League football a season from now, there seems little doubt Torres will leave. Had Barcelona managed to offload Zlatan Ibrahimovic, they may have been able to test his resolve this summer."
There is good news too on the takeover front for Liverpool.
Rory Smith reports "Martin Broughton, Liverpool's chairman, hopes to identify a preferred bidder by the end of next week as he seeks to secure a sale before the end of the transfer window, although no more than three bids are expected to be lodged. On Tuesday night, the Rhone Group, a New York-based private equity firm, re-emerged as a rival to the offer proposed by Kenny Huang, the Chinese businessman… Neither Huang or the Rhone Group have placed a formal bid but a sale remains likely."
Signs that a sale is in the offing are also flagged up by Paul Kelso. "In a further sign that momentum is gathering towards the possible sale of the club this month, Liverpool have opened discussions with the League to ensure that any new owner complies with its ownership rules. Under new regulations the League requires 10 days' notice of any change of ownership or the appointment of new directors. Any new owners must also meet the Premier League board in person and provide proof that they have the funds to buy the club and sustain it for a full season."
Fresh Fulham: On Tuesday Mark Hughes was unveiled as the new Fulham manager, and Paul Doyle flagged up the Cottagers' ambitions and needs ahead of the new season. "[Hughes] has made it clear to his new chairman, Mohamed Al Fayed, that achieving the initial target – a top 10 league finish this season – entails buying some new players… Hughes acknowledged that reported targets at his former club, notably Craig Bellamy and Roque Santa Cruz, may be 'out of our price range', although he hinted that a deal may still be done."
For Mark Fleming, "at first glance, the marriage between Fulham and Hughes appears to be an odd one. Hughes, 46, is one of the most ambitious managers in British football, unfortunate to have been sacked by City's ambitious owners late last year. It would appear he is taking quite a step down to manage Fulham, who have been punching above their weight in recent years under Hodgson. Yet Hughes said yesterday this perception was wrong. He said he has been convinced by Al Fayed and the chief executive Alistair Mackintosh that the club is going places, even though the net worth of Fulham's assets would be equivalent to what Hughes spent in last summer's transfer window."
Back to Business: Daniel Taylor looks ahead to Wayne Rooney's return to action tonight against an Airtricity League XI. "What can be said with certainty is that Rooney will be relishing the thought of going back out on a football pitch, rather than spending any more time mulling over what went wrong [at the World Cup] and those statistics that tell us he was tackled 8.25 times per game (more than any other player) and that he has now had 22 shots in World Cups without scoring."
Buying Blackburn: In truth, there is little new news in Nick Duxbury's report that Blackburn could be taken-over by Indian tycoon Ahasan Ali Syed. Nevertheless, Rovers fans will like to believe the rumours that "Ahasan Ali Syed, the head of investment firm Western Gulf, which is based in Bahrain and Switzerland, has made an approach to the club's advisers, Rothchilds, with a view to buying Rovers, clearing their debts and giving manager Sam Allardyce the funs to bring in new players."
Paul Kelso fleshes out what the takeover would mean for Blackburn. "The offer of £300 million of fresh investment could transform Blackburn's prospects but it is understood Syed is not proposing a Manchester City-style splurge that would bring Galacticos to Lancashire. Money will be made available for new players, as Syed accepts the current first-team squad is short of the quality required to prosper in the Premier League, but he is thought to favour a measured approach."
Hammer Time: The Daily Mail again embarrass themselves by splashing with the mental story that "West Ham's players and coaching staff have been hurling abuse at Robert Green in a bid to prepare him for the World Cup backlash expected from crowds this season… The Hammers are at Aston Villa on the opening day and Green will increase his normal concentration exercises with his team-mates encouraged to hurl insults at him as he trains."
Done Deals: We start with news of a major cash windfall for the Premier League members.
Paul Kelso reveals that "Premier League clubs will share a record revenue of £1.2 billion in the coming season but the 20 chairmen have grown all bashful when it comes to revealing how much of the bumper pot they will receive… Clubs are reluctant to be seen to be raking it in during straitened times for the rest of the economy, and despite the fact they share overseas money evenly they would rather not signal their largesse to rival clubs and agents in the transfer market."
Moving onto transfers, David Hytner claims that "Chelsea have agreed a fee of £18m (€22m) with Benfica to buy the Brazil midfielder Ramires and they intend to push him through a medical at the club before confirming his signing by the end of the week." Elsewhere, Leeds have tied up a year-long loan for Arsenal's Sanchez Watt.
Lies, Rumours & More Lies: The Daily Mail produce yet another heapload of transfers stories as they try to sell papers.
Flogging the dead horse we again learn that Chelsea are eyeing Benfica's David Luiz, while the psuedo-tabloid also links Liverpool left-back Emiliano Insua with Borussia Monchengladbach. Next, Blackpool are said to be targetting Chelsea' Scott Sinclair, Italian left-back Fabio Grosso is on Birmingham's radar, Danny Shittu is in talks with Turkish club Trabzonspor, Arsenal's Henri Lansbury could head to Newcastle or West Brom on loan and Spurs' Adel Taarabt is said to be a £1m target for QPR.
The Sun are next to fart their transfer rumours, starting with old news that Christian Poulsen is a £6m target for Liverpool. £6million is again the right price for Spurs as they look to sign Sporting Lisbon forward Yannick Djalo. Boring the life out of everyone, Charlie Wyatt stupidly calls today "D-day" in the Cesc Fabregas will he/won't he saga, Aston Villa are spuriously linked with Robbie Keane, Scott Parker and Aiden McGeady, while the Scottish Sun claim that Celtic need McGeady to move on if the Bhoys are going to have any cash to splash this summer.
The Star bleat that Blackburn want Manchester United's Mame Biram Diouf on loan while also spouting that "Fulham midfielder Andranik Teymourian, 27, is expected to become Allardyce's first summer signing."
Moving onto the Mirror, there "Football Spy" pulls figures out of his backside claiming "Big-spending Manchester City are ready to snap up £34million-rated Barcelona kid Gai Assulin – for nothing." Elsewhere, Leeds are said to be close to signing Spurs's Steven Caulker on loan.
Pre-Season Previews: The Guardian continue their Premier League club-by-club round-up with articles on Birmingham and Blackburn.
The Smut: The pathetic Daily Mail waste trees showing pictures of Fernando Torres and Wayne Rooney's new cars as well as drawing attention to Rio Ferdinand's new shoe line launched on Tuesday.
Lastly, The Star gossip that "David Beckham and telly chef Gordon Ramsay are to open their own pub in Los Angeles. And Becks might even call it The Queen Vic, after his wife of 11 years Victoria."
Best football betting tips & free bet offers
Click here for more Premier League betting tips
---