"He's won nothing!" – Jose Mourinho cried when David Moyes was appointed Man United manager
On Wednesday, a new book will be launched in Spain, written by El Pais journalist Diego Torres, titled "Prepárense Para Perder" (Prepare To Lose) about Jose Mourinho's time at Real Madrid.
It should first be noted that Torres is a known adversary of now Chelsea boss Jose Mourinho during his time at Real Madrid and there are suggestions that the Spanish journalist has an axe to grind with The Special One.
Nevertheless, rumours have abounded for some time that Jose Mourinho was desperate to take over from Sir Alex Ferguson as Manchester United manager.
Diego Torres writes in-depth about the day David Moyes was announced as Manchester United manager, just hours after Sir Alex Ferguson retired and the juiciest parts have appeared in El Pais today.
He writes in "Prepárense Para Perder" that "Mourinho, fed by his devoted agent [Jorge Mendes] believed that [Sir Alex] Ferguson, as well as an ally, was his friend and Godfather. He was convinced that they enjoyed a friendship of genuine trust. He thought that his fabulous collection of titles, two European Cups, seven League Cups and four in four different countries, constituted an endorsement no other candidate had. When he learnt he had chosen Moyes, Mou was incredulous. He screamed: 'But he's won nothing!'"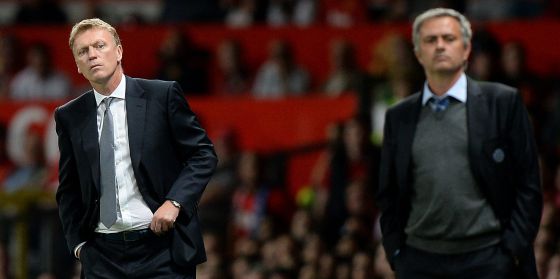 Torres adds: "They were the most miserable hours of Mourinho in his time as manager of Real Madrid. Between dozing and waking he had a mobile glued to his ear, seeking clarification during the night of the 7th and the morning of May 8."
And the hand of super agent Jorge Mendes is heavily referenced by Torres who adds that even in the hours leading up to Moyes' appointment, "wanted his agent to pressure the English club in an attempt to block any operation. It was an act of desperation."
Finally, Torres writes "What most spooked Mourinho was the conclusion that in public he would look a fool. He felt cheated by Ferguson and feared someone might stop taking him seriously. For years, the propaganda machine had reported the idea of ​​a friendship that is now revealed as a fantasy image. Mourinho's advisers told him to say that he already knew everything because Ferguson had called to inform him."
Related link: Swindon v Chelsea: Watch a Live Stream of the Capital One Cup match.
---
GAMBLING CAN BE ADDICTIVE, PLEASE PLAY RESPONSIBLY