Guillem Balague: Gareth Bale still wants to leave Spurs, Real Madrid losing interest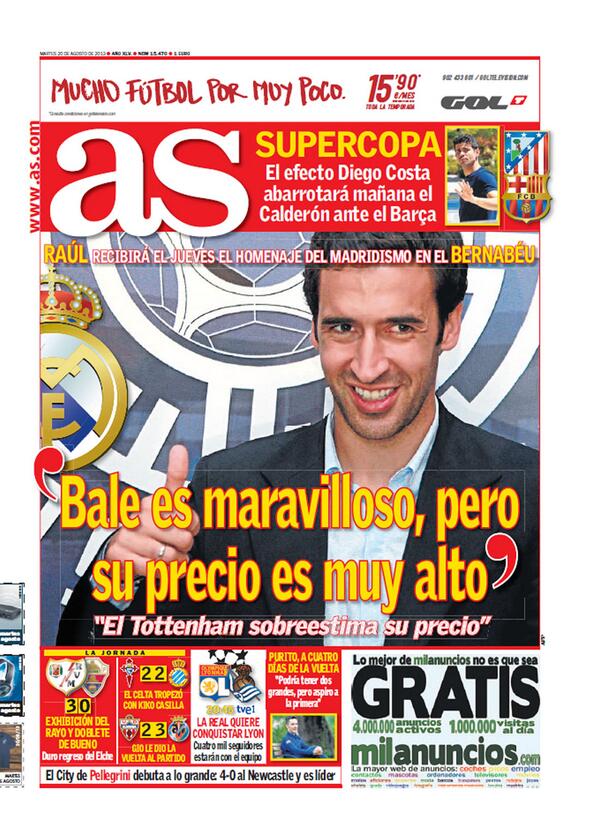 The subject of Real Madrid's world record bid for Gareth Bale continues to feature on the front page of AS on Tuesday morning.
Real Madrid legend Raul has his say on the move for Bale on the front cover of AS.
Raul was quoted as saying yesterday: "[Bale] is a wonderful player. I understand the Real Madrid board is working hard to assemble the best team possible. But the price is too high."
Inside AS, Spanish pundit Guillem Balague gives an in-depth review of where Gareth Bale, Real Madrid and Spurs stand with the transfer currently at somewhat of a standstill.
According to Balague, Bale is still desperate to leave Tottenham for Real Madrid this summer. The buttock and foot injuries that have been cited in recent weeks are simply a way of ensuring the Welsh forward does not get injured if a move does go through.
Tottenham coach Andre Villas-Boas said yesterday he hopes to have Bale available for the Europa League second leg against Dinamo Tblisi next week.
Bale is set to undergo a fitness test next Monday. An appearance in the Europa League would not affect his availability in the Champions League should Real Madrid improve on their original offer.
Balague adds in AS that no meeting is currently planned between Spurs and Real Madrid and the Premier League side have warned Los Blancos not to leave it too late in the summer transfer window as they will not have time to sign a replacement.
There are also rumours suggesting that Real Madrid are losing interest in signing Bale and that the Spanish giants may start thinking about bringing in someone else.
---