Great timing: Liverpool MD Ian Ayre says 'Luis Suarez has damaged Liverpool's brand; he's working on his character'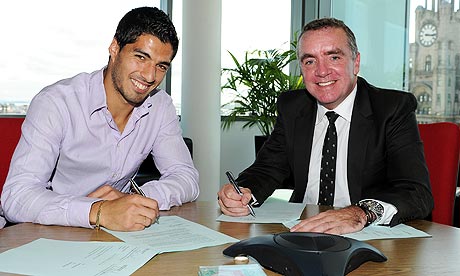 As timing goes, this was a pretty epic fail by Liverpool's managing director Ian Ayre.
Just as the dust is settling around Luis Suarez and the Uruguayan looks finally ready to put his troubles behind him and let his football do the talking, Ayre has rather bizarrely dragged it all back up again; the day after his tranquil comeback.
Speaking at the Sport Industry breakfast in London, Ayre said:
'Any types of incident of that nature (violent conduct, racial abuse) are damaging to the brand."
"We have worked a lot with Luis since the last incident with Ivanovic and he has responded well to that. He has been prepared to commit to that sort of work on his character."
"We are very much an institution and we base ourselves on family values, and when your kids are naughty you tell them off and you try to teach them the error of your ways. It's no different.
"Every time you have a negative issue like that particular one then of course it's damaging, but the important thing is to put it right and restore the integrity of the football club. And I believe that's what we did."
"What's important at those times is to ensure we act respectively and professionally as a football club, and in the past we've got some of that wrong and more recently we got that right.
"He is a great team member. The players are supportive of him and he is supportive of them. The most important thing is that he is on the football pitch, and most importantly committed to playing for Liverpool."
It's a needless storm in a teacup as far as Liverpool are concerned and probably not the kind of thing Suarez needs to hear dragged up again, and again and again by the club.
---
GAMBLING CAN BE ADDICTIVE, PLEASE PLAY RESPONSIBLY