Good Weekend, Bad Weekend
A breathless weekend of football saw some clear winners and losers in England as Arsenal and Manchester United continued their relentless recent form whilst Chelsea and Liverpool received yet more damaging blows to their hopes of success this season. In truth though one player continues to wow us all – Lionel Messi was awesome yet again at Zaragoza last night and is even putting the likes of Cristiano Ronaldo and Wayne Rooney in the shade.
Good Weekend
Lionel Messi: After Barcelona's 4-2 win over Real Zaragoza last night Pep Guardiola, as on the ball as ever, said "there are no adjectives left" to describe Messi. That hasn't stopped anyone from trying in the past week. Stuttgart boss Christian Gross claimed he was better than Maradona, Barcelona president Joan Laporta said he was better than Cruyff and Maradona, while Guardiola himself compared the diminutive Argentinean with Kobe Bryant and Michael Jordan.
Quite simply, Messi is so good at the moment that even the greatest players that ever lived in both football and basketball are being wheeled out in comparison. The statistics do a good job of summing up his brilliance. He has now scored 31 goals in 33 appearances and has eight from his last three matches.
In 2010 Messi has 18 in 13 games and this coming summer could be the making of "The Flea." Even if the Barcelona number 10 does not lead the Catalan giants to domestic or European success, the World Cup will define his legacy. If Argentina can emerge victorious in South Africa despite Diego Maradona Messi will rightly take his place alongside the Argentina national team coach and Pepe in the pantheon of greats.
(Argentina are 10.00 to win the World Cup.)
Sir Alex Ferguson: Yet again SAF got his team selection right and his ambition to knock Liverpool "off their perch" looks like becoming reality with Manchester United favourites to secure their fourth successive Premier League title. It wasn't the prettiest of games but the home team bounced back from Torres' early goal and controlled the match with a number of key performances.
Ji-Sung Park has taken the plaudits for another lung bursting game and he is yet another player to have stepped up this season in the absence of Cristiano Ronaldo. The South Korean has now scored crucial goals against Arsenal, AC Milan and Liverpool in 2010 and will be a key man against Bayern Munich.
Darren Fletcher was also tireless in midfield, fully deserving of his man of the match award and yet more vindication for the faith Ferguson has placed in his fellow Scot. A trip to Bolton next Saturday, then a two legged tie with Bayern Munich and a clash with Chelsea in between looks like defining United's season.
(Manchester United are 2.10 to win the Champions League.)
Arsenal: The victory over West Ham with ten men feels like another major psychological hurdle passed by Arsenal's young gunners. The title charge has continued in recent weeks without captain Cesc Fabregas and there have been notable late winners at Stoke, after Aaron Ramsey's horror injury and at Hull last week.
Against the Hammers Arsene Wenger's side played with ten men for all of the second half and yet more heroes emerged. The much maligned Manuel Almunia saved a crucial spot kick before the break and his confidence could be massive in the run-in and against Barcelona.
Alex Song was also imperious in central defence and he will have to be next week at Birmingham in a tough encounter without Thomas Vermaelen. Arsenal have now won their last six league games and despite losing twice to Chelsea this season seem much more likely to win the title than the faltering Blues.
(Arsenal are 4.75 to win the Champions League.)
Manchester City: A big three points at Fulham sets City up for their game in hand on Spurs at home to in-form Everton at Eastlands on Wednesday. Carlos Tevez and Craig Bellamy once again proved their qualities away from home and arguably Roberto Mancini's side are the favourites for fourth with six of their last nine matches at home, two of which are against Tottenham and Aston Villa.
(Manchester City are 2.00 to win the 'Without Top Four' league.)
Spurs: Their first win at Stoke in 25 years and yet another big three points where previous Tottenham sides would likely have faltered. Harry Redknapp isn't everyone's cup of tea but you can't fault his judgment. Leaving Wilson Palacios on the bench was a real risk and Eidur Gudjohnsen came through with a fine performance. The Icelandic striker could be an important player now with Jermain Defoe and Roman Pavlyuchenko both nursing hamstring injuries.
(Tottenham are 2.50 to win the 'Without Top Four' league.)
Wigan: Of Wigan's eight Premier League victories this season four have come thanks to a 1-0 scoreline with Hugo Rodallega the only scorer. The Latics rode their luck against Burnley on Saturday but with a host of young players they should put up a better showing next season.
Darren Bent: Twenty goals in 30 appearances this season leaves him above the likes of Jermain Defoe, Peter Crouch and Emile Heskey in the goal scoring charts. Somehow it still seems unlikely that Fabio Capello will take him to South Africa.
Mikel Arteta: The cultured Spaniard has been excellent for Everton since his return from a long injury lay-off. Three goals in his last three matches, including a sublime free-kick against Bolton on Saturday, is just reward for one of the most unsung players in the league.
(Everton are 51.00 to win the 'Without Top Four' league.)
Portsmouth: Pompey showed incredible character to come back from 2-1 down at home to Hull to win 3-2 late on. Their nine point deduction from the Premier League may have stalled a great escape in the latter weeks of the season.
Rangers: With only nine men Walter Smith's side emerged triumphant in the Co-operative Insurance cup final. A double seems assured and a treble likely.
Mirko Vucinic: Scored a hat-trick for Roma in their 4-2 win over Udinese. The capital club were the only side of the top three in Serie A to win over the weekend.
(Roma are 7.00 to win the Scudetto.)
Ajax: Won 5-1 away at RKC with Luis Suarez claiming a brace marking his 41st goal of an incredible campaign. Ajax have now won eight successive league games and look like they could pressure FC Twente in the final weeks of the campaign.
(Ajax are 2.65 to win the Eredivisie, Twente are 1.64.)
Bad Weekend
Liverpool: Yet another shocking day in a miserable season sees Liverpool looking more likely to finish seventh and secure a place in the Intertoto Cup (ok, it's debunked, but you get the point!) rather than return to playing Champions League football next season.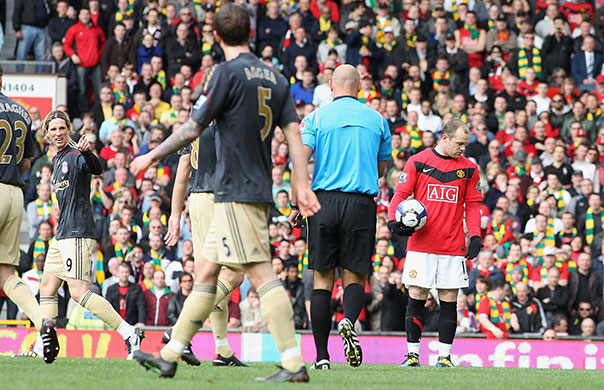 It was an all too familiar tale at Old Trafford of a Liverpool side that failed to even play for the win, happy to contain United for as long as possible. Once again we were reminded that when Fernando Torres and Steven Gerrard fail to fire, this side is no better than mid-table.
The Spanish striker did light up the game with a terrific opener but from the penalty decision onwards Torres failed to compose himself and if he had been booked for scuffing the penalty spot would probably have been sent off. Meanwhile Steven Gerrard was anonymous and the fact he was played in four different positions by Benitez during the match says much about the problems at Anfield this season.
The Europa League may prove to be Liverpool's safe haven in the coming weeks although upcoming opponents Benfica won the Portuguese League Cup yesterday and are one of the top attacking teams in Europe. It would take a major upturn in form for Liverpool to turn it round in the Premier League and the doomsday scenarios we have heard all season are coming closer to reality.
(Liverpool are 4.33 to win the Europa League.)
Chelsea: A bad week was worsened at Ewood Park as the Blues failed to stamp their mark on the match after a period of early dominance. It feels like no exaggeration to say that Jose Mourinho has pooped on the Chelsea parade and such stuttering form seems unlikely to lead the Blues to title success.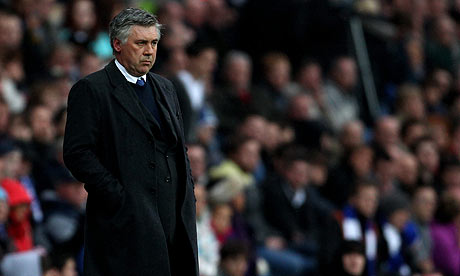 In truth though, the "Special One" merely exacerbated a poor run which arguably began with the revelations over John Terry's affair with Wayne Bridge's former girlfriend. Looking back even further it seems that this Chelsea squad is too old, are too reliant on Michael Essien, and have too many players strolling through games.
He may well wield the axe in the summer but the past few days have shown that Roman Abramovich is at fault for many of the problems at Stamford Bridge. Handing out large contracts to old players like confetti means the old timers have little to play for and the club will receive very few large fees if these players are moved on.
On the bright side, Chelsea look in little danger of giving up their top four position and there is no FIFA transfer ban in place now. Roman Abramovich will have to reinvest big time in the close season.
Hull: Portsmouth's incredible fight back has clouded what was a shocking result for Hull who had hoped that Iain Dowie could lead them to safety. Eight games left for the club to save their skins with their financial future in the balance.
Burnley: In truth Burnley played pretty well at the DW Stadium but were undone late on. Brian Laws is out of his depth and he needs a result in the derby against Blackburn next Sunday.
Atletico Madrid: Defeated 4-1 at Mallorca, the Rojiblancos are probably the least consistent team in Europa.
The Bundesliga title race: Only Schalke, with a draw at Hamburg, picked up any points of the top three in Germany as Bayern Munich lost at Eintracht Frankfurt and Leverkusen defeated at Dortmund.
(Bayern are 1.40 to win the Bundesliga, Schalke are 4.25 & Leverkusen are 6.50.)
Lille & Lyon: The only two of the top six in Ligue 1 to lose over the weekend, the fact the defeats came to Bordeaux and Marseille respectively worsen the blows.
(Bordeaux are 1.83 to win Ligue 1, Marseille are 4.33 & Montpellier are 8.50.)
---