Good Weekend, Bad Weekend
A fascinating weekend in the Premier League saw Chelsea take a big step towards the title as the race for fourth became even tighter. The big movers in the relegation battle were West Ham and over in Italy an unlikely title challenge appears to be emerging from Roma and Claudio Ranieri.
Good Weekend
Petr Cech & Didier Drogba: It was far from a vintage performance by Carlo Ancelotti's side at Molineux but Chelsea got the job done and made sure they capitalised on Manchester United's defeat at Everton. Central to the victory were the big men at either end of the pitch, best exemplified by the second goal against Wolves which was the perfect example of route one.
Cech was reliable all afternoon and if Chelsea do win the title, the doubts surrounding the Czech number one may drift away. Drogba meanwhile is in better form than Wayne Rooney, scoring on average 0.86 goals per game in the Premier League compared to the Manchester United striker who is on 0.84 for the season.
Next up for the Blues is the small matter of Inter Milan and Jose Mourinho at the San Siro on Wednesday night.
(Chelsea are 4/7 to advance past Inter Milan in the Champions League.)
Everton: The Toffees 3-2 win over the champions was a triumph for David Moyes as both his substitutes got on the score sheet – how often does that happen? Even more encouraging for Everton is that Dan Gosling and Jack Rodwell are the future and from their performances so far, look to be two impressive youngsters.
Everton now look like an outside bet for the prized fourth spot. In 2010 they have beaten Manchester City, Chelsea and now Manchester United at home. The squad at David Moyes' disposal now looks brimming with options and it would be a great shame if they were knocked out the Europa League at Sporting Lisbon on Thursday.
(Everton are 4/1 to finish in the top six.)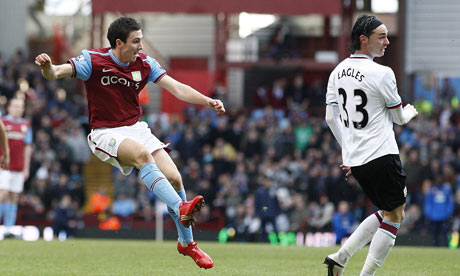 Aston Villa: Four goals in a blistering 12 minute spell in the second half against Burnley was another statement from Martin O'Neill's side that this season they won't fall away in the race for a Champions League spot. The quality throughout the Villa squad was highlighted by Stewart Downing who scored twice, the first a fine finish with his weaker foot.
Villa have a game in hand on rivals Liverpool and Spurs and of all the teams chasing fourth are probably in the best form. They have not lost in 2010 over a period of 11 games and a win in the Carling Cup final could see confidence at an all-time high.
(Aston Villa are 16/5 to finish in the top four.)
Roman Pavyluchenko: The Russian has been vocal in recent weeks and finally proved why he has been so demanding. Spurs have struggled for goals in recent weeks and Pavlyuchenko could be the player to make the most out of minimal chances without the zippy wing play of Aaron Lennon.
After a period of struggle, Harry Redknapp's side produced a big performance at the DW Stadium on an atrocious pitch reminiscent of the worst Hackney Marshes has to offer. Gareth Bale is turning into a left back of immense promise and if Spurs can hold their nerve, a top four finish is still a possibility.
(Spurs are 9/2 to finish in the top four.)
Arsenal: Under the radar a little, Arsene Wenger has changed Arsenal's formation with two holding players now reinforcing the midfield behind Cesc Fabregas. It wasn't vintage Arsenal on Saturday but incredibly a title challenge is still on.
Four defeats this season by Chelsea and Manchester United have been damaging but with excellent form against the rest of the Premier League, Arsenal are just six points behind the leaders and two points adrift of the champions. A major test at Stoke awaits next week, the Gunners don't like the Britannia and a defeat to the Potters would likely extinguish their title hopes.
(Arsenal are 13/2 to win the league.)
West Ham: The Hammers were the only team to win of the bottom eight and this was another victory under new owners David Gold and David Sullivan who seem to have brought a little stability to the club.
The back to back home wins against Birmingham and Hull marked the first time successive matches have been won this season. Manager Gianfranco Zola now also has an embarrassment of options in the forward positions. It would be no surprise to see the Hammers comfortably avoid the drop although upcoming away games at Manchester United, Chelsea and Arsenal may slow their progress.
(West Ham are 10/1 to be relegated.)
Bobby Zamora: The cracking winner against Shakhtar Donetsk was followed by a brilliant performance against Birmingham which was capped off by claiming all three points with a late free-kick. A World Cup spot feels a little exaggerated but he is in excellent form.
(Fulham are 45/1 to finish in the top six.)
Stoke: The late win at Portsmouth, achieved with ten men has been largely forgotten due to the woes of the home side. Stoke are though on a great run, undefeated in 2010, over a span of 10 games which has included Manchester City (twice), Liverpool and Arsenal.
Roma: It has been argued in some quarters that Claudio Ranieri is succeeding as he doesn't have a big enough squad to "tinker" with at Roma. Nevertheless the Giallorossi are in the midst of an incredible run that could sees them just five points behind Serie A leaders Inter Milan.
(Roma are 10/1 to win the Scudetto.)
If Roma can keep up this form, the clash against Inter Milan in the capital at the end of March could go a long way to deciding who wins the Scudetto.
Alessandro Del Piero: Provided his fourth assist in three games as Juventus continue their upturn in fortune.
(Juventus are 3/1 to finish in the top three.)
Barcelona & Real Madrid: Ten goals between them in two matches reminded us once again of their dominance in Spain. Both sides bounced back from recent defeats and there was much to admire, not least Andres Iniesta's first goals of the season and probably Real Madrid's best performance of 2009/2010.
(Barcelona are 5/8 to win the league, Real Madrid are 7/4.)
Hertha Berlin: Gave their relegation hopes a major boost with a surprise 3-0 win at Freiburg.
Cacau: Scored four for Stuttgart in their 5-1 win over Cologne, Barcelona will surely have taken note ahead of the Champions League first leg tomorrow night.
Mamadou Niang & Michel Bastos: Both stepped up with hat-tricks on Sunday afternoon in Ligue 1.
Bad Weekend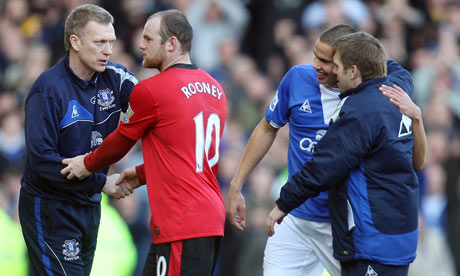 Manchester United: With players out due to injury (Ferdinand, Giggs and Vidic) and suspension (Nani), United's squad looks a little short especially when Wayne Rooney has an off day. For once Sir Alex Ferguson accepted defeat with a little bit of grace which is a fair indicator of how bad United were at Goodison Park.
Tired legs from the San Siro has been cited but the real question is whether some of United's squad members are good enough. Jonny Evans has looked shaky in the last couple of games and with Anderson out of favour the options in central midfield look light. A big week beckons with West Ham at home on Tuesday and the chance of more silverware in a mouth watering Carling Cup final against Aston Villa next Sunday.
(Manchester United are 11/4 to win the league.)
Manchester City & Liverpool: A horrible game saw both sides fail to muster many meaningful attempts on goal with a result that suited Aston Villa and Spurs. With the amount of investment in both teams, the lack of wit or invention was a sad indictment on the quality of the Premier League.
We have come to expect stifling football from Rafa Benitez and in Liverpool's current predicament nothing less was to be expected. Roberto Mancini has disappointed though. Such a classy forward during his playing career, City may look a little tighter in defence but seem to lack the creativity and potency to ensure a Champions League spot.
(City are 13/5 to finish in the top four, Liverpool are 13/8.)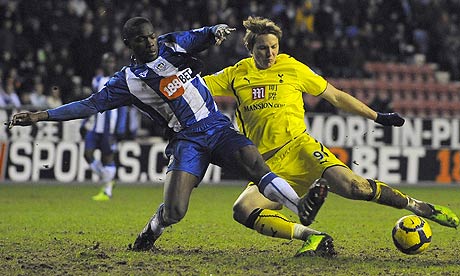 Wigan: Lost 12-1 on aggregate to Spurs in the Premier League this season which is the all-time record defeat over two games since 1992. The Latics battled gamely for much of their defeat on Sunday but badly need to get amongst the goals again.
The DW pitch is horrific and in truth probably hinders Roberto Martinez's side more than most of their opponents. The policy of signing up and coming players should be commended but eight games without a win is a worrying statistic.
(Wigan are 5/1 to be relegated.)
Bolton: Soundly beaten at Ewood Park and Owen Coyle is struggling to make an impact at the Reebok.
(Bolton are 3/1 to be relegated.)
Burnley: Boast the worst defensive and away records in the Premier League and it was not hard to see why at Villa Park.
(Burnley are 8/11 to be relegated.)
Sunderland: The defeat at the Emirates on Saturday was the 13th match in the Premier League they have failed to win since beating Arsenal in November. Steve Bruce has targeted the next four home games (Fulham, Bolton, Manchester City and Birmingham) as he begins to sound a little desperate.
(Sunderland are 9/1 to be relegated.)
Portsmouth: Their off the field problems have shielded the Pompey first team from much criticism in 2009/2010. But, how many times are they going to play well and lose?
(Portsmouth are 1/12 to be relegated.)
Atletico Madrid: Capable of beating Barcelona last weekend, Forlan, Reyes and co lost 1-0 at Almeria on Sunday.
Jose Mourinho: Much has been made of the handcuff gesture from "The Special One" after two red cards were handed out to Inter Milan against Sampdoria on Saturday night. Mourinho's side have however drawn their last three games in Serie A and a thirteen point lead over Roma in January has been cut by eight.
(Inter are 1/4 to win the Scudetto.)
Lazio: Now languishing just two points above the drop zone after defeat at Palermo signalled last week's victory at Parma was not a new dawn.
Gianni De Biasi: Sacked as Udinese coach following the 3-0 defeat at Genoa. He had been in charge for just 10 games.
Title challengers in Germany: The top four teams in the German Bundesliga all failed to win for only the second time in 2009/2010.
(The odds for the Bundesliga winner can be seen here.)
---
GAMBLING CAN BE ADDICTIVE, PLEASE PLAY RESPONSIBLY