Good Weekend, Bad Weekend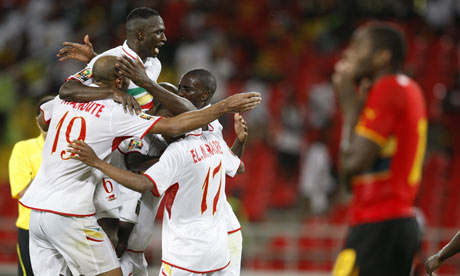 The weekend just gone will be remembered for a terrorist attack on the Togo national team that left international footballers at the mercy of machine gun wielding killers. Aside from the tragic events in Angola, there was some cracking football over the past few days, not least in the opening match of the Africa Cup of Nations.
There may have only been two Premier League games but they lived up to the stereotype of the season with both Birmingham and Everton doing a favour for a host of clubs near the top. Elsewhere, Lionel Messi and Ronaldinho took centre stage on Sunday night with virtuoso performances.
Good Weekend
Mali: To come back from four-nil down with eleven minutes remaining and then from a deficit of 4-2 going into injury time, Mali have almost single-handedly rescued the competition following Friday's machine gun attack on the Togo national team.
Some woeful defending from the hosts and horrible goalkeeping from Carlos Fernandes was at the root of the comeback in a game Angola had thoroughly deserved to win over the first three quarters of the match. We can expect plenty more games like this in the next three weeks, what a shame the tournament's organisers have let everyone down.
(Angola are now 8/15 to qualify from their group, while Mail are 4/6)
Everton: Only an injury time goal from Tomas Rosicky denied Everton a thoroughly deserved victory at the Emirates which would have marked David Moyes' first victory at a "Big Four opponent."
The Toffees have suffered an almighty injury list this season and this performance was the perfect riposte to the opening day 6-1 defeat by the Gunners in August. Then, Everton were reeling from Joleon Lescott's decision to join Manchester City, now it looks like finally it is coming together for Moyes and his men.
Everton are unbeaten in the league since the Merseyside derby defeat to Liverpool and have produced some fine results in recent weeks, including creditable draws with Spurs, Chelsea and now Arsenal. If Moyes can get the best out of Landon Donovan, the Toffees could have a strong second half of the campaign, especially if the likes of Mikel Arteta and Phil Jagielka return from injury lay-offs.
(Everton are 12/1 to finish the season in the top six)
Birmingham: A draw with Manchester United, to place alongside home shut-outs against Chelsea and Manchester City, confirm that it is no fluke that Birmingham are eighth in the Premier League.
Alex McLeish's side are now just seven points away from the 40 point mark and look like a side that can trouble even the very best. Against United, Birmingham defended brilliantly and are an extremely tough side to break down.
Everywhere you look, McLeish looks to have performed miracles, especially with the spine of his side. No one could have expected Joe Hart, Scott Dann, Roger Johnson, Barry Ferguson and Lee Bowyer to have played as they have. And the strike force of "Chucho" Benitez and Cameron Jerome is a fine combination.
The next challenge for Brum is how to utilise the riches of Carson Yeung and not dilute the work rate and team effort that are strong characteristics of this side.
(Birmingham are 15/2 to finish the season in the top six)
Lionel Messi: "The Flea" was in inspired form for Barcelona at Tenerife, scoring a fine hat-trick to lead Barcelona to an important win after Real Madrid had briefly gone top of La Liga.
Messi is now the joint top scorer in Spain along with David Villa and if he reproduces this form in the second half of the season it will be difficult to stop Pep Guardiola's side. Special mention also for Bojan Krkic, who provided an impressive three assists.
(Leo Messi is 13/5 to be La Liga's top goalscorer)
Sergio Canales: This 18-year-old looks set to become a household name. Canales claimed a brace to guide Racing Santander to a fine victory at Sevilla and is likely to be chased by both Barcelona and Real Madrid, as well as perhaps some English clubs, in the next few months.
Canales is out of contract at the end of the season and Racing Santander's loss will likely see the young playmaker end up at the Nou Camp or the Bernabeu. Undoubtedly a player to keep an eye on and with four goals in his last three games he could be a late contender for Spain's World Cup squad.
(Racing Santander are 16/5 to be relegated)
AC Milan & Ronaldinho: On the evidence of recent weeks, it may be worth backing AC Milan to see off Manchester United in the first knockout round of the Champions League.
Leonardo's side were impressive against a poor Juventus side and deservedly won 3-0. The structure of the Milan side was hugely impressive with a solid spine, willing full backs and a front three of Ronaldinho, Borriello and Beckham that looked dangerous all night.
Eight points is a large deficit to make up on leaders Inter but the difference between this AC Milan side and the one that started the campaign is immense. Leonardo also has Alexandre Pato to bring in once the Brazilian returns from injury.
(AC Milan are 7/2 to win the Scudetto)
Inter Milan: After the sensational late win over Siena, Joe Mourinho described his team as a "fortunate." Nevertheless, coming back from 3-2 down to win 4-3 with just two minutes to go is proof that Inter Milan will surely win the Scudetto again this season.
Incredibly, Jose Mourinho has still not lost a league match at home for nearly eight years.
(Inter Milan are 1/3 to win the Scudetto)
Napoli: Won a tough match at Sampdoria and are now undefeated since early October, winning eight of their last 13 matches.
(Napoli are 4/1 to finish the season in the top three)
Bad Weekend
Togo & the Africa Cup of Nations: The images beamed across the world on Friday night signalled the worst possible start to the Africa Cup of Nations in Angola. The tournament has literally been hijacked by terrorists and the subsequent confusion has overshadowed the start of one of the most eagerly awaited competitions ever.
The Confederation of African Football have a lot to answer for. The choice of Angola for the tournament now looks like a stupid and subsequently fatal decision. Angola are also responsible for failing to urge Togo to travel by plane rather than bus.
It has been a topsy-turvy season on the field and many must now be surprised to have sympathy for Emmanuel Adebayor. The Togo striker may speak English in a crazy accent but he has been a fine representative for his country and the continent of Africa in recent days.
The true victims were the Togo players and officials who went through a most distressing ordeal. The show must go on but one must hope that the administrators responsible will held to task.
(Togo are 99/1 to win the African Cup of Nations)
Arsenal: The Gunners missed a golden opportunity to close the gap on leaders Chelsea and after the club did all they could to make sure the game with Everton took place, the Arsenal team struggled to get their passing going against a determined outfit. The poor weather that has struck Blighty in recent days has cost Arsenal a fixture against a manager less Bolton side and now they may have failed to capitalise on their game in hand on Chelsea.
The injury to Denilson has left Arsene Wenger short in midfield with Alexandre Song at CAN and Andrey Arshavin once again looked a little lost up front. Arsenal need a physical target man who can be the focal point of their attacks yet Arsene Wenger seems unlikely to purchase in January.
(Arsenal are 5/1 to win the Premier League)
Manchester United: Just as sure as night follows day, if Manchester United fail to win, Sir Alex Ferguson can be found bleating about the referee. Since the officials at St Andrews played six minutes of injury time, all the United boss could complain about was Darren Fletcher's sending off to deflect attention from another performance that wasn't great.
United are stuttering and Chelsea really have a great opportunity to kick on now. The returns of Owen Hargreaves and Rio Ferdinand can't come quick enough, but as has often been said, the lack of Cristiano Ronaldo (and Carlos Tevez) to bail them out of jail when things are going awry, has still not been addressed.
(Manchester United are 3/1 to win the Premier League)
Ciro Ferrara: The front of Turin-based newspaper Tuttosport this morning calls for "Subito Hiddink" – Hiddink immediately. Juventus have lost five of their last eight games and Ferrara's position as Juve boss looks untenable.
(Juventus are 28/1 to win the Scudetto)
---