Good Weekend, Bad Weekend
Yet another weekend of shocks in the Premier League has left the top of the table wide open and also set up a rather intriguing relegation battle in the second half of the campaign. Much of the weekend drama occurred at Eastlands, despite the fact that Real Madrid hit six and Barcelona became the club world champions.
Good Weekend
Roberto Mancini
There was no doubting Mancini's playing ability; the former Sampdoria striker was one of the most pleasing on the eye forwards you could ever wish to see. (See here.) His managerial credentials are not in the same league though, and his domestic success at Inter Milan is as likely down to the lack of a real challenger after Calciopoli rather than his own brilliance.
The 4-3 victory over Sunderland, with Robinho and Emmanuel Adebayor on the bench proved once again that City need a "Galactico" manager such as Guus Hiddink. Don't be surprised if Jose Mourinho succeeds Mancini again next summer.
(Manchester City are 15/8 to finish in the Top Four)
Fulham & Bobby Zamora
Such is Fulham's current form that Shakhtar Donetsk, who last year won the competition now named the Europa League, cannot be confident of progression in the next round.
Roy Hodgson is quite simply a miracle worker. Revitalising the careers of the likes of Bobby Zamora (109/1 to finish as the top goalscorer), Danny Murphy and Damien Duff is clear for all to see, but it has not been mentioned that Chris Baird patrolled the midfield at the Cottage on Saturday against five United players. Baird was an average right back but Hodgson's genius is making decent players into a quality team.
Fulham are now in ninth position and look a threat for anybody at Craven Cottage and with their game in hand are now playing themselves into being a contender for a Champions League spot.
Suddenly the calls for Bobby Zamora to play for England don't seem so stupid now.
(Fulham are 74/1 to win the "Without Top Four" market)
Mick McCarthy
The Wolves manager claimed that he had generated as many column inches as Tiger Woods since fielding a reserve side at Old Trafford on Tuesday. The world's number one golfer can only dream of such a swift comeback.
McCarthy was vindicated in making so many changes for the visit to the champions when Wolves saw off Burnley on Sunday afternoon. The six points gained from victory at Tottenham and against Owen Coyle's side mean Wolves are now in twelfth position, three points off the relegation spots.
The former Republic of Ireland manager should also take credit for two inspired signings. Nenad Milijas has scored two and provided an assist in his last three games and is starting to show why he was one of the top players in Serbia. Kevin Doyle is also coming good, scoring on consecutive weekends and proving money well spent.
(Wolves are 7/5 to be relegated)
Peter Crouch
Crouch (39/1 to finish as the top English goalscorer in the Premier League) scored his first Premier League goals since the 9-1 mauling of Wigan and proved that he is arguably the most important striker at White Hart Lane. Not many forward players could have reached the header for the opening goal and for away games it will always be a choice of who will partner Crouch.
Spurs would often have lost this game in the past and Harry Redknapp's side defended impressively. Special mention should also be made of Heurelho Gomes, who this time last year was a mistake waiting to happen. The Brazilian was assured in goal and made a match winning save from Benni McCarthy early in the second half.
The Boxing Day encounter at Fulham next Saturday looks rather tasty.
(Tottenham are 11/5 to win the "Without Top Four" market)
Arsenal
Without truly impressing, the Gunners saw off Hull, a team they have come to hate in recent months. The victory was largely down to a number of unsung players at the Emirates, including Manuel Almunia, Denilson and Abou Diaby. And was easily achieved without Cesc Fabregas.
With the top two stuttering, could Arsenal sneak in and win the title?
(Arsenal are 11/2 to win the Premier League)
Aston Villa
Last season Villa surrendered a two goal lead at home to Stoke and then fell into freefall. The win over the Potters on Saturday was their fifth consecutive victory. It was also notable that substitute John Carew scored the winner, which suggests Martin O'Neill's squad may be equipped better this campaign.
The match at the Emirates next week looks massive.
(Aston Villa are 12/5 to win the "Without Top Four" market)
Avram Grant
In Israel Avram Grant is known as a lucky manager and he has certainly lived up to his billing in his opening matches as Pompey boss. On Saturday, Nadir Belhadj scored a cracking volley with his unfavoured right foot and Frederic Piquionne added a second despite looking like a Sunday league footballer for the preceding 80 odd minutes.
Portsmouth were playing better under Paul Hart but with Grant in the dugout they are now picking up points. Pompey could well be the second Premier League team ever to escape the drop after they were bottom at Christmas.
(Portsmouth are 20/21 to be relegated)
Newcastle
Chris Hughton's side have now let in just four goals at home all season and lead the Championship by ten points.
(Newcastle are 5/8 to win the Championship)
Rangers
Walter Smith's side hit six at home and then saw Celtic lose at Hearts.
(Rangers are EVS to win the SPL)
Barcelona
Six trophies in a year for Pep Guardiola and his all conquering side is just desserts for some of the finest football seen in a long time. It seems likely that this Barcelona team will go down as one of the all-time greats.
The crucial goal against Estudiantes came from Pedro who equalised against the Copa Libertadores holders with seconds remaining. It was fitting that both goals came from home grown players, proving Joan Laporta's adage that "We make Ballon d'Or winners and others have to buy them." A point Manchester City could perhaps do with hearing.
(Barcelona are 8/11 favourites to win La Liga)
Real Madrid
The Bernabeu witnessed the attacking quality of Galacticos 2.0. Gonzalo Higuain now has 10 for the season and looks a good bet for the Pichichi. Rafael van der Vaart has made a fine comeback after looking like he was headed for the exit and what would the score have been if Kaka had been available?
Barcelona have been brilliant in 2009 but make no mistake, this Real Madrid side could snatch La Liga and the Champions League from their Catalan rivals in 2010.
(Real Madrid are 7/4 second favourites to win La Liga)
Bayern Munich
The calls for Louis van Gaal to be ousted from the Allianz Arena are becoming more distant by the week. Bayern have now scored 14 goals in three games and are one of the form teams in Europe.
(Bayern Munich are 5/6 favourites to win the Bundesliga)
Felix Magath
It appears that only Schalke and Leverkusen can stop Bayern Munich winning the Bundesliga. Magath is turning into a one man miracle machine and is the type of manager Manchester City should be looking to entice to Eastlands.
Last season he led Wolfsburg to an unlikely title, in 2009/2010, Magath has dragged Schalke up to second.
(Schalke are 8/11 to win the Bundesliga)
Bordeaux
Laurent Blanc's side received a favourable Champions League draw and then his four past Lorient to secure their seventh successive victory in all competitions. Bordeaux are eight points clear in France.
(Bordeaux are 8/15 favourites to win the Ligue 1)
Bad Weekend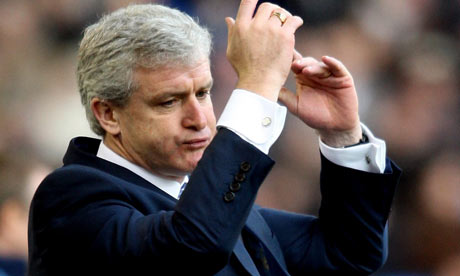 Mark Hughes
You had to feel sorry for Hughes in the way he was ousted, with Roberto Mancini at Eastlands on Saturday. But, the former Manchester United striker was always going to struggle to see out the season after failing to do much in 2008/2009.
Some of his purchases let him down (Robinho, Kolo Toure and Emmanuel Adebayor) whilst the one everyone laughed at, Craig Bellamy now looks inspired. The key was in the defence which again looked woeful against Sunderland on Saturday.
Hughes' biggest mistake may have been selling Richard Dunne. His only comfort now may be watching others come and go at Middle Eastlands as they try to live up to almost impossible expectations.
Rafa Benitez
The failings of the top two and the sacking of Mark Hughes have taken the shine off Benitez, after his side produced yet another horrible performance at Fratton Park.
As ever, Benitez was guilty of some surprising team selection, with Dossena starting on the left hand side and predictably being hauled off when Liverpool really had to go all out to salvage something.
At any other club the Spaniard would have been handed his P45. With so long left on his contract, the Liverpool owners have no choice but to back Benitez but a glance at the league table will tell you how far the Merseyside giants have to go to finish in a top four position.
A win against Wolves next Saturday tea time is now an absolute must before matches against Aston Villa and Tottenham in the league. With so many teams around them, the Liverpool fight back has to start now or Europa League football will become a regular occurrence at Anfield.
(Liverpool are 2/1 to finish in the Top Four)
Manchester United
Sir Alex Ferguson gambled on a back three again, as he did versus Wolfsburg in the recent Champions League game, and he got it spectacularly wrong. He wasn't helped by Paul Scholes giving the ball away for Fulham's opener and Michael Carrick going awol at the start of the second half.
The Manchester United manager is famed for his motivational team talks so the second goal at Craven Cottage must have come as a real blow, coming as it did just seconds after the half time team talk.
A pretty average Arsenal side now look poised to leapfrog United into second if they can win their game in hand and whilst neighbours City may be taking all the headlines, the Premier League champions look as bad as we have seen them in recent seasons.
United should be able to steady the ship at Hull next Sunday and then at home to Wigan before the FA Cup tie with Leeds. But they are there for the taking this season and if they continue to drop points could also be worrying about their consistent involvement in the Champions League.
(Chelsea are 16/5 second favourites to win the Premier League)
Chelsea
Since blitzing Arsenal at the Emirates in late November, Chelsea have been woeful. Carlo Ancelotti's side appear to have lost the power and ability to brush teams aside that they were displaying earlier on in the campaign.
At Upton Park, Ashley Cole was guilty of diving in on Jack Collison to give away the opener and Didier Drogba was a shadow of the player that has terrified defences all season.
The revelations about John Terry in the News of the World have come at a pretty bad time as has the groin injury to Nicolas Anelka. Chelsea's poor form and the suspended transfer ban means they are likely to dip into the transfer market.
Ancelotti needs results at Birmingham and away at Fulham next weekend. Chelsea should have walked away with the league title by now.
(Chelsea are 4/5 favourites to win the Premier League)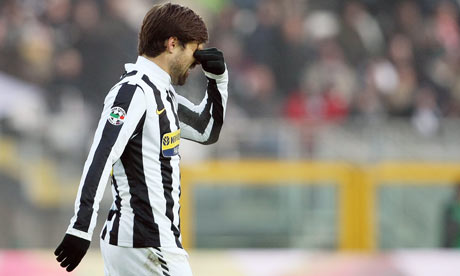 Ciro Ferrara
The former central defender may have already been sacked by the time you read this. A third defeat in a row to bottom side Catania is woeful on a day when Juventus fans shamed the club further with racist slogans that will be punished by the Italian authorities.
(Juventus are 12/1 to win Serie A)
Sevilla
A number of columnists labeled Sevilla as potential Champions League winners over the weekend, they lost at home to Getafe and are nine points behind leaders Barcelona.
(Sevilla are 1/2 to finsh in the Top Three of La Liga)
Lack of footie
The snow spread havoc across Europe and not just on the Eurotunnel. Games in Italy, Holland and Belgium were affected as were the lower leagues in England.
Ian Bell
He has to be dropped from the England cricket team. Now. Please
---
GAMBLING CAN BE ADDICTIVE, PLEASE PLAY RESPONSIBLY