Good Weekend, Bad Weekend
Just one home win and shocks everywhere made this round of Premier League action arguably the best of the whole season so far. Nowhere was this better illustrated than by the three Birmingham based teams who all won and, in the cases of Aston Villa and Wolves, provided major shocks. In Europe, Bayern Munich appear to be returning to form, the top three in Italy were all stunned and Real Madrid sent out a title warning with an impressive victory at Valencia.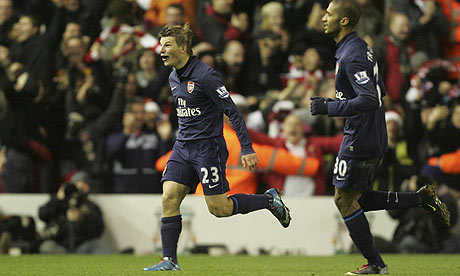 Good Weekend
Andrey Arshavin & Arsene Wenger
Might this be the turning point of Arsenal's season and the start of a true title challenge? If it is then Arsenal fans will have one man to thank: Russian playmaker Andrey Arshavin.
After seeing off Stoke last week in his first start in English football up front, Arshavin came away from Anfield with the victory he deserved after scoring four against Liverpool last season. Arshavin's technique for his goal is now becoming his trademark, a fierce shot with little or no back lift can make the difference in tight matches with many players in a penalty box. (Watch here.)
The little Russian playmaker, as has been noted on many occasions, is not the typical Arsene Wenger purchase, but there is no doubting his impact since joining the Gunners in the January 2009 transfer window. Arshavin is now the perfect argument for those who are urging "The Professor" to splash the cash again next month.
Special credit should also go to Wenger for inspiring the second half turn around, Arsenal had been woeful in the opening period and the usually placid Frenchman reportedly went crazy at half time. Cesc Fabregas: "He told us that we didn't deserve to wear the Arsenal shirt, and he was right."
Now, according to the Premier League table Arsenal are back in the race for the Premier League title. Three points behind Manchester United with a game in hand and a better goal difference ensures the Gunners will believe again. Easy looking matches against Burnley (a) and Hull (h) precede the visit of Aston Villa to the Emirates, win those three and the faltering top two could be overhauled by January.
(Arsenal are 11/2 third favourites for the Premier League title)
Aston Villa
Their first victory at Old Trafford in 26 years came just months after they should have won at the Theatre of Dreams in one of the games of last season. Martin O'Neill has improved the Villa squad since last season and they look genuine contenders for a Champions League finish.
(Aston Villa are 13/5 third favourites to win the "Without Big Four" market)
Wolves
Mick McCarthy described the victory at White Hart Lane as "a Disneyland result" which tallies with expectations before kick off but does not give a reflection of how comfortable Wolves were.
Marcus Hahnemann barely had a save to make for the whole match as Wolves picked up successive victories in the top flight for 26 years. Nenad Milijas proved his dead ball ability once again and the defending throughout the side was hugely impressive.
If McCarthy can get Sylvain Ebanks-Blake to show his Championship goal scoring form in the Premier League, Wolves could be ok.
(Wolves are 10/11 to be relegated)
Birmingham
Up to eighth and level with Liverpool after four successive wins in the Premier League. Lee Bowyer has now scored three winners in these four matches and with Alex McLeish set to be handed some money by Carson Yeung, these are happy days at St. Andrews.
(Birmingham are 80/1 to win the "Without Big Four" market)
Everton
Ruffled up Chelsea at Stamford Bridge and were well worth their second draw against a London side in six days. The luck seems to be turning for David Moyes' side.
(Everton are 20/1 to be relegated)
Maynor Figueroa
What a goal! Wigan would not have lost 9-1 at Spurs if Figueroa had been fit.
(Wigan are 5/1 to be relegated)
Carlos Tevez
If Manchester City are to do anything this season they will need a talisman and Tevez's current form suggests he could be that man. Whilst City's other attacking players were poor at the Reebok on Saturday, the Argentine striker scored twice and his energetic style seems to be galvanising Mark Hughes' side.
With so many big name players it seems most likely that it will be Tevez who is able to kick-start the rest of the side into gear. It has mainly gone unnoticed in the aftermath of the 3-3 draw at Bolton but Emmanuel Adebayor fails to join the celebrations after Tevez's second equaliser (watch here) and it is this kind of prima-donna attitude that could hold back City's Abu Dhabi-backed project.
With their game in hand, City are still very much in the mix at the top of the table. Upcoming matches against Spurs (a), Sunderland (h), Stoke (h) and Wolves (a), all look tricky and will have to be negotiated to leave them in good stead for January when they have seven matches, including the Carling Cup semi-final against United.
(Manchester City are 5/6 favourites to win the "Without Big Four" market)
Thomas Sorensen
Rodallega's penalty may have been weak but Sorensen is earning a reputation as a penalty saving keeper. (Watch here.)
Parma
The only team of the top four in Italy to win over the weekend.
(Parma are 125/1 to win Serie A)
Alessandro Matri
The Cagliari striker matched the great Gigi Rivera's record of scoring in seven successive matches with a goal in the 3-3 thriller with Napoli.
Real Madrid
Los Blancos finally beat a good side and did so away from home without Kaka and Cristiano Ronaldo. The "Galacticos 2.0" project will be further tested with the news that central defender Pepe is out for six months.
(Real Madrid are 13/8 to win La Liga)
Zlatan Ibrahimovic
It may not have been a penalty but Zlatan claimed his fourth goal in five games.
(Barcelona are 4/9 favourites to win La Liga)
Bayern Munich
After their incredible performance in Turin, Bayern smashed Bochum 5-1 to move to within two points at the top of the Bundesliga. Bild called the double act up front of Mario Gomez and Ivica Olic as "GOLIC" yesterday and with Franck Ribery close to full fitness it has all turned around for Louis van Gaal.
(Bayern are 8/11 favourites to win the Bundesliga)
Steve McClaren
FC Twente won again to take their winning streak in the league to 12 matches. PSV are still hot on their tails though.
(Twente are 13/8 to win the Eredivisie)
Bordeaux
Laurent Blanc's side won 1-0 at Lyon and now look clear favourites to win Ligue 1.
(Bordeaux are 5/6 favourites to win Ligue 1)
Bad Weekend
Rafa Benitez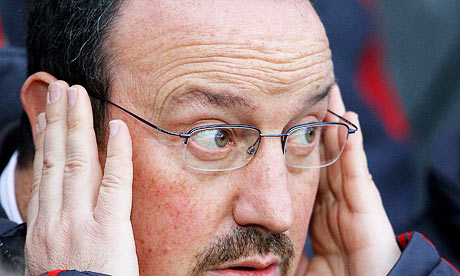 The Spaniard came up with some big talk ahead of the clash with Arsenal about this being the start of Liverpool's season. In truth the result and performance were symptomatic of the campaign so far and at almost any other club Rafa Benitez would be heading for the exit.
For all of Liverpool's dominance in the first half against the Gunners, Benitez was caught short by a team talk from Arsene Wenger that made his team improve. Glen Johnson's own goal stunned the home side and they proved unable to respond to a more positive Arsenal side. Surely Benitez knew the Gunners would improve in the second half?
This was Liverpool's second successive 2-1 home defeat and the Merseyside giants have now won just two games in their last 10 matches. These came against a woefully bad Debrecen side, who came close to snatching a draw and against Everton in a game the Toffees dominated.
This was a season that started with many suggesting Liverpool would win the Premier League titles. Nearly half way through the campaign and they are now closer to mid-table than the top of the table.
Saturday's results showed a top four finish is possible but it looks like being an almighty scrap with Manchester City, Spurs and Aston Villa. Relatively easy looking games against Wigan, Portsmouth and Wolves must be taken advantage of before the trip to Villa Park in late December.
(Liverpool are 1/7 to win nothing this season)
Manchester United
When Frederico Macheda stepped up late on to defy Villa last season it was quickly forgotten how a Cristiano Ronaldo brace set up the unlikely win. On Saturday there was no Portuguese winger to bail out the champions and at times United struggled to test Brad Friedel.
Typically, Sir Alex Ferguson's rant about minutes added on deflected his team from much of the criticism. But, United would not have scored had there been 10 minutes of time added on.
A clash with a resurgent Wolves tomorrow night now looks a little tricky.
(Manchester United are EVS to win nothing this season)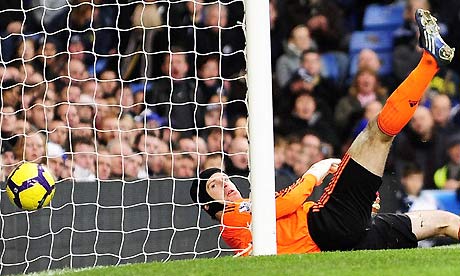 Petr Cech
It is incredible that Cech has come out and slammed Chelsea's fans in the aftermath of the 3-3 draw with Everton on Saturday. The Czech Republic keeper has produced two woeful performances at City and now against the Toffees and looks desperately vulnerable on set pieces.
(Chelsea are 15/8 to win nothing this season)
Tottenham
Would anyone be surprised if Spurs finished seventh or eighth this season? No team with Champions League pretensions can lose at home to Stoke and Wolves without even scoring a goal.
(Tottenham are 13/5 third favourites to win the "Without Big Four" market)
West Ham
The only team in the bottom 13 sides of the Premier League not to pick up a point over the weekend. The Hammers are in deep trouble and look certainties to go down. Dean Ashton's retirement will be compounded if Carlton Cole leaves in January and is difficult to see Gianfranco Zola guiding his youngsters out of this mess.
(West Ham are 10/3 to be relegated)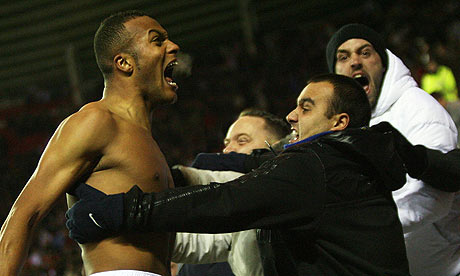 Younes Kaboul
Kaboul should be in the "Good Weekend" section but received his second yellow card due to the worst rule in football. Cristiano Ronaldo received his first booking against Almeria last weekend for the same reason and it is absurd to punish players for how they react to scoring a goal.
(Portsmouth are 8/15 to be relegated)
Juventus
Four defeats in their last five games have left the "Old Lady" in crisis with Guus Hiddink now rumoured to be in negotiations to take over from Ciro Ferrara.
(Juventus are 5/1 to win Serie A)
AC Milan
Failed to make up some ground on Inter Milan with a disappointing home defeat to Palermo halting Leonardo's recent renaissance.
(AC Milan are 5/1 to win Serie A)
Wolfsburg
Armin Veh's side have now failed to win in their last six matches, seeing them fail to gain entry to Champions League knockout rounds and trailing in ninth position in the Bundesliga. The big clubs are circling for Edin Dzeko who could now leave in January.
(Wolfsburg are 33/1 favourites to win the Bundesliga)
Jens Lehmann
---
GAMBLING CAN BE ADDICTIVE, PLEASE PLAY RESPONSIBLY