Good Weekend, Bad Weekend
It was a weekend of missed penalties. Aruna Dindane, Cesc Fabregas, Frank Lampard, Cristiano Ronaldo and Jermain Defoe all missed from 12 yards with both Chelsea and Spurs in particular ruing the failure to convert late opportunities. Manchester City were the big talking point of the Premier League weekend, whilst in Italy we may have a real three-team title race.
Good Weekend
Manchester City
Mark Hughes' side pulled off their best result of the season and ended a run of seven successive draws to see off the league leaders and Premier League favourites. The victory was even more impressive when one compares how just a week before Arsenal were taken apart at home by this powerful Chelsea side.
Carlos Tevez and City have had a good week. First Middle Eastlands witnessed a Carling Cup victory over the Gunners followed by Saturday's defeat of the Pensioners, with Carlos Tevez scoring in both matches to debunk the myth that he doesn't contribute enough goals.
Shay Given also proved his worth with a fine penalty save from Frank Lampard late on which secured all three points. Yet again the Republic of Ireland number one showed that for all the money spent on the likes of Robinho, Adebayor and Tevez, he could be the most important signing of this new era.
Tough away trips to Bolton and Tottenham are now to come for a resurgent City and the way things are panning out, they will need to secure at least four points to stay close to the other teams battling for a Champions League spot.
(Manchester City are 4/5 to win the 'Without Big Four' market)
Manchester United
The years and years of title winning experience have ingrained United with a professionalism that can grind out results on a weekly basis. West Ham may have failed to put up much of a fight but it is difficult not to be impressed with Sir Alex Ferguson's side keeping a clean sheet with all the injury problems at the club.
United finished the match with Michael Carrick and Patrice Evra (Ferguson: "the smallest centre half in the world") in central defence and Ryan Giggs at left back. Darren Fletcher had started at Upton Park at right back and the Premier League champions were also missing first choice keeper Edwin van der Sar.
So often, when teams hit a poor run, injuries are cited and excused by many pundits. Everton and Liverpool's woes this season have been put down to injuries, yet United are showing what the real quality clubs do when they have eight defenders out.
(Manchester United are 8/11 to win nothing this season)
Fulham
The Cottagers are up to eighth and are now just two points behind Liverpool after seeing off Sunderland on Sunday. It was their second successive 1-0 home win this week and Roy Hodgson's side look closer to bagging a European place than fighting relegation.
(As an aside, Roy Hodgson's article on the World Cup in the Sunday Times was a fascinating read and the former Inter Milan manager may be a columnist to watch out for.)
(Fulham are 50/1 to win the 'Without Big Four' market)
Andrey Arshavin
The Russian playmaker was at his scintillating best in a central striking role against Stoke on Saturday. Arshavin could have scored a hat-trick and was involved in all of Arsenal's best moves.
It can be easy to become frustrated with Arshavin. He shouts his mouth off to seemingly every newspaper and can at times go missing in games. Ironically, his signing last January has been the catalyst for almost all of the Gunners' best performances in 2009 which means Arsene Wenger will be urged to utilise his transfer kitty again in the upcoming transfer window.
(Arsenal are 8/1 third favourites to win the Premier League)
Aston Villa
Martin O'Neill described the first half performance against Hull as "exhilarating" as Villa blew away Hull. The second goal in particular was a real squad effort with Steve Sidwell showing some very quick thinking on the touchline to set up James Milner for a fine lob.
Villa are quietly going about their business and of all the top four contenders they could well be a good bet. Away matches at Manchester United and Sunderland should tell us a lot more about the Carling Cup semi-finalists and favourites to face one of Manchester City or United.
(Aston Villa are 4/1 to win the 'Without Big Four' market)
Tim Howard
Held his nerve deep into injury time against Spurs and secured a crucial point for the Toffees who had spent much of the game looking like relegation candidates.
(Everton are 16/1 to be relegated)
Avram Grant
The victory over Burnley was timely as it gave the Israeli his first win but also meant Pompey secured three points before a difficult December of games against Sunderland (a), Chelsea (a), Liverpool (h), West Ham (a) and Arsenal (h).
(Portsmouth are 5/4 to beat the drop)
Birmingham
Four wins out of their last six games, in which they have not lost once have made Alex McLeish's side one of the form teams in the Premier League.
(Birmingham are 11/2 to be relegated)
Wolves
A much needed win for Mick McCarthy's side and proof that defenders like Jody Craddock can succeed in the Premier League and that there are foreigners such as Nenad Milijas who can be signed for cheap and impress in England.
(Wolves are 3/1 to finish bottom of the Premier League)
Juventus
The "Old Lady" produced a valiant display to beat league leaders and champions Inter Milan. Liverpool fans should note that Momo Sissoko was man of the match and, after some stuttering form of late, Ciro Ferrara may have taken a firmer hold on his job thanks to a victory over Jose Mourinho.
(Juventus are 4/1 second favourites to win the Scudetto)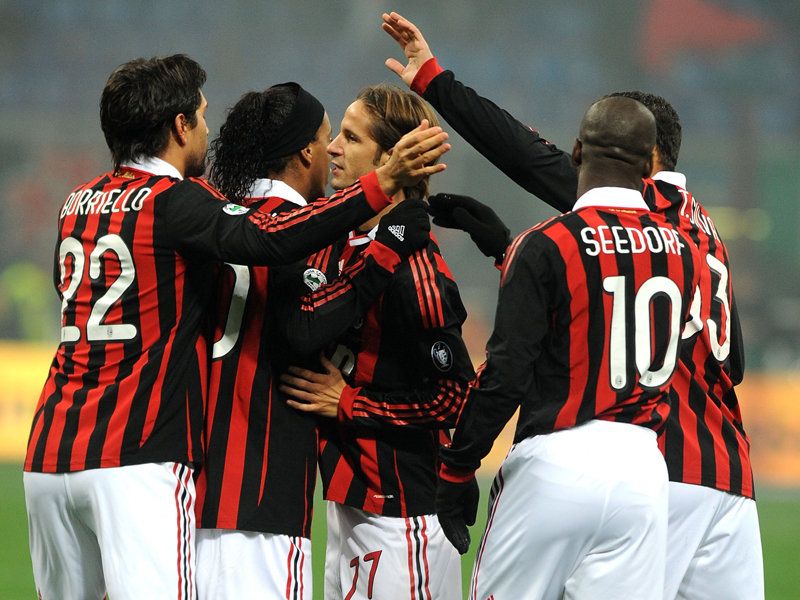 AC Milan
The Rossoneri steamrollered Sampdoria in the first half on Saturday night and are currently looking like the best team in Serie A. AC Milan have now claimed victory in five successive league matches and with only four points separating them from local rivals Inter (and with Juve just one behind AC Milan), the title race looks well and truly on in Italy.
(AC Milan are 9/2 third favourites to win the Scudetto)
Lionel Messi
Another masterclass from the world's best player in Barca's 3-1 win at Deportivo. A sharp finish and a header gave Messi both his goals and capped another majestic display from Barcelona.
(Barcelona are 2/5 to win La Liga)
Atletico Madrid
Two wins in a row and successive clean sheets, perhaps Atletico have turned the corner.
Bayern Munich
Only Schalke of the top three won this weekend and incredibly, after a woeful first half to the season, Bayern Munich are now four points off the Bundesliga summit.
(Bayern are 10/11 favourites for the Bundesliga title)
Grenoble
Ligue 1's bottom side won their first match of the campaign.
Flamengo
The biggest club in Brazil, with as many fans (estimated at 35 million) as the population of Peru, secured their first league title in seventeen years. Angelim Petkovic and Adriano were the attacking heroes during the season for the side from Rio who had 80,000 fans packed into the Maracana to see their 2-1 win over Gremio last night.
Bad Weekend
Petr Cech
The Czech Republic custodian should have done better with both goals at Eastlands, especially the second where a fairly central free kick was allowed into the net.
After looking so impressive at Arsenal last weekend, Chelsea failed to take their chances at City and have now been pegged back to just a two point lead from Manchester United.
Factor in the Africa Cup of Nations and the fact that United always perform better in the second half of the season and it looks like we have a very tasty title race on our hands.
(Chelsea are 4/6 favourites to win the Premier League)
West Ham
Gianfanco Zola has a number of constraints on his job, not least a chronic lack of cash. Currently, the Hammers are looking like relegation fodder and the fact they failed to test a makeshift United backline was a sad indictment on this young team.
West Ham would look a different team if Dean Ashton and Carlton Cole were up front, it now looks increasingly likely that neither England striker will be at Upton Park come February. Zola could do a lot worse than play himself – these youngsters need an experienced head to guide them through a relegation battle.
(West Ham are 9/2 to be relegated)
Spurs
Since beating Wigan 9-1, Tottenham have drawn two Premier League games they should have won and been knocked out the Carling Cup. Forget Jermain Defoe's late penalty miss, crucial as it was, Spurs had the chances to finish the match as a contest at 2-0 with Peter Crouch most culpable when put through with only Tim Howard to beat.
Of all the challengers to the established "Big Four" this season, Spurs have been the most impressive so far. Four home games in December give them a great chance to turn good displays into points.
(Spurs are 7/4 to win the 'Without Big Four' market)
Liverpool
Rafa Benitez's side produced another disjointed attacking display at Ewood Park on Saturday and made a mockery of all the fighting talk that has emerged from Anfield in recent weeks.
Next Sunday's clash with Arsenal is looking like another must win game but the return of Fernando Torres, expected now to play against Fiorentina on Wednesday, cannot come quick enough to give Liverpool some bite up front.
(Liverpool are 1/9 to win nothing this season)
Bolton
The only team in the bottom three not to win this weekend and Gary Megson's job is looking precarious. The Trotters have now not tasted victory since the end of October and have picked up just one point in five games. Homes games against Manchester City and West Ham could now decide Megson's future.
(Bolton are 9/1 to finish bottom of the Premier League)
Jimmy Bullard
Everybody's second favourite footballer is facing his third knee operation in three years. The only consolation is that Bullard injured his left knee at Villa Park and not the right one that has already been operated on twice.
Get well soon Jimmy. We'll miss you.
(Hull are 2/1 to finish bottom of the Premier League)
Cristiano Ronaldo
The world's most expensive player missed a penalty (followed up by Benzema), scored and was then sent off in a crazy second half spell in Real Madrid's 4-2 win over Almeria. Ronaldo apologised to his team mates after the game but now misses a tough game at Valencia next week.
(Real Madrid are 15/8 to win La Liga)
Jose Mourinho
Sent to the stands in Inter's loss at Juventus.
(Inter Milan are 1/3 favourites to win the Scudetto)
Ajax
Lost to Utrecht and lost ground on PSV and FC Twente at the top of the table.
(Ajax are 11/4 to win the Eredivisie)
---
GAMBLING CAN BE ADDICTIVE, PLEASE PLAY RESPONSIBLY