Good Weekend, Bad Weekend
The weekend was built up around the clash at Stamford Bridge yesterday and although it was a game full of chances and incident there were other special moments over the last couple of days. Not least Robinho and Manchester City's mauling of Portsmouth at "Middle Eastlands"…
Good Weekend
Manchester City
Last season City were spanked at Chelsea and Middlesbrough, yesterday they turned the tables on Pompey with a performance full of skill and high-speed attacking play that should send out a message to the rest of the Premier League. City can challenge the top clubs and whilst Robinho may be the icing on the cake it is clear that many of the team that won the game yesterday were brought to the club before the dramatic final day of the summer transfer window.
Throughout this City side there is genuine class, Richards and Dunne at the back through to the Brazilian trio of Robinho, Elano and Jo combined with SWP who is back home and playing exceptionally well. The strength in depth at the club is now illustrated by the fact that they have barely missed Martin Petrov, probably their most effective attacking player for long spells last season. There were six different scorers in the mauling of Pompey.
And to top it all off City have one of the best up-and-coming managers in the country in Mark Hughes. The Welshman commented afterwards, "That was the best performance I've managed by a country mile" – to beat Wales' win over Italy in 2002 is going some way.
Arsenal
Wins away at Blackburn and Bolton in a week, with a draw secured in Kiev sandwiched in the middle, Arsenal have what it takes to challenge for the title this campaign. The Gunners could also be said to be the real winners of the draw at Stamford Bridge.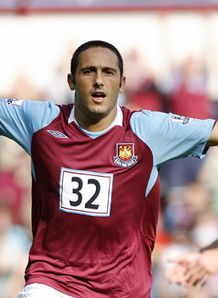 David di Michele
It was somewhat apt that a fellow Italian should secure Gianfranco Zola's first win as a manager. But, let's be honest, who had a clue who David di Michele was before Saturday afternoon.
The striker on loan from Torino had provided an assist in the defeat at West Brom and his match winning performance against Newcastle should secure him a place in the Hammers side for a few weeks yet, especially with the injury to Dean Ashton.
With people behind the scenes these days receiving so much criticism, it is also a good time to congratulate West Ham's technical director, Gianluca Nani, on signing Di Michele. Six goals in 25 games in Serie A for Torino last year suggests he may not be winning matches every week but he has made a decent enough start and he made Steven Taylor look a fool.
Aston Villa
Three away wins in a week, suggests that either Martin O'Neill's side or Manchester City can challenge the "Big Four."
Barcelona & AC Milan
The seasons start here for Barca and the Rossoneri.
Video evidence
Leaving aside the crazy events at Vicarage Road, controversy surrounded Tim Cahill's goal at Hull which put Everton back in the game. If Hull go down because of these two dropped points they will lose out on millions.
How can a game awash with heaps of money not use some of it to get the most basic and important decisions correct?
Bad Weekend
Liverpool
A home victory over the Champions of England and Europe is followed by a 0-0 stalemate with Stoke City. Of course Steven Gerrard's goal should not have been disallowed, especially as it was claimed to be because Dirk Kuyt was offside and he didn't even touch the ball. But this performance summed up Liverpool and why they have struggled for so long to put up a title challenge.
Stoke hardly brought any groundbreaking tactics to Anfield, they defended in numbers and Rafa Benitez's side could just not break them down. Most worrying of all, new signings Albert Riera and Robbie Keane failed to provide any creativity and sparkle. Whilst Babel and Benayoun were left with too much to do when they came on against a resolute and settled Potters backline.
Of course, Stoke should be lauded for grabbing a point at Anfield, far better teams won't this season. But, how much damage will this have on the Liverpool title challenge? And how long does Robbie Keane have before he is dropped to the bench?
Portsmouth
Harry Redknapp summed up Pompey's performance after the game: "I don't think I have ever seen so many badly conceded goals in my life… we defended abysmally, it's the worst ever I've seen… It was like we weren't interested in defending. That's not like the teams I have. I have never seen us like that."
Question marks have to be asked of Redknapp's tactics, can Defoe and Crouch play up front together away from home at the big teams? The Pompey boss admitted this was a problem at Stamford Bridge on the opening day of the season, did he underestimate Manchester City?
In addition, Crouch has yet to score in the league this season, thankfully for 'Arry and his lanky forward, Spurs come to Fratton Park next week.
Bayern Munich
Bayern were humiliated in their own stadium, Jurgen Klinsmann described it as a "black day" and the beer that will be flowing in Munich for the "Oktoberfest" is unlikely to improve recollections of a terrible performance by the Bundesliga holders.
Replacing Oliver Kahn was never going to be easy, but Michael Rensing was at fault for at least two of the goals and could be a thorn in the side if he is unable to replace the former Bayern number one.
Franck Ribery cannot return quick enough.
Fans of Ligue 1
Following Monaco's 0-0 draw at Marseille, Lyon are now four points clear at the top of Ligue 1, deja vu anyone?
Stuart Attwell
Just like Graham Poll will always be remembered for his "three-card trick," the 25-year-old referee may now forever be known as the ref who gave the "ghost goal." Three officials in Kenya were last week suspended for six months for allowing a sent-off player back on the field as a substitute, what will the FA decide for Attwell and linesman Nigel Bannister for such a shocking mistake?
Click here for more Premier League betting tips
---