Good Weekend, Bad Weekend
Besides Spurs' mauling of Wigan, it wasn't the most memorable of weekends in the Premier League with the aftermath of the international break hanging heavy over proceedings. Chelsea continued to press their title challenge whilst some of Arsenal's old failings returned. In Europe, Bremen hit six, Inter Milan were impressive, and all sorts of doubts are now being raised over last year's treble winners Barcelona.
Good Weekend
Jermain Defoe and Aaron Lennon
A better defence than Wigan's would have struggled against these two, who were at the forefront of one of the all-time great Premier League performances. Eight goals in the second half is almost an unheard of occurrence in top-flight football as Spurs hit nine for the first time in 30 years.
Defoe produced finishing of the highest order and now has his name up in lights with Andy Cole and Alan Shearer for scoring five in the Premier League. Like Lennon, there seems little doubt that Defoe is producing some of the best football of his career to ensure he secures a place in Fabio Capello's World Cup squad.
(Jermain Defoe is the new 11/4 favourite to win the Premier League golden boot award.)
Lennon, incredibly, was probably the man of the match, despite Defoe's five-goal haul, which says everything about the performance served up by the former Leeds winger. If he can consistently display this quality of service from the right, Keane, Crouch and Defoe will score a hatful and Lennon could soon be talked of as world class.
The test for Tottenham now is whether they can continue this form and really challenge for a Champions League spot. Since their horrible performance at the Emirates Harry Redknapp's side have seen off Sunderland and Wigan at home and now face the team directly below them in Aston Villa next Saturday afternoon, in what is now looking like a tasty fixture.
(Tottenham are 15/8 to win the Without Big Four market.)
Chelsea
Carlo Ancelotti's side established new records for consecutive victories at home as well as clean sheets at the Bridge and even Mick McCarthy was forced to admit his team had been "mullered." by the Blues.
Since football fans have notoriously short memories some will be wondering why Guus Hiddink could be welcomed back to Stamford Bridge in an administrative role as Ancelotti has done such a stunning job.
The Italian may have come to English football at an opportune time, with the three other teams in the "Big Four" all weaker than last season, but he has made some impressive tactical adjustments. A case in point on Saturday was Michael Essien's advanced role and the Ghanaian could have scored four.
Ancelotti has also got the best out of the likes of Nicolas Anelka, the returning Joe Cole and Florent Malouda also looks like the winger that flourished under Hiddink. And he even managed to blood youngsters Nemanja Matic, Fabio Borini and the highly imressive Gael Kakuta on Saturday.
Chelsea will serve up yet another title warning if they can go to the Emirates and win next week, to give themselves an eight point lead over the Gunners and with the quality in the Blues squad it looks like they can see off United and avoid a major blip during the Africa Cup of Nations.
(Chelsea are 4/6 favourites to win the Premier League.)
Darren Fletcher and Michael Carrick
Both these players have come under enormous scrutiny during their careers at Old Trafford. The News of the World even placed Carrick's position at the club under threat yesterday.
On Saturday, the two goal scorers were excellent and their dominance in the middle of the park was a key factor in the easy victory over Everton. Fletcher's goal was a quality finish and it now appears that if United are going to claw back Chelsea's lead at the top, these two will be crucial.
(Manchester United are 5/2 second favourites to win the Premier League.)
Sunderland & Darren Bent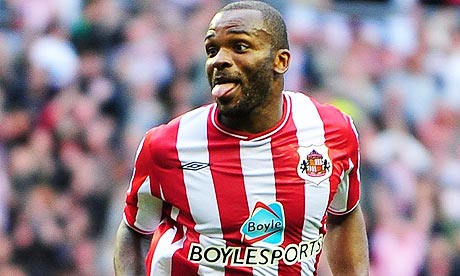 When pundits claim the rest of the Premier League are getting closer to the "Big Four," Sunderland are at the forefront having now beaten Liverpool and Arsenal at home and unluckily claimed just a point at Old Trafford. Steve Bruce has done an impressive job improving a side who battled relegation until the final day of last season.
Darren Bent (11/2 to win the Premier League golden boot award) has also kept up his incredible goal scoring record this season and has now notched against all of the "Big Four." It is worth pointing out that Bent faced disappointment in consecutive weeks (missing a penalty at Spurs then failing to impress for England) and came through with a big goal on Saturday and his instinct to bounce back could be useful in South Africa.
Alex McLeish
The Scot is hardly a household name but if Birmingham keep putting wins on the board there will be an appreciation of his nous in the transfer market. Lee Bowyer took the plaudits with a fine finish for the only goal of the game but McLeish looks to have signed well in the summer.
Roger Johnson and Scott Dann (two players signed from the Championship) were at the heart of the defence to keep the clean sheet against Fulham and despite being the club's record signing, Christian Benitez looks like being a bargain.
(Birmingham are 9/4 to be relegated.)
Emile Heskey
Scored his first goal since April to remind the doubters that he is a striker who can hit the back of the net. The late equaliser at Turf Moor could be a major goal in his quest for a start in the Villa side and a place in the England World Cup squad.
Stoke
Tony Pulis' side were not overly convincing but once again won at the Britannia to keep them in the race for a Europa League spot.
(Stoke are 80/1 to win the Without Big Four market.)
David Dunn
The Blackburn schemer scored a terrific opener at Bolton and is playing the best football of his career.
Real Madrid
The second coming of the Galacticos have not really played that well in the opening months of the season and have been without Cristiano Ronaldo for 10 matches, yet they sit top of La Liga with the
Super Clasico next Sunday.
(Real Madrid are 11/8 to win La Liga.)
Inter Milan
Jose Mourinho's side arrived in Barcelona yesterday full of confidence after another impressive performance at Bologna. Diego Milito scored two and provided an assist for the other in a 3-1 win and the Argentine striker could be one of the buys of the season.
(Inter Milan are 2/7 favourites to win Serie A.)
Francesco Totti
The veteran Roma captain claimed a first-half hat-trick, the third of which was a quality strike.
Steve McClaren
FC Twente left it late but they beat Vitesse Arnhem and remain top of the Eredivisie.
(Twente are 9/4 to win the Eredivisie.)
Rubin Kazan
Russian champions again, to prove last season wasn't a fluke.
Werder Bremen
Mesut Ozil, destined to be a major star at the World Cup, conducted a hugely impressive 6-0 victory over Freiburg on Saturday as Bremen closed the gap on leaders Leverkusen.
(Werder Bremen are 4/1 to win the Bundesliga.)
Bad Weekend
Arsenal
The old failings returned (a defeat up north and conceding from a set piece) as the Gunners failed to secure the three points to keep them on the tails of Manchester United and Chelsea.
Arsene Wenger has been dealt a difficult hand with injuries to both RVP and Nicklas Bendtner leaving him short of a target man. And although Eduardo looked dangerous, he had his work cut out against a well drilled Sunderland side. Similarly, at left-back the depth of the Gunners squad was tested with two first choice players missing.
Arsenal have the perfect chance to bounce back and will still fancy their chances at the Emirates where they have been scintillating this season. Wenger may even be able to field Andrey Arshavin and Theo Walcott in the same team which will test any defence.
Special mention should also be made of Alexandre Song who had a great game at the Stadium of Light and is turning into the Gunners' Player of the Season so far. If Arsenal can find some consistency they can still challenge, but defeats like this one at the Stadium of Light puncture a lot of the belief built up in recent weeks.
(Arsenal are 5/1 to win the Premier League.)
Liverpool & Manchester City
The 2-2 draw in the Saturday lunch-time kick off did neither side any good and their current league table positions belie the money invested (Manchester City) and the stature of the club (Liverpool.)
Roberto Martinez
The Spaniard actually came away from the mauling at White Hart Lane with some credit after facing the cameras and impressing as always with his calm, considered and erudite answers.
Nevertheless, the performance served up by the Latics was woeful and the disparity between some of their performances this season should be alarming for Martinez. Beating Chelsea is all well and good but conceding nine in the Premier League is horrible.
(Wigan are 9/2 to be relegated.)
Wolves
Even more than Portsmouth, who they lead by three point, Wolves appear to be the side destined for the drop after successive batterings by Arsenal and Chelsea. Mick McCarthy continues to look tactically inept at the highest level.
(Wolves are EVENS to be relegated.)
Everton
The Toffees meekly surrendered at Old Trafford and look a shadow of the side that has challenged the "Big Four" in recent years. Four points off the relegation zone should focus minds, especially as their next game in the league is against Liverpool: A clash of the Merseyside strugglers.
Kevin Prince Boateng
The Pompey midfielder was widely quoted on Sunday saying he was a reformed character and had learned from his mistakes. His penalty against Stoke was woeful and could have been a major turning point in Portsmouth's troubled campaign.
(Portsmouth are 8/15 to be relegated.)
Gary Megson
For as long as Bolton are in the relegation zone, the "Megson out" campaign gathers pace.
(Bolton are 3/1 to be relegated.)
Barcelona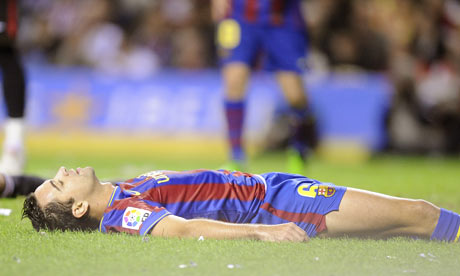 The 1-1 draw with Bilbao saw the Catalan giants surrender top spot in the Primera Division just days before two huge matches against Inter Milan and Real Madrid. Lionel Messi is now a major doubt for the Champions League game and Zlatan Ibrahimovic is also out of an encounter that could see Barca heading for the Europa League.
Throw in the swine flu that's hit the club and it looks like there is a heavy dose of "second season syndrome" hitting Pep Guardiola and the treble winners. What odds on Samuel Eto'o coming back to haunt his old club?
(Barcelona are 8/13 favourites to win La Liga.)
Atletico Madrid
A third consecutive defeat in the league means they have now claimed just seven points from 11 matches. Atletico are in deep crisis with Sergio Aguero and Diego Forlan heading for the exit as Champions League football next season looks impossible.
David Beckham
Defeat in the MLS Cup final came despite Goldenballs playing with an injury. Beckham scored his penalty but was powerless as the Galaxy lost to surprise package Real Salt Lake.
Bayern Munich
Louis van Gaal is yet again struggling at a big club. Bayern are yet to win in November and the likes of Schalke, Werder Bremen and Bayer Leverkusen should all be confident of winning the Bundesliga.
---