Good Weekend, Bad Weekend
The Premier League proved its unpredictable nature yet again this weekend with Liverpool and Chelsea the clear winners as a number of teams near the top failed to claim expected victories or threw away good advantages. Only one place to start though…
Good Weekend
Liverpool
It was a vindicating performance for Rafa Benitez on Sunday as Liverpool literally tore into United and kept up the pressure for 90 minutes. After so much criticsm of the bit-part players at Anfield, the Spanish manager will be delighted that David Ngog scored the second and there were a number of key performances throughout the side.
In particular, Jamie Carragher responded with a typical whole hearted display punctured by some of the most ferocious tackles you will see on a football pitch. Of course Fernando Torres will take the plaudits for his excellent first goal which effectively won the match – and El Nino at times didn't even look fully fit (80% according to Benitez).
But there were some fine performances throughout the Liverpool side likes of Yossi Benayoun and Dirk Kuyt (the architects of the first goal) were full of running in attacking areas and the much maligned Lucas and Javier Mascherano dominated the centre of the park.
It has been easy for many pundits to question how good Liverpool are without Torres and Gerrard but it is easy to forget the quality that can be found in certain positions. Pepe Reina in particular is one of Benitez's best ever signings and Daniel Agger could well be one of the top central defenders in world football in the coming years.
The big question now is whether Liverpool can take the momentum and provide a title challenge and fight their way back into the Champions League group stages. Still six points behind leaders Chelsea, the next few matches are huge, a trip to Fulham next week is not a guaranteed three points followed by the game at Lyon four days later.
The inner turmoil at the club was unlikely to see Rafa Benitez sacked at any point this season but the long term financial future of the Merseyside giants rests on reaching the knockout stages of the Champions League and the competition next season, these are still very much in the balance.
(Liverpool are 5/4 to qualify to the Champions League knock-out stages, and a tasty 4/7 against)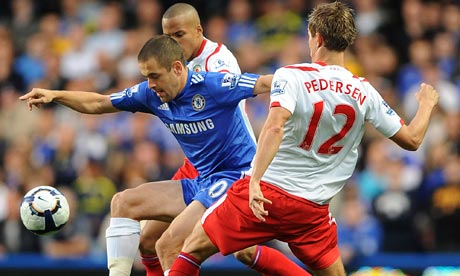 Chelsea
The Blues produced the football that Roman Abramovich will surely be purring over as Joe Cole reveled in the "hole" behind the strikers against a particularly poor Blackburn side that looked like they were suffering from wine flu.
Cole in particular has taken the plaudits and also proved the type of player Ancelotti must employ at the top of the diamond. Frank Lampard was also impressive and it appears that he performs better when attacking the goal from deep.
Chelsea, besides Liverpool, were the only team in the top eight teams in the Premier League to win over the weekend, now they should face Manchester United on November 8, top of the table as long as they negotiate a tricky match at Bolton next week.
(Chelsea are 9/1 to win the Premier League & FA Cup double)
Stoke
Tony Pulis' side picked up a massive win at White Hart Lane and look destined to be challenging for a mid-table finish rather than battling relegation this season. The Potters were solid throughout and the spine of the Stoke side was very impressive.
Steve Simonsen, a late call up half-an-hour before kick off, made some excellent saves, the central defensive pairing of Shawcross and Faye battled gamely against Crouch and the anonymous Keane whilst in front of them Salif Diao showed why Liverpool signed him all those years ago.
The quality of Stoke circa 2009/2010 was shown when Pulis introduced Tuncay late on as well as goal scorer Glenn Whelan, who is now developing a reputation as a player who can score from distance.
The upcoming league matches against Wolves, Hull, Portsmouth and Blackburn were expected to be relegation encounters, now Stoke can really push on against the weaker teams in the league.
(Stoke are 66/1 to win the 'Without Big Four' league)
Bolton
Gary Megson's side secured their first home victory of the season and now look well placed to push up the table and cause a few headaches for Chelsea next weekend.
(Bolton are 10/1 to be relegated)
Wigan
Wigan rode their luck with their first goal at Turf Moor as Brian Jensen's injury came at the worst possible moment for "The Beast." But from that time on, Roberto Martinez's side proved that they are suited to picking up points away from home and will continue to surprise this season.
The Latics display in the second half was classic Martinez, including quality on the ball, power and pace on the counter. Wigan, along with Sunderland and Stoke look likely to contest for the mid-table positions this season.
(Wigan are 125/1 to win the 'Without Big Four' league)
Alessandro Diamanti and Zavon Hines
The Italian ("the new Paolo Di Canio"?) underlines his status as a crowd favourite at the Boleyn with an inspirational performance as an early second half substitute. Hines won the free-kick, taken by Diamanti, that pulled a goal back for the Hammers and then the former Livorno attacker hammered home the second from the spot.
If Carlton Cole can receive some support up front, West Ham should push up the table.
(West Ham are 7/2 to be relegated)
Barcelona
We have almost come to expect Barcelona to hammer teams at the Nou Camp but yet again last season's treble winners produced a masterclass to hit six past Zaragoza. Saydou Keita may have scored a hat-trick but the likes of Iniesta, Xavi, Ibrahimovic (what a free-kick!) and Messi were irrepressible.
Real Madrid's 0-0 draw at Sporting Gijon leaves Barca three points clear at the top of La Liga and looking good ahead of what should be a testing month in November with Champions League games against Rubin Kazan and Inter Milan and the small matter of facing Los Blancos at home.
(Barcelona are 4/11 favourites to win La Liga)
Alessandro Nesta
Nesta has suffered injuries throughout his career and played just once last season as back problems took their toll. As a result it was great to see the veteran defender claim a brace to see AC Milan past the "Flying Donkeys" in a match they easily could have lost.
(AC Milan are 12/1 to win Serie A)
Wesley Sneijder
The Dutchman scored a cracking free-kick in Inter's 2-1 win over Catania, Sneijder has now played in six Serie A matches and been on the winning side in all of them.
(Inter Milan are 4/11 favourites to win Serie A)
Luis Suarez
The Uruguayan is a goal machine and seems destined for a bigger club. Two more in Ajax's 4-2 win at AZ Alkmaar took his tally for the season to 20 in just 16 games. Suarez is well on course to beat last year's total of 27 and it is only a matter of time before the big clubs come calling.
(Ajax are 6/4 to win the Eredivisie)
Bad Weekend
Manchester United
When Carlos Tevez and Cristiano Ronaldo left the club during the summer, defeats like Sunday's to Liverpool seemed to be inevitable. The fact that United have up till now prospered without two fine attacking players is testament to the strength of the squad at Sir Alex Ferguson's disposal, but the defeat at Anfield was majorly disappointing.
Ferguson has yet again pointed fingers at the referee but the bottom line is that United were outplayed all over the park and failed to get to grips with a side fighting tooth and nail for the cause.
Question-marks are now being asked of Vidic and Ferdinand after the former was sent off and the latter outstripped by Fernando Torres for the opener. But, throughout the team, United players failed to cope with their opposite numbers. Carrick and Scholes were outstripped by Lucas and Mascherano, helping to paint Darren Fletcher in a new unfamiliar role as savior of the champions.
Ferguson threw on Owen and Nani late on but still United failed to really threaten and the barrage on the Liverpool goal felt more like a token gesture than pressure to claim the equaliser.
Defeat hurts for Ferguson and United but they will no doubt continue to challenge. All signs this season point to them failing to take their fourth consecutive title and if they do, Chelsea will be kicking themselves even harder than they did over the last few seasons.
(Manchester United are 4/5 to win nothing this season)
Nemanja Vidic
There is no doubt the Serb is a great central defender, but he is quickly becoming a punch bag for Fernando Torres and Liverpool. Three consecutive red cards against the Merseyside giants is a pretty woeful record.
Arsenal
This Arsenal side may be eye catching but at times their lack of experience is highlighted again and again. First AZ Alkmaar came from behind after the Gunners failed to score a second and then Wenger's side dropped a two-goal lead at Upton Park. Criminal.
(Arsenal are 3/10 to win nothing this season)
Manchester City
Fulham played three games in six days, City hadn't played for exactly a week. Mark Hughes's team were the ones who should have easily closed out the game and now don't quite look like the title challengers (or Champions League spot contenders) we had built them up to be.
(Manchester City are 40/1 to win the FA Cup & Carling Cup double)
Robbie Keane
Harry Redknapp has publicly bemoaned not having Jermain Defoe available for the Stoke game and Keane had a shocker for Spurs on Saturday. Take away his four goal haul against Burnley and Keane has scored just one goal in nine games (against Hull).
Portsmouth strikers
Still yet to score this season – their only hope is that the new owners seem to have around as much money as the previous two.
(Portsmouth are 4/9 to be relegated)
Blackburn
Perhaps it was down to the swine flu but Blackburn truly were (in the words of Sam Allardyce) pathetic.
(Blackburn are 7/1 to be relegated)
Atletico Madrid
Even with a new coach, Atletico failed to beat Mallorca, at home, against a team down to nine men after 50 minutes.
Claudio Ranieri
The Tinkerman is a bad, bad manager. Why anyone would appoint Ranieri is a mystery to this writer. Roma have now lost successive Serie A matches and without Francesco Totti are a desperately ordinary team.
Ronald Koeman
The former Barcelona central defender is another coach who it is a mystery why anyone would appoint him. AZ have now gone from champions to also-rans within months.
Lyon
Two defeats in a row for the heavily assembled side with only the midweek victory at Anfield for comfort.
---
GAMBLING CAN BE ADDICTIVE, PLEASE PLAY RESPONSIBLY