Good Weekend, Bad Weekend
Saturday's action in the Premier League seemed to just be setting the scene for what promises to be one of the most highly-anticipated Manchester derbies in recent years. The first eight Premier League games of the weekend produced 32 goals and although Sunday didn't quite live up to the day before, there is plenty to suggest this season will be a cracker.
Good Weekend
Manchester City
The depth of the Manchester City squad was illustrated by this defeat of Arsenal as Robinho and Tevez missed out as Middle Eastlands witnessed a fine victory which proved that Mark Hughes side are ready to challenge the best this season.
Four successive victories in the Premier League have left the blue side of Manchester contemplating a title bid and with early points leads over both Arsenal and Liverpool, a Champions League spot is a real possibility.
Many wondered what role Craig Bellamy would have at Eastlands this season and now with the injuries to the South American stars both the fiery Welshman and Roque Santa Cruz could have a big role to play – especially if Adebayor is suspended in the coming days.
Again the City defence stood firm, this time against a strong attack. At 1-1 the City backline held firm Micah Richards made the crucial run down the right for Bellamy's all important second goal. Late on the home side looked a bit stretched but Shay Given and the defence held firm.
On to the man of the hour. First off it must be said that Emmanuel Adebayor played exceptionally well. He put himself about and scored a fine third, showing yet again just how deadly he can be in the air. Sadly he soured the day with a couple of terrible tackles, the first on Fabregas after ten minutes and the now in-famous kick out on Robin van Persie.
Some may excuse the celebration following his goal, even though the FA will no doubt throw the book at him. The tackles on his ex-team mates were unforgivable and say a lot about the man. Above all it will be a shame if City travel to Old Trafford without Adebayor as well as Robinho and Tevez, but that now looks like a formality.
(Manchester City are 8/1 to win the Premier League.)
Manchester United
Sir Alex Ferguson's side produced probably their best performance of the season and it can be no coincidence that this was the first Premier League game with Ferdinand and Vidic at the back.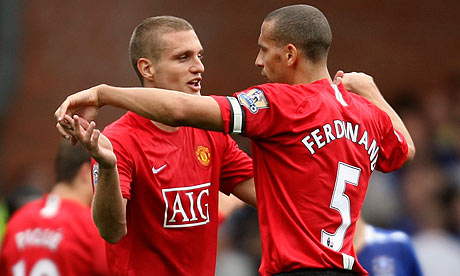 The central defensive pairing mirrored the rest of the side, they saw out Spurs' early pressure and slowly exerted their own dominance to the extent that the home side resorted to the long ball up to Peter Crouch which Vidic in particular dealt with relatively comfortably.
There were though fine performances throughout the side. Patrice Evra was a dynamo down the left and one can't help wonder how long Ryan Giggs can keep producing performances and goals like he did at White Hart Lane. Darren Fletcher was probably man of the match and Anderson (nice celebration!) and Paul Scholes also impressed.
Up front, Dimitar Berbatov linked the midfield to attack and Wayne Rooney is in the sort of form that England fans will be praying he shows in South Africa. It is a little early in the campaign for United to look this controlled and assured but they will be confident of knocking another pretender off their perch next Sunday afternoon.
(Manchester United are 5/2 to win the Premier League.)
Chelsea
Carlo Ancelotti's side have now come from behind in three of their five Premier League wins this season. The Community Shield could also be added to that and the Blues appear to have a resilience that could see them retain the Premier League title.
(Chelsea 6/5 favourites to win the Premier League.)
Yossi Benayoun
Man of the match Yossi Benayoun was the man to have in your fantasy team this weekend, with three goals and an assist for the other in the comfortable win over Burnley.
It hasn't been an easy week for the Israeli playmaker after he showed dissent after being taken off for his national team against Latvia last Saturday night. Benayoun responded with a smart performance in a position he could make into his own, central behind Torres.
Benayoun is often talked of as "underrated," the fact no calls him this anymore shows just how highly rated he is by all pundits.
(Liverpool are 7/1 to win the Premier League.)
Kaka
Forget Ronaldo, Alonso and Benzema.
Although Kaka has yet to open his Real account since joining from AC Milan, the Brazilian magician showed his true class at Espanyol in showing a touch of class to set up Esteban Granero for Los Blancos opener in Catalonia, before Kaka created the second for stand-in captain Guti.
Kaka is a true class act.
(Real Madrid are 9/2 second favourites to win the Champions League.)
Antonio Di Natale
A brilliant hat-trick in the space of 25 second half minutes from veteran striker Di Natale helped Udinese turn the match around against Catania.
VVV Venlo
For all of the talk of Keisuke Honda, until this weekend newbies VVV had amazingly managed to draw all five of their opening fixtures of the new Eredivisie season. This weekend the newly promoted side notched their first three points of the season, beating Heracles 1-nil, and low-and-behold Honda was again in the thick of things as it was his free-kick which lead to Sandro Calabro's winner.
Rosenborg
The Norwegian league leaders extended their incredible unbeaten run for the season to 23 games beating Stabaek 2-1 away on Sunday night.
Bad Weekend
Arsenal
Two successive defeats in Manchester have now put Arsenal's title hopes looking like a long shot in September. The Gunners looked sluggish in the first-half but to blame it on international games is a little unfair as every team in the league had those to deal with this weekend.
This column has pointed out Manuel Almunia's failings on more than one occasion this season (Portsmouth and Manchester United) and yet again the Spaniard showed with the first goal at Eastlands that he is not good enough for England or for a side hoping to win the title.
In general there were some pretty weak performances from the Arsenal side at City. Gael Clichy had one of his worst games for the club, Abou Diaby looked way short of the necessary quality and Nicklas Bendtner failed to show his Denmark form at club level.
Undoubtedly Arsenal missed Andrey Arshavin who would no doubt have caused problems to the City defence. But, when you concede three goals in ten minutes you can have few complaints.
Despite these two defeats, expect Arsenal to go on a good run in the next few weeks. Games against weaker sides such as Standard Liege, Wigan, West Brom, Fulham, Olympiakos, Blackburn and Birmingham, should see Wenger's side show off their attacking qualities and wow many of us with their scintillating brand of attacking football.
(Arsenal are 8/1 to win the Premier League.)
Harry Redknapp
'Arry is lucky he has so many friends on Fleet Street, as the Spurs boss made a tactical error of huge proportions on Saturday and failed to rectify it to get his side back into the game.
Perhaps handing Robbie Keane the captain's armband got Redknapp into this mess as the form of Peter Crouch and the injury to Luka Modric forced the Republic of Ireland's top goal scorer to perform horribly on the left wing. Keane has not looked the player he was since leaving for Anfield and Redknapp should have known he would struggle in an unfamiliar position.
Playing Keane on the left, with Lennon on the right, left Huddlestone and Palacios up against it against a combative United midfield which was only heightened when the Honduras hard man looked short of fitness, presumably due to the traveling for World Cup qualification matches.
Spurs lost the middle ground after around twenty minutes and never regained it in a defeat that has put their Champions League ambitions in stark light. Redknapp will likely escape criticism this week after a blistering start to the campaign but there will be questions asked if he gets it as badly wrong at Stamford Bridge next Sunday.
(Spurs are 11/4 to win the Without Big Four market.)
Everton
One win for four opening fixtures and second-bottom in the league is not what the doctor ordered. Joleon Lescott will be smiling from ear to ear.
(Everton are 33/1 to be relegated.)
Portsmouth
Five games. Five defeats. The Championship is looming.
(Portsmouth are 8/15 favourites to be relegated.)
Roy Keane
Six matches, four defeats and two draws is hardly the best start to life as Ipswich Town. Keano needs to find the winning formula soon before the Irishman starts to feel the heat.
(Ipswich are a whopping 50/1 to win the Championship.)
Daily Star Sunday (Darren Fletcher, former England cricket coach)
Top reporting from Tony Stenson this weekend as wrote the match report for the Tottenham-Manchester United content. On describing how Anderson scored at White Hart Lane the scribe managed to get his cricket and football all in a muddle, and amazingly no-one has yet spotting the error on the Star's editing team.
Stenson: "Then came a United first – a goal from Anderson. Duncan Fletcher's corner was turned out only for Scholes to return a blockbuster. That was again hacked clear but only to Anderson who struck home a wonderful 18-yard effort."
Nice.
Click here for more Premier League betting tips
---