Good Weekend, Bad Weekend
Another fine weekend of footie will have many bemoan the return of international matches which sees league action on a two week break. It was undoubtedly a good weekend for Fabio Capello as Ashley Cole, Glen Johnson, Aaron Lennon, Peter Crouch, Wayne Rooney, Steven Gerrard and David Beckham all found the back of the net.
Good Weekend
Manchester United
There is no getting away from the fact that there are simply not as many match winners at United this season after selling Cristiano Ronaldo and allowing Carlos Tevez to leave Old Trafford. After watching United's win over Arsenal on Saturday it is also clear that this United side still have the understanding and know-how to close the game out against even the most talented of opponents.
United were aided by some particularly bad decision making from the likes of Almunia and Diaby and a whole host of teams in the Premier League will feel that points can be taken away from Old Trafford.
On the plus sides, Wayne Rooney once again underlined how important he will be this season. The former Everton striker has not always enjoyed playing the lone role up front but he looked like being the player who would turn around United's half-time deficit.
In addition, Darren Fletcher was arguably the man of the match with a tireless performance that nullified much of Arsenal's midfield prompting and the home side should have wrapped up the win with chances spurned by the improving Nani and the increasingly frustrating Berbatov.
Already this season a number of pundits have been made to look stupid, so it is probably best to suggest that United are either the most professional side in the league or they aren't quite good enough anymore to win in the swashbuckling style of old.
Rio Ferdinand's return and a trip to White Hart Lane after the international break is over should tell us a little more. Despite the crucial win, which means they have gained more points off Arsenal than they did last season in two matches, the jury is still out.
(Manchester United are 13/5 to win the Premier League.)
Carlo Ancelotti
Chelsea's impressive start to the Premier League campaign could well be down to the incredible man management and tactical skills of Guus Hiddink. The way the Dutchman reinvigorated the club after Luiz Felipe Scolari's departure was one of the most impressive feats of last season and only adds to the aura surrounding Russia's national team manager.
Nevertheless, Ancelotti has presided over the 100% record at the start of the 2009/2010 campaign and Chelsea look well equipped at this early stage to go all the way. The former AC Milan boss has been rewarded for faith in the Drogba and Anelka partnership (as illustrated by the first goal against Burnley) and Deco and Michael Ballack have looked in very good touch so far.
Much was made last season of Scolari relying on his full-backs to provide the attacking momentum. This continues to be a facet of Chelsea's play and, after Jose Bosingwa did a lot of running in the first-half, Ashley Cole was in excellent form in the second period, chipping in with the goal of the game.
Whether teams can counter players running from deep in wide positions this season will be crucial to stop Chelsea. It will be a lot harder if Michael Essien continues to dominate games and Ballack and Deco can dictate the tempo just in front of the Ghanaian.
Ancelotti has also been aided by a relatively easy fixture list at the start of the new season, of the four teams the Blues have played so far only Fulham look likely not to face a relegation battle. Stoke and Spurs may put up a decent test in September but if Chelsea continue in this form, the home match against Liverpool looks like being a crucial indicator of whether Ancelotti's side can win the title.
(Chelsea are 6/5 favourites to win the Premier League.)
Liverpool
Rafa Benitez's side continue to give incredibly soft goals away, but Liverpool do at least look capable of turning round deficits which could be crucial for the rest of the season. The 3-2 win at Bolton could be the catalyst needed for some consistent form, just as the 3-2 comeback from 2-0 down at Manchester City was last season.
Kevin Davies' opener could have been scored by two other Bolton players and Tamir Cohen's second was the consequence of simple direct football. Fingers are being pointed at Jamie Carragher who has struggled in the opening matches of the season, undoubtedly seven goals conceded in four Premier League games (five from set pieces)Â is way too much for a team hoping to challenge.
Liverpool will be thankful to Glen Johnson – turning into one of the buys of the summer, even if it was an inflated fee. And Fernando Torres and Steven Gerrard produced excellent finishes for their goals, although the Liverpool captain was the direct beneficiary of Sean Davis' sending off as it freed him from the shadow of Fabrice Muamba.
(Liverpool are 7/1 to win the Premier League.)
Emmanuel Adebayor
The Togo striker continued to show the form of 2007/2008 and has now scored in every Premier League game for his new employers. This fact will be on the lips of many before City's next home game – at home to Arsenal.
(Emmanuel Adebayor is a tasty 8/1 to be the Golden Boot winner.)
Aaron Lennon
Lennon was publicly praised by England manager Fabio Capello following another match winning performance against Birmingham. The former Leeds winger showed his class five minutes into injury time to grab a result that looked like going with the away side after Lee Bowyer's equaliser.
It has long been said that if Lennon finds the end product he could be world class. Two late match winners against West Ham and Brum seem to confirm the England winger has come of age. Good news for Don Fabio and Spurs who are now without Luka Modric for at least six weeks.
Tottenham's next two games: Manchester United (h) and Chelsea (a).
(Spurs are 6/4 to win the 'Without the Big Four' league.)
Stoke
Ten home wins last season kept Tony Pulis' side in the Premier League, two wins out of two at the Britannia and the same formula looks like it could do the trick to beat off "second-season syndrome."
(Stoke are 7/1 to be relegated.)
Aston Villa
Three wins out of three for Villa in six days – just a shame for Martin O'Neill that an away goal saw them exit the Europa League although that could well be a blessing in disguise.
(Villa are 7/1 to win the 'Without the Big Four' league.)
Everton
The Toffees rode their luck at times at home to Wigan but at least there was determination and hear in ample evidence. A stark comparison to the 6-1 mauling in their previous home match this season.
Jose Mourinho
It wasn't an easy build up for the "Special One" ahead of the Milan derby. First there was the home draw with Bari, then death threats from Muslim extremists after he blamed Sulley Muntari's substitution in the opening day game due to fasting on Ramadan, and ending with being drawn in the hardest of all Champions League groups – where the Nerrazzuri face Barcelona and tricky matches against Dynamo Kiev and Amkar Perm.
Mourinho responded with a 4-0 slaughter of AC Milan where Inter had four different goal scorers and could well have scored more. The former Porto and Chelsea boss summed it all up after the resounding victory: "As we won, Mourinho is great, if we lost Mourinho was stupid."
Juventus
The "Old Lady" made some incredible signings this summer. Diego looks like being a major force in Serie A and the Juve squad looks capable of challenging Inter for the Scudetto.
Arjen Robben
The flying Dutchman was irresistible as Bayern got their season back on track with a 3-0 victory over champions Wolfsburg. Robben showed his electric pace and combined brilliantly with Franck Ribery. Rumours this morning suggest the French winger could still move to Real Madrid today, but if Bayern can hold on to Ribery then the double act with Robben could sweep all before them in the Bundesliga this season.
Real Madrid
It was fitting that the Galactico 2.0 era began with a winner from Lassana Diarra, the closest player to Claude Makelele at the Bernabeu. These are the sort of players that win silverware and this is clearly understood by Manuel Pellegrini who substituted Kaka, Raul and Benzema as Real looked to secure the three points.
Lyon
The new look Lyon side, assembled at great cost, appear to be clicking into gear. Â OL have scored 14 goals in their last four games and after Marseille and Bordeaux played out a 0-0 draw are now joint top of the table with 10 points.
Bad Weekend
Mike Dean & Lee Probert
The actions of referee Dean and fourth official Lee Probert were a sad indictment of the over-officiating that can often occur in high-profile matches. Dean and Probert seemed to react to Wenger kicking a bottle which was just the start of an absurd situation.
The bottom line is that no Premier League manager should have had to put up with what "The Professor" was forced through at the end of a game where his team could well have come away with three points. Dean poured a hefty dose of salt on some open wounds, and to publicly humiliate Wenger after all he has done for the English game was just not right – since backed up by the apology that is on its way to the Arsenal manager.
Probert also provided Everton a match-winning penalty late on at home to Wigan yesterday. This is unlikely to be the last we hear from a previously unknown official.
Manuel Almunia & Abou Diaby
After the reaction to Eduardo's dive against Celtic, there was bound to be a penalty decision at Old Trafford that would have fans spewing. In the end there were two contentious decisions, with Fletcher's legitimate tackle (in this author's opinion) on Arshavin in the first half also scrutinised long after the final whistle.
The penalty that was given has been claimed by some to be comparable with Eduardo's against Celtic. The main difference is that Artur Boruc pulled his hands away and replays made Eduardo look stupid. Almunia wasn't quite as savvy and rushed out of his goal to give United a lifeline just seconds after they could have gone two-up.
Almunia is quite simply not good enough for a team that is aiming to win trophies. Wenger has often struggled to buy defensive players and his blind spot for the Spanish custodian could cost the Gunners again this season. It is also pertinent to point out that Almunia was culpable for Portsmouth's goal last week too.
Abou Diaby's own goal was one of the craziest seen in a while. Some have suggested he was heading the ball back to his goalie or out for a corner. Either was the wrong choice and resulted in the Frenchman ruining much of his good work after scoring a double against Pompey.
Arsenal look much improved on last season. Thomas Vermaelen looks like the missing link at the back and it is difficult to find a player at the Emirates who isn't noticeably improving. However, the school boy mistakes feel like they will occur again this season.
(Arsenal are 11/2 to win the Premier League.)
Sunderland
Steve Bruce's side simply cannot defend set-pieces which should have a number of teams in the Premier League feeling that they can gain three points from the Mackems. It also explains Sunderland's desire to sign Michael Turner from Hull.
Fulham
A solitary win for the Cottagers this season, at Portsmouth, thanks to a deflected goal off Bobby Zamora's bum suggests that Roy Hodgson is struggling with the club's involvement in the Europa League. Danny Murphy and Andy Johnson missed out at Villa Park and despite a raft of summer signings Fulham look a little short when key players are missing.
Hodgson isn't helped by calamitous defending for Villa's first goal after three minutes.
(Fulham are 10/1 to be relegated.)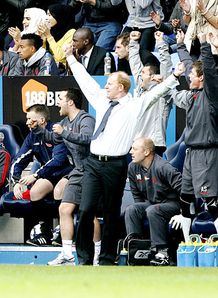 Bolton
There is no doubt Gary Megson's side were hard done by against Liverpool. Sean Davis' second yellow was harsh and Lucas behaved poorly. The next three games against Portsmouth (a), Stoke (h) and Birmingham (a) must yield points or the "Ginger Mourinho" could be in trouble.
(Bolton are 20/1 to finish bottom of the Premier League.)
Wigan
Since their opening day win over Aston Villa, the Latics have lost every game. Roberto Martinez has called for patience and rightly pointed out that it will take time to bed in a host of new players. Their next game at home to West Ham is massive as the following matches away at Arsenal and home to Chelsea, could leave them firmly in the relegation scrap.
Portsmouth
It must be difficult to know what is more galling for Pompey fans. Their current predicament of no points after four games or watching all their ex-players perform like men possessed for their new teams. Jermain Defoe, Peter Crouch and Glen Johnson now have seven Premier League goals between them, so far this season Portsmouth have scored one goal and missed some major chances to secure a draw yesterday.
(Portsmouth are 2/1 favourites to finish bottom of the Premier League.)
AC Milan
Inter made AC look a very average side on Saturday night and whilst Gennaro Gattusso's reckless sending off was undoubtedly a factor, question marks surround Leonardo's team.
AS Roma
Two defeats in their two opening games and the financially troubled club look set for a tough campaign.
Atletico Madrid
It's all well and good having Forlan and Aguero up front, but the Rojiblancos still can't defend.
---
GAMBLING CAN BE ADDICTIVE, PLEASE PLAY RESPONSIBLY