Good Weekend, Bad Weekend
We bid farewell to another Premier League season and look back on a dramatic final day where in keeping with recent weeks, all the relegated teams played poorly and waited for good news. Newcastle are the big headline this morning and it is somewhat apt that they should go down on the same weekend Wolfsburg secured the Bundesliga title, to prove that a well-run club with good support can punch above its weight.
Good Weekend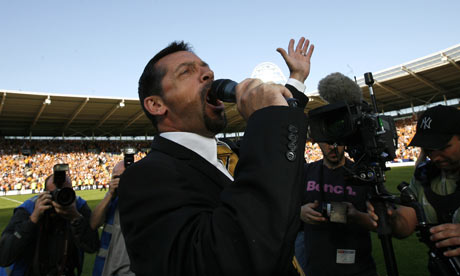 Sunderland & Hull
It feels wrong to place these two teams into the "good weekend" section, but the bottom line is that both Sunderland and Hull will be playing Premier League football next season.
Between them, they won just four times in 2009. Sunderland claimed three of those wins, with one of their victories coming against the Tigers and both teams beat Europa League bound Fulham.
For Sunderland, this was a particularly damning indictment on Roy Keane's various purchases last summer which failed to strengthen the Mackems. The choice of Ricky Sbragia was suspect at best and Sunderland have to now appoint a manager who can steer them into mid-table respectability next season.
Mackem fans can console themselves in the knowledge that their bitterest rivals have gone down and if the rumours turn out to be true, Ellis Short will need all of his 200 million pounds to turn Sunderland into a decent side.
Phil Brown will have a whole lot of soul searching to do this summer, there is no getting round the fact that the on-field dressing down at Eastlands had a major impact on the club's fortunes in the second half of the season. Hull have been given a second season reprieve that is all too rare for promoted teams, this summer they have to build on their good fortune.
Both these teams make a mockery of the claim that the "Premier League is the best in the world." A Manchester United reserve team beat Hull who were supposedly struggling for survival and Chelsea could afford to rest their best player in Frank Lampard for the trip to the Stadium of Light.
The "Big Four" have perfected beating impotent teams like Sunderland and Hull but if the Premier League is to continue claiming its position as the best in world football, these relegation threatened teams have to show some quality and passion.
Aston Villa
Martin O'Neill's side played at 100% and will have boosted optimism ahead of another crack at the top four next season.
Manchester United
So all the fuss last week came to nothing, United's reserves did their job and condemned Hull to the defeat that could have sent them down. Darron Gibson would walk into a whole host of other Premier League teams which only goes to show the gulf in class that the Tigers and the rest have to aspire to.
Champions League final odds can be seen here.
Everton
David Moyes added another string to his bow with a fifth-place finish thanks to a fine win at Fulham. Now for the big one at Wembley next week…
Everton are 7/2 to win the FA Cup final, full odds here.
Roy Hodgson
Manager of the Year. A year after keeping the Cottagers up, the former Inter Milan boss steered his Fulham side into the Europa League.
Nicolas Anelka
With time, Avram Grant's reign as Chelsea boss is looking more and more impressive. The signing of Nicolas Anelka now looks astute after the Frenchman snared the Golden Boot for 2008/2009 with a cracking goal at Sunderland.
(Every Premier League goal scored by Nicolas Anelka this season can be seen here.)
Anelka is 66/1 to score a hat-trick in the FA Cup final, full odds here.
Arsenal
The Arsenal supporters (and shareholders) have had the true nature of the future of their club revealed over three days and two home games over the weekend.
First, an Arsenal youth side demolished their Liverpool counterparts in the first leg of the FA Youth Cup final. And, yesterday, the current Arsenal side, which in most cases is not that much older than the likes of Jack Wilshere, had a Premier League game against Stoke all sewn up by half-time.
Dirk Kuyt & Yossi Benayoun
The two most underrated members of the current Liverpool side played an integral part in every goal scored by the home team at Anfield yesterday. Both Kuyt and Benayoun have been sensational this season and if they can take their form into next season, we can expect another title challenge.
Liverpool are 5/2 to win the Premier League next season, odds here.
Robbie Keane
The Irishman must have enjoyed his goal.
Rangers
After three years of Celtic dominance, Walter Smith final returns the SPL title to Ibrox.
Wolfsburg
A first title in 64 years of existence was celebrated gleefully on Saturday afternoon, and who could blame the ecstatic Wolfsburg support for revelling in one of the most unlikely stories of the season.
It was fitting that Zvejzdan Misimovic should claim the opener, since the Bosnia-Herzegovina playmaker has been the link man for high profile strikers Grafite and Edin Dzeko this season. Misimovic has been so integral to this team that he has claimed a new record for assists in a Bundesliga campaign.
Grafite and Edin Dzeko played their part with two for the Brazilian and a further strike for the highly-rated 23-year-old. They also set a new record for the most prolific partnership, eclipsing the 54 goals scored by Gerd Muller and Uli Hoeness in 1972/1973. And Wolfsburg also became the first team to have two strikers score more than 20 goals each in a season.
With Felix Magath already at Schalke next season it is almost impossible to see Misimovic and Dzeko playing for Wolfsburg next season, with Bayern Munich and the Premier League, their most likely destinations respectively.
Nevertheless. with Champions League football to look forward to, the new manager should still have Grafite and if they can invest well could still build on this incredible success.
Juup Heynckes
After taking over from Jurgen Klinsmann, the Bayern interim coach guided the Bavarian giants to Champions League football and won five out of six games in charge.
Diego Forlan
The former Manchester United striker is in the form of his life, as he single-handedly guides Atletico Madrid into a Champions League position. Forlan has now scored 11 goals in his last seven games, the majority of which have been match winners.
The 30-year-old Uruguayan is in the midst of his most impressive season ever, with 34 goals in 41 appearances in La Liga and the Champions League. Forlan seems a likely candidate for Manchester City in the summer, Atletico are unlikely to be able to reject a big offer and the former Manchester United striker will be eager for one last pay day.
Sevilla
Confirmed their Champions League entry next season with a 1-0 home win over Deportivo La Coruna.
Bordeaux & Marseille
After years of Lyon dominance, the French league will go down to the final day with Bordeaux in pole position thanks to their 1-0 win at Monaco. Marouane Chamakh scored the only goal with a fine header that confirmed just how good the Morrocan striker is in the air and that he would be a suitable purchase for any Premier League side this summer.
A three point lead for Bordeaux going into the last weekend of the season should be enough but they can still be caught by OM, who held their nerve after losing at home to Lyon last week with a 2-1 win at Nancy. Marseille play Rennes at home whilst Bordeaux travel to Caen. Crucially, Rennes have  a European place to play for and Caen are level on goal difference with the relegation spots.
Fans of Ligue 1 deserve a final day after all these years of Lyon winning the French championship at a canter. It promises to be a cracker.
Tugay
Played his last ever match for Blackburn and was voted man-of-the-match.
Juninho
In his last ever home game for Lyon, the free-kick master was lauded by the fans for eight years of service and in a Roy of the Rovers style ending, claimed his 100th goal for the club as the former French champions secured a place in the Champions League next season.
Bad Weekend
Newcastle
Newcastle's performance at Villa Park was the stuff of nightmares and was the perfect illustration of years of decline on and off the pitch culminating in relegation after a sixteen season stay in the top flight.
They may have started brightly enough, but Newcastle were woeful for much of the match and on the day barely tested Brad Friedel in the Villa goal. A point from this game was not merited despite the battling performances from certain players including Nicky Butt and Steven Taylor.
Throughout the team there were players who failed to perform and the sight of Michael Owen scrabbling around for a touch of the ball after he came on as a substitute said much about the state of the club.
Mike Ashley is left to pick up the pieces, but the rot set in a long time ago and the real worry now is that Newcastle don't look equipped to bounce straight back up. Their big name players will surely move on, even if they want to stay the club cannot afford to hold on to them.
No doubt we will hear from the likes of Freddy Shepherd, as we did last week, blaming Ashley for all the ills of the club. But, there is no doubt that from Shepherd's decision to replace Sir Bobby Robson with Graeme Souness, Newcastle have been on a downward spiral.
It was left to Alan Shearer to sum up the predicament of the north-east giants: "It's a sad day for the football club, but let's be honest, we haven't be good enough all year. That's the fact – we deserve to go down, the bottom three all do… It needs total rebuilding. Newcastle United in the Championship will be a big scalp next season. We're all raw, bitter and hurting and now isn't the time to speak about my future."
One win in eight games is hardly a ringing endorsement of Shearer and his managerial prowess, but the club almost have no choice but to urge their former number nine to continue next season and lead Newcastle back to the Premier League.
There has already been much sympathy for the Toon Army in the hours since relegation. It is important to point out that these same fans were the ones who boycotted the Hull home match in September. Newcastle went on to lose this game 2-1, had the fans played the same role they played yesterday and spurred their team on to a draw, Newcastle would be playing Premier League football next season.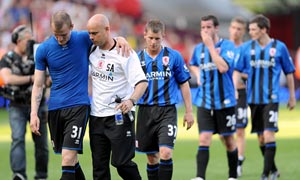 Middlesbrough
It was always going to be a tough ask at Upton Park for Boro, shorn of a number of players and needing a big score to stay up. A total of 28 goals in 38 games is relegation form and Boro will have to find their goal scoring boots in the Championship.
Despite a wretched season, most neutrals will hope Boro and Gareth Southgate bounce back. Better managers than Southgate have been relegated before and the former England defender and chairman Steve Gibson will teach English football a lot about loyalty if they do return to the Premier League for season 2010/2011.
Gareth Bale
The left sided player has still not been on a winning side in the Premier League for Spurs after two full seasons at the club.
Jason Roberts
A sending off in an end-of-season game with nothing riding on it means he will miss the start of next season.
Inverness, Karlsruher, Arminia Bielfeld, Recreativo Huelva & Numancia
Are all looking forward to a campaign in a lower division following the weekend's results.
Barcelona
There are a whole bunch of extenuating circumstances but the bottom line is that Pep Guardiola's side go into the Champions League final having won just one game (the Copa del Rey final) in six matches, since they scored six at the Bernabeu.
Champions League final odds can be seen here.
Valencia
When you are a club wrestling with financial uncertainty, the Champions League could be the difference between years and years of prosperity. Two defeats in succession to Atletico Madrid and Villareal, rivals for a Champions League place, are likely to signal an almighty clearout in the summer.
Real Madrid
Los Blancos have now lost four successive games. Juande Ramos is finishing the season like he started it.
AC Milan Ultras
After Paolo Maldini's 901st appearance for the club, fans of the Rossoneri unveiled a banner saying: "Thank you, Skipper. On the pitch you were an infinite champion, but you failed to show respect towards those who made you rich."
A tad harsh.
---
GAMBLING CAN BE ADDICTIVE, PLEASE PLAY RESPONSIBLY