Good Weekend, Bad Weekend
Despite Liverpool's best efforts, the title is on its way to Manchester United for the third successive season, elsewhere this weekend the relegation picture should become a whole lot clearer this evening whilst in Europe, Barcelona and Inter inched towards their respective titles and the German Bundesliga is shaping up as one of the most exciting title races in living memory.
Good Weekend
Manchester United
Yet again, another comfortable victory for Sir Alex Ferguson's men who now need four points from their remaining games against Wigan (a), Arsenal (h) and Hull (a). Judging by the form of all three sides it will be a surprise if United don't bag all nine points.
It was looking like a fairly even derby until Cristiano Ronaldo scored yet another free-kick ensuring United put in a professional performance that we have seen countless times this campaign. The Portuguese winker acted like a child when substituted but if his recent form is anything to go by it was somewhat understandable. Ronaldo has now scored six in his last six games and is on course to be the top goal scorer in the Premier League for the second season running. (Ronaldo is 1/4 to finish as top goalscorer, full odds here.)
The second goal was also a lovely finish and came from the player that caused all the headlines yesterday. Carlitos Tevez was unlucky to hit the bar earlier in the half and fully deserved his goal in a typical all-action display. Despite lacking the goals this season there is no denying the importance of the high octane displays which are a week-in week-out feature of his play. The consolation for the rest of the teams in the league is that if he does leave, someone else may have a chance to win the league.
The Reds march on and will surely clinch the title next Saturday lunch time.
Manchester United are 1/3 to beat Wigan on Wednesday night, full match odds here.
Liverpool
Rafa Benitez's side secured another comfortable victory which was never in doubt once Steven Gerrard slid the ball home in the second minute. The Merseyside giants were in fine form at Upton Park and for the second week running could have scored more than three.
Incredibly, for six successive matches, Liverpool have now scored a minimum of three goals and since beating Real Madrid 4-0 at the beginning of March they have now claimed 36 goals in 11 games. In that time, besides the disappointment at losing to Chelsea in the Champions League, they can only point to the 4-4 draw with Arsenal when they have dropped points in the league.
Liverpool fans are no doubt tired of hearing this, especially as United look likely to go on to clinch the joint record of 18 titles, but this season will stand them in good stead. Finally, Rafa Benitez has put together a title challenging side and the form of recent weeks means United have been pushed almost the whole way.
By the time the Reds next play (away at West Brom) the title race may be all but over but Liverpool have achieved a challenge for the first time in the Premier League era. United just had too many players with more know-how of winning the league than Liverpool, next season Benitez and his side must turn the draws into wins and Anfield may once again be home to the title.
Liverpool are 14/1 to win the Premier League this season and 11/4 to win it next season, odds here.
Chelsea
The Blues bounced back in style on Sunday at the Emirates and crushed Arsenal with another display of power and efficiency that confirmed they will finish third in the Premier League this season. Over the last few seasons Chelsea have been one of the most consistent teams in Europe and unlike their hosts yesterday they do not need wholesale changes in the summer. Some young legs and the return of Joe Cole should see them challenging for the title again as long as they get the right man in to lead the charge.
West Brom
The Baggies kept their slim hopes of staying in the Premier League alive with a fine win over Wigan and it is no exaggeration to say that West Brom look the best team in the bottom five at the moment. Marc-Antoine Fortune has been an astute loan signing and it is no surprise that a number of other teams are sniffing around the Frenchman.
With two games remaining, at home to Liverpool and then away at Blackburn, it is going to be a tall order for Tony Mowbray and his side but they have gained a lot of admirers for their fine football this season and are a great example of a club playing within their means and making their supporters proud of their efforts. What a shame they couldn't play like this at the beginning of the campaign.
West Brom are 1/33 to be relegated, full relegation odds here.
Fulham
The Cottagers moved into the Europa League position of seventh with a comfortable victory over Aston Villa. Roy Hodgson's side continue to play some fine football, dictated by Danny Murphy, and won on Saturday without first choice strikers Andy Johnson and Bobby Zamora.
Compared to this time last season when Fulham were battling bravely against the drop, this is an incredible achievement to be challenging for Europe with two games remaining. Special mention should go to Diomansy Kamara who scored two and won the penalty for the first goal.
Stoke
"We've managed to stay up, so now give my players the credit they deserve" – Tony Pulis.
It isn't just the Stoke players that deserve credit but their manager Tony Pulis for keeping Stoke in the Promised Land playing a brand of football that has been criticised from pillar to post this season.
The Potters have been the success story of the Premier League this campaign and it is fitting that they reached the 42 point mark against Hull who earlier this campaign were everybody's favourite promoted team.
The likes of Thomas Sorensen, Ryan Shawcross, Abdoulaye Faye, Rory Delap, Glenn Whealen and Ricardo Fuller (besides the slap at West Ham) have been excellent this season. And Pulis pulled out a masterstroke in signing James Beattie and Matthew Etheringon in the January transfer window to give his side the final push.
Blackburn
Sam Allardyce's side all but secured their stay in the Premier League with victory over Portsmouth. Expect Blackburn to be challenging higher up the division next season and Big Sam to be the annoying nuisance he was at Bolton.
Rangers
Walter Smith's side have one hand on the title after their 1-0 win over Celtic. It was a typical battling display from the Gers who now have to hold their nerve in games against Hibernian (a), Aberdeen (h) and Dundee United (a).
Mario Gomez & Stuttgart
It is difficult to think of the 23-year-old striker without harking back to Euro 2008 when he couldn't score for love nor money. Gomez is now though leading an unlikely Stuttgart title challenge having scored 31 goals in 40 games in all competitions this season. The four-goal haul against Wolfsburg on Saturday took his recent tally to nine in five games.
Stuttgart, led by former Liverpool defender Markus Babbel, are now in fourth position, two points behind leaders Wolfsburg who are level on points with Bayern Munich. Crucially, Stuttgart play Bayern on the final day in what could be a title decider.
Villareal
An incredible fightback in the Nou Camp keeps their hopes of a Champions League place alive.
Fiorentina
Their win at Catania combined with Genoa's draw at Atalanta has left them in pole position to claim the fourth and final Champions League spot in Serie A.
Guingamp
The Ligue 2 side secured an unlikely Coupe de France final win, proving that cup romance is still alive.
Bad Weekend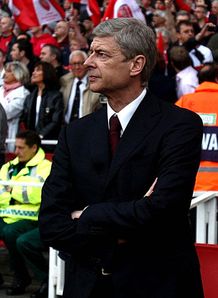 Arsenal
"Certainly we will try to strengthen the squad in the summer, we'll look to sign one or two players. We are prepared to spend the necessary money to get the players we want." – Arsene Wenger.
The above quotes from after the Chelsea game yesterday will have been music to the ears of many Arsenal fans who have called for the Frenchman to spend, and spend big. Wenger will know more than anyone the importance of spending on the right players and experience is needed.
The last two games has been a damning indictment on the way Arsenal have been run over the past couple of seasons and showed the clear weaknesses the Gunners have in the central defensive spine of their team. The likes of Almunia, Fabianski, Silvestre and Denilson are simply not good enough and if you want to challenge for the title or the Champions League players of the ilk of David Seaman, Tony Adams and Patrick Vieira are needed.
Aston Villa
Martin O'Neill's side are ten points behind Arsenal having won just one game in 11, this may well have been the season to catch the Gunners for a Champions League place. It might not be so easy next year.
Manchester City
Once upon a time it was ok for City to produce limp derby displays but with an expensively assembled side the performance at Old Trafford simply wasn't good enough. Robinho struggled to make an impact, missing a crucial chance at the start of the second half. If City don't make the Europa League, which is looking increasingly unlikely, Mark Hughes probably should be sacked.
Hull
The Tigers only have themselves to blame for watching tonight's match between Newcastle and Middlesbrough and praying for a draw which would keep them out of the relegation zone. In truth though, Hull deserve to go down, one win in 2009 is relegation form and it is difficult to see where they are going to pick up points in their remaining two matches at Bolton and home to Manchester United.
Hull are 4/7 to go down, full relegation odds here.
Andres Iniesta
Picked up a recurrence of the thigh injury that kept him out in November and is now rated doubtful for the Rome Champions League final. A crushing blow for the "hero of Stamford Bridge."
Real Madrid
Another crushing defeat at Valencia followed the 6-2 hammering at home to Barca and after a run of defiance the end of the road is near for Juande Ramos and many of this Madrid side. In keeping with their season, this was another comprehensive loss to a decent side. We can expect wholesale changes at the Bernabeu in the summer.
Wolfsburg
The curse of being top of the Bundesliga seems to have now struck Wolfsburg whilst the decision by Felix Magath to announce he is leaving and joining Schalke at the end of the season can't have helped ahead of the crucial game at Stuttgart.
Wolfsburg now have to bounce back against Borussia Dortmund on Tuesday before their final two games against Hannover and Werder Bremen.
Martin Jol
Hamburg's challenge for three trophies now looks all but over and they can thank Werder Bremen for puncturing their hopes of any silverware. In less than a month Martin Jol's side have been knocked out of the DFB Pokal (on penalties) and the UEFA Cup (helped by a piece of paper) by Werder Bremen. Yesterday, Bremen won again to leave Hamburg's hopes of a Bundesliga title hanging by a thread.
If it is any consolation, Martin Jol's side did beat Werder Bremen in November.
---