Good Weekend, Bad Weekend
The past couple of days was a joy to behold. Barcelona wowed us by hitting six in the Bernabeu and the "Big Four" yet again showed their dominance of the Premier League. The relegation battle looks like going to the wire simply because no one can pick up a point, let alone all three and in Europe it all went swimmingly for Edin Dzeko, Matt Derbyshire, Steve McClaren and Bordeaux.
Good Weekend
Barcelona
Pep Guardiola's side produced one of the all time great performances in the Bernabeu on Saturday night. It is easy to go overboard with the superlatives, but Xavi, Henry and Messi produced a masterclass of attacking football that will be remembered for years to come.
Their consistent sublime football this campaign draws favourable comparisons with the all-time great club sides such as the Real Madrid team that dominated the early years of the European Cup, Ajax of the 70s, AC Milan of the 80s and Cruyff's dream team. The fact that Gerard Pique's sixth goal was their 100th of the season is an incredible achievement and on the night they could have claimed more. Messi was guilty of a couple of misses, Iniesta should have had a penalty in the second half and Samuel Eto'o had a relatively poor game next to some of his colleagues.
Thierry Henry was irresistible for much of his time of the pitch, the Frenchman has blossomed this season and is as close to his Arsenal form as he has ever been. Xavi, yet again proved that he is an all-time great with some assists of incredible quality. And Lionel Messi is the icing on the cake of this Barca team, undoubtedly the best footballer in the world this season and the long-term successor to Maradona.
Incredibly, Barca face an even tougher test on Wednesday night at Stamford Bridge. Without the injured Rafa Marquez and suspended Carlos Puyol, Eric Abidal is likely to start in the center alongside Gerard Pique – Drogba could have a field day. There also remains a nagging suspicion that Barcelona can't defend set pieces, a fact that will not be lost on Guus Hiddink.
The neutrals will all be rooting for Barcelona, a side that has set the benchmark for how football can and should be played in the 21st century.
Barcelona are 6/4 to win at Stamford Bridge and 9/4 to draw with Chelsea on Wednesday, full match odds here.
Manchester United
If Barcelona have the best team in Europe, there is no doubt who has the best squad. Sir Alex Ferguson's side eased to a win at woeful Boro and rested much of the side that had outplayed Arsenal last week. Giggs and Scholes ran the game from central midfield and the Welshman scored a terrific goal to confirm why he was named PFA Player of the Year.
The depth of the squad is unmatched by any other team in world football. Ben Foster, Jonny Evans, Ji-Sung Park, Giggs, Scholes and Rafael off the bench are incredible players to select in what was a virtual second XI. It also has to be pointed out that Liverpool lost at the Riverside at the end of February.
United travel to the Emirates looking like a team re-born and with the blips of Liverpool, Fulham, Everton and the first-half against Spurs behind them.
Nevertheless, will they rue the missed chances at Old Trafford last week? More than ever, a Barcelona-Manchester United final is the one we all want to see.
Full match odds for Arsenal-Manchester United can be seen here.
Liverpool
It may have been all too easy for the Reds but this was a banana skin game since they were playing over 24 hours after Manchester United had picked up all three points. Following the trend of recent weeks, first-half goal scorers Yossi Benayoun and Dirk Kuyt were impressive and if United do slip up Rafa Benitez's side could yet secure an unlikely title.
It may be a consolation to Liverpool fans if the season does peter out and all that is secured is second place, but Benitez is right when he says: "the experience of this year will be fantastic. If we can win it will be amazing, if we cannot we have to keep going and going and the experience for the players for the future will be really good."
Liverpool are 8/1 to win the 2008/2009 Premier League title and 11/4 to win the 2009/2010 title, odds here.
Chelsea
Once again Guus Hiddink got it spot on, playing Drogba and Anelka up front who both teed each other up for their goals. Whether the Blues can afford to only play two in the centre of midfield against the Catalans is a question the Dutchman will no doubt be reflecting on in the coming days but it does seem likely that Chelsea will get the most joy down the middle against a Barca defence shorn of Marquez and Puyol and with a goalkeeper who has never really convinced.
It is testament to the current Chelsea side and their performance in the Nou Camp that they could possibly knock out Barcelona on Wednesday. It would be a brave man to bet against Hiddink and a group of players seemingly desperate to avenge Moscow.
Chelsea are 7/1 to win 1-0 against Barcelona, full match odds here.
Arsenal
All season-long Arsene's kids have come in and done well for games in the cup competitions and now at Fratton Park they looked every bit as good as the first team. Perhaps it is because of the lack of fear or the desire to impress and Nicklas Bendtner, Carlos Vela and Aaron Ramsey were again key to the victory on Saturday. Bendtner has scored 14 league goals this season and if the Sunday papers are to be believed could replace Emmanuel Adebayor in the first team next season.
Although Arsenal rode their luck at Pompey an easy win was secured and attention now turns to the biggest game in the Gunners season. Can Wenger's side make United may for their profligacy at Old Trafford?
Full match odds for Arsenal-Manchester United can be seen here.
West Ham
Stoke hasn't been an easy place to play this season and the Hammers went and secured a fine 1-0 win. Match winner Diego Tristan has been criticised in recent weeks for being a shadow of his former self but Gianfranco Zola seems to have the Midas touch.
Everton
The Toffees are now up to fifth, perhaps only for a day, after their win at Sunderland
Inter Milan
Inter put their recent poor form behind them to see off Lazio and take another step to the Scudetto. In keeping with their season, it wasn't overly impressive but it was effective. Zlatan Ibrahimovic came to the fore yet again with a quality first and an assist for the second.
Edin Dzeko
After 65 minutes on Saturday, Wolfsburg's title challenge was looking shaky. Bayern Munich were 2-1 at home and it was 0-0 against Hoffenheim for the league leaders. A 12-minute hat-trick from Dzeko (including two Grafite assists) settled the nerves before the Brazilian settled the win with a penalty in injury-time. Dzeko has now scored 14 goals since the winter break and is one of the standout players of this European season.
Matt Derbyshire
The on-loan Blackburn hitman came on at half-time in the Greek Cup final with Olymiakos 2-0 down. He claimed a brace, one immediately after coming on and the second to make it 3-3 in injury-time of normal time. Combined with his five goals in seven games in the Greek Super League this season, Derbyshire is looking like one of the all-time great loan signings by the double winners in Greece.
Steve McClaren
The man formerly known as Shteve McClown saw his Twente side beat champions AZ Alkmaar 3-0 yesterday and secure a place in next season's Champions League. Together with their place in the Dutch Cup final, it has been a stellar year for Twente and McClaren.
Bordeaux
With this the first season in seven that Lyon look like surrendering their Ligue 1 title, it seems only fair that perennial runners-up Bordeaux take the crown. Marseille, who remain ahead, thanks to scoring one more goal, will no doubt have a say in where the title does end up. Laurent Blanc's side were the only team to win in the top six and it is now firmly a two-horse race in France.
Bad Weekend
Relegation threatened teams showing relegation form
Seven of the bottom eight teams in the Premier League all lost over the weekend. The only team not to get beaten were Hull who play Aston Villa tonight.
Odds on relegation from the Premier League can be seen here.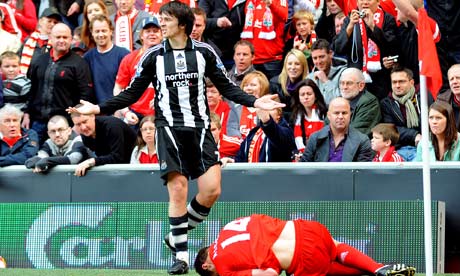 Newcastle
Games are running out for the Toon and it looks increasingly likely that Alan Shearer made a catastrophic career decision by taking on the Newcastle job. Such has been the form of the barcodes that seemingly every match report ends with the same quip about "the only way Shearer will be on MOTD next season is if he returns to being a pundit."
Steve Harper and the woodwork saved Newcastle from a greater mauling whilst Joey Barton's dismissal and Michael Owen's cameo as a substitute just confirmed that a badly run club can go down, no matter how big and how many "stars" are brought in. We will no doubt hear much about how the Toon Army doesn't deserve to go down, but the simple truth is that Newcastle have been run so poorly for so many years that they had to go down eventually.
Optimistic Newcastle fans, and there seem to be a lot of them, including Alan Shearer, will be praying for a win next Monday at home to Boro – sending their north-east rivals all but down. Before that game Hull play twice, away at Villa tonight and at home to Stoke next week. There is little doubt that Newcastle's fate now almost solely rests with the form of Sunderland and the Tigers – a shocking indictment for a supposedly big club.
Newcastle are 1/8 to go down, odds here.
Sunderland
Quite simply a disgrace, Sunderland were presented with a golden opportunity after other results at the bottom of the table and couldn't even take a point off an Everton side with nothing to play for.
Sunderland are 3/1 to go down, odds here.
Middlesbrough
Against an understrength Manchester United, at home and desperate for points, Boro simply had to play better and it is seeming more likely than ever that Gareth Southgate will take this team down to the Championship.
Three games remain for them to save themselves starting with the mother of all north-east six pointers, away at Newcastle next Monday. Besides Tuncay it is difficult to see where the goals are coming from and such is their woeful away record this season that even Newcastle must fancy gaining the three points that will send Boro down.
Boro are 1/8 to be relegated, odds here.
West Brom
It was the same old story at White Hart Lane, the Baggies put in a good shift, should have definitely scored and come away with something.
Real Madrid
Outplayed by the finest side in Europe it is difficult to heavily criticise Madrid for letting in six at home. In truth, such has been their form sine losing 2-0 in the Nou Camp, that they should be congratulated for steadily whittling the points difference down at the top of the table in recent weeks. Incredibly, after 14 minutes they had narrowed the gap to one point, six minutes later Barca were seven points in front at the top of La Liga.
Barcelona are all but champions now, which could be confirmed next weekend. This likely means the end of the road for Juande Ramos who was aiming for Mission Impossible, sacked by Tottenham and then win La Liga in the same season is unlikely to ever be achieved.
We can also expect to see a different Real Madrid side next season, Fabio Cannavaro will join Juventus and Rafael van der Vaart will move on. The Bernabeu needs some "Galacticos," Cristiano Ronaldo and Zlatan Ibrahimovic would be a good start if they really want to challenge Barcelona.
Hoffenheim
The champions of the first half of the Bundesliga are now ninth and have won one Bundesliga game this calendar year.
Claudio Ranieri
"The Old Lady" have not won in six games and the Tinkerman's position is looking more precarious by the week.
---
GAMBLING CAN BE ADDICTIVE, PLEASE PLAY RESPONSIBLY