Good Weekend, Bad Weekend
The FA Cup semi-finals provided one of the defining weekends of the 2008/2009 season with Manchester United's quintuple dream ended by Everton. Both Arsene Wenger and Sir Alex Ferguson reminded us what sore losers they are, Newcastle took a step closer to relegation, AZ clinched the Dutch title and in France it finally appears that Lyon will not be winning Ligue 1 for the eighth season in a row.
Good Weekend
Everton
David Moyes' side wrecked Manchester United's quintuple dream and the Merseyside club have received their just desserts for keeping faith with their manager in darker times. It may seem a long time ago now, but in season 2003/2004 Everton finished seventeenth and most managers in the Premier League would not have seen out that campaign. The following season the Toffees claimed fourth place, with their highest Premier League finish, and now have an FA Cup final to look forward to after a trying season of serious injuries and yet another uphill battle against the "Big Four."
There will be many who will belittle this victory over a far from full-strength Manchester United and on a Wembley pitch that suited Everton's style of play. They will surely need to play better against Chelsea in the final who will be at full strength and eager for silverware. But, Everton have beaten the likes of Aston Villa, Liverpool and Manchester United in the FA Cup this season and will have done it the hard way if they do win the final.
Everton deserve their day in the sun and it proves the character of the squad that they came through a penalty shoot-out which was their undoing in a heroic display last season against Fiorentina in the UEFA Cup. Players like Tim Howard, Phil Jagielka, Tim Cahill, Marouane Fellaini along with manager David Moyes deserve their place in the sun and the build-up to the FA Cup final will afford them this.
And who can rule out another shock result in the final?
Early odds for the FA Cup final: Chelsea 4/9 & Everton 7/4.
Florent Malouda & Didier Drogba
Much has already been written about Didier Drogba following his match winning performance against Arsenal on Saturday but Chelsea's first goal scorer at Wembley has been somewhat forgotten. Other players have improved markedly under Guus Hiddink, but none needed quite the turnaround as Malouda did.
The former Lyon winger came to England with great expectations and up until March of this year, nearly two full seasons in England, Malouda looked like one of the worst ever signings. Quite simply he offered nothing and for a feared French left winger with over 40 international caps to his name he never looked like beating his man never mind providing an assist or scoring a goal.
Things now appear to have changed, Malouda has now played the full 90 minutes in the last five matches and his goal against Arsenal followed another performance where he looked the part. The turning point for the 28-year-old Frenchman may have come at Anfield in the Champions League when he set up two goals, it is fair to say the coming weeks could well see Malouda establish himself as a major part of the future Chelsea team.
Drogba was of course the match winner and from the third minute until the 84th minute he was a physical threat that Gallas, Silvestre and Fabianski just couldn't deal with. The Ivorian has now scored five goals in his last four games and is again one of the most feared strikers in world football. If Chelsea do reach the Champions League final much will be made of John Terry's shot at redemption but after his red card in Moscow, Drogba will also be making up for last year if the Blues get to Rome.
Chelsea are 50/1 for an unlikely treble and 5/1 for the double of the FA Cup & Champions League. Long-term specials here.
Wolves
Mick McCarthy deserves enormous credit for taking Wolves into the promised land. They missed out on the play-offs last season by one goal and have stormed the Championship this season with some fine attacking football. Sylvan Ebanks-Blake deserves to be playing in the Premier League and Michael Kightly, Kevin Foley and Wayne Hennessey will have an opportunity to further their burgeoning reputations.
West Brom should be a warning however, for all their attacking excellent this season, Wolves have conceded 51 goals in the Championship this season and will have to tighten up if they are to prosper in the top division.
Sunderland
Ricky Sbragia's side gained a major home win in their battle to avoid the drop against Hull. If they can gain three points at the Hawthorns next weekend they should be all but safe and will no doubt watch on with glee as their great rivals look destined for the Championship.
Sunderland are 6/1 to be relegated. Relegation odds here.
Stoke
Yet another more established Premier League side comes up short at the Britannia and with 39 points Stoke are now closer to a Europa League position than the relegation zone. Their home form has been nothing short of sensational with nine victories now the equal of Chelsea and Arsenal.
Portsmouth
It has been a real struggle for Pompey in recent weeks but after a disappointing home draw to West Brom they now appear to be heading for safety after outplaying Bolton for long periods at Fratton Park on Saturday.
Kanu's faint touch for the goal could well go down in Pompey folklore as a more important goal than the one he scored at Wembley last season but there is still a little work to be done without the injured Niko Kranjcar. Manchester United away and Newcastle away make for an intriguing week for the Portsmouth squad who could shatter two side's hopes in six days.
Portsmouth are 14/1 to be relegated. Relegation odds here.
Darren Bent
With Jermain Defoe returning from injury, on paper Bent is Spurs' fourth-choice striker yet again and will almost certainly be sold this summer despite being the top goal scorer this season at White Hart Lane.
AZ Alkmaar
Despite losing to Vitesse Arnhem on Saturday, AZ clinched the Eredivisie title for just the second time in their history after a blistering season if incredible attacking football. Louis van Gaal surely does not regret his decision to stay on at the end of last season now after he offered to resign only for his players to change his mind.
AZ have a budget of 25 million pounds which means that Mounir El Hamdaoui, Ari, Moussa Dembele and Stijn Schaars are all likely to move on, but this season will live long in the memory for the club's supporters. 
Grafite
The 30-year-old Brazilian won a fortuitous penalty for the first against Leverkusen and then late in the game at 1-1 he was culpable of not squaring the ball for Edin Dzeko to tap home an easy chance. Grafite made up for it with an 85th minute goal which keeps Wolfsburg's title challenge on course after a game in which they had played poorly. Special mention also for Zvjezdan Misimovic who set up the second and the assist king of the Bundesliga now has seven assists in his last six games.
Wolfsburg, despite being three points clear at the top of the Bundesliga, are joint 5/4 favourites with Bayern Munich to win the title, odds here.
AC Milan
The Rossoneri turned on the style in a 5-1 win on Sunday night with Pippo Inzaghi and David Beckham combining for the first two goals. Milan moved up to second with the three points and are now all but certain of a Champions League position at the end of the season after both Genoa and Fiorentina lost. 
The return of AC Milan to the Champions League should come as some releif to Michel Platini and may temper some of the dominance of English teams in the competition. In the previous five seasons, Milan have played in three semi-finals and have been Italy's only representative in the last four during this period.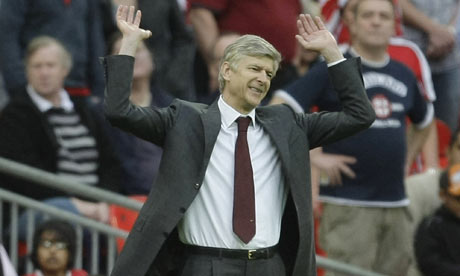 Bad Weekend
Arsene Wenger
Arsenal's first appearance at Wembley ended in defeat just days after a euphoric victory over Villareal had seemed to promise some much needed silverware at the Emirates. Despite the fact he is revered in football as "The Professor" and there is no doubting the incredible job he has done at Arsenal, Wenger will once again come in for a lot of criticsm.
Leaving out Andrei Arshavin, Alexandre Song and Samir Nasri from the start and only bringing on the Russian schemer in the 75th minute was a strange move. Arshavin was fresh having been cup-tied in the Champions League and would have been eager to make a difference against a team manager by Guus Hiddink.
In the bigger picture one has to ask why Didier Drogba fares so well against Arsenal – this was his eighth goal in nine games between these two teams. Wenger has often fared badly in the transfer market when buying goalkeepers and centre backs.
Fabianski was at fault for both goals at Wembley but could anyone really argue that Manuel Almunia is a significantly better goalkeeper. The signing of Mikael Silvestre always seemed a strange one and the Frenchman's effort for the second Chelsea goal was particularly pitiful.
Arsenal's squad is lopsided, too many diminutive, creative players and not enough players in the mould of Tony Adams and Patrick Vieira. Why is Wenger afraid to spend big bucks to secure a world-class goalkeeper and a dominating centre back that Arsenal have been craving for years?
Sir Alex Ferguson
Like his good friend Wenger, after his semi-final defeat Ferguson blamed the pitch but in truth it was his own decisions that probably cost United. Leaving Wayne Rooney and Cristiano Ronaldo out of the squad was always going to be a risk against an Everton side that would battle for their lives.
It does though feel a little over-critical to condemn Ferguson and United, after all their quintuple dream was dashed in the middle of April, which is almost unheard of. United's season will be define in the next six games, the two Champions League games with Arsenal and four league games against Portsmouth (h), Tottenham (h), Middlesbrough (a) and Manchester City (h).
Manchester United are 10/3 to complete a quadruple. Long-term specials here.
Newcastle
Alan Shearer's side were hopeless at White Hart Lane in the first half and only marginally better in the second period. Obafemi Martins made a real difference but he doesn't look 100% match fit. Michael Owen was almost anonymous throughout whilst Mark Viduka was panting minutes after coming on the pitch.
The Toon look almost certain to go down and now have to gain three points in probably the biggest match in their recent history at home to Portsmouth on Monday. Shearer was also guilty of some confusing tactics at Spurs and despite changes at the back the same old frailties remain.
These are dark times for the Toon army.
Hull
Phil Brown's side are going down, there is simply no possibility that a side in such woeful form can pick up the six points they need from their remaining five games. The Tigers have now lost two "six-pointers" in a row and have won just one game league game in 2009. They also face Liverpool, Aston Villa and Manchester United in three of their last matches.
Blackburn
Blackburn are now in seventeenth position and Sam Allardyce no longer seems to be able to inspire his troops in the same way he managed on his arrival at Ewood Park. They still should have enough quality to stay up and the home game with Wigan next Sunday is a massive fixture.
Blackburn are now 9/2 to be relegated. Relegation odds here.
Aston Villa
Villa's poor run continues after Diego Tristan's late goal squared up an entertaining clash. Martin O'Neill's side have won just five games at home this season and will end the campaign in disappointment after looking likely to break the stranglehold of the "Big Four" for so long.
Charlton
The bottom three of the Championship currently consists of Charlton, Southampton and Norwich. Three clubs who all graced and punched above their weight in the Premier League for a number of seasons. The Addicks are in dire straits both on and off the pitch and it could be some time before they return to the big time.
Lyon
Last week Juninho admitted that "maybe it's someone else's turn" to win Ligue 1 and after Lyon's defeat to Bordeaux last night it looks almost certain that they or Marseille will win the French title this season. In their remaining six games of the campaign, Lyon face PSG, Marseille and Toulouse and after a stuttering run of form the longest domination of any European league is finally coming to an end.
---