Good Weekend, Bad Weekend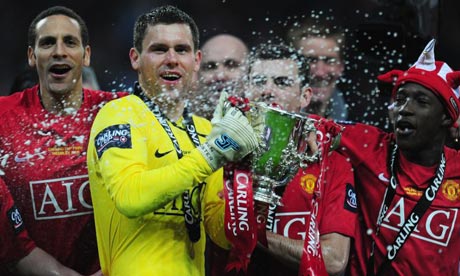 Good Weekend
Manchester United
One down, three to go.
For 120 minutes the Carling Cup final was largely forgettable, but the Red Devils' ability to claim the trophy that they arguably failed to deserved on their day's performance stands as a testament to Sir Alex's team. United continue to churn out results when they count, coming good at the money-time. But with success comes added pressure, and it is rapidly becoming less excusable for Manchester United to miss out on the unprecedented clean sweep quadruple.
For a while now the Old Trafford camp has uniformly lowered expectations against achieving the historic quadruple, with SAF claiming there was "no chance" of success in the Carling Cup, FA Cup, Premier League and Champions League back at the turn of the year. But with the league only United's to lose, no obvious challenger in the FA Cup, and with only Barcelona standing as the unknown quantity in the Champions League, what was once seen as a pipe dream is now being slowly crystalised into rational expectations.
Gary Megson
The "ginger Mourinho" continues to defy the odds, as his side's 1-nil victory over Newcastle on Sunday propelled his team into a comfortable 10th place, and barring a monumental collapse in the final furlong of the season the Trotters will stay up.
People outside the club may laugh, and people inside Reebok may vent, but Gary Megson refuses to let the boo-boys get him down as he penned his new contract at the weekend. And just to rub their faces in it, Megson could afford himself a wry chuckle after he threw on Ricardo Gardener at the break and with his first touch the substitution bore the game's winner.
Megson's ginger touch is working like a charm.
Gareth Southgate
How Gareth Southgate has managed to hold onto his job remains a mystery. Having failed to win a league match since November 9th, in a period which has seen Boro record just six points out of a possible forty-two, and with the club tanking into the relegation mire, at almost any other club in the Premier League the manager would have been out on his ear.
But Boro isn't like every other club, and Steve Gibson is not trigger-happy like most top-flight other chairman. And on Saturday the Riverside finally had the opportunity to smile as Liverpool fell once more at their notorious bogey-ground (the Reds have not won at Boro in seven attempts).
With Tottenham (away), Portsmouth (home) and Stoke (away) coming up in their next three league matches, Southgate will need to prove that he can turn one good week into the start of something much better.
Stephen Warnock
The Blackburn left-back was instrumental in the win, scoring the first and setting up the second. Nevertheless MOTD2 decided to focus on Roque Santa Cruz. The former Liverpool defender struggles for recognition even when he is the match winner.
Catania
The result of the weekend was arguably Catania's empathic 4-0 thrashing of Palermo in the Sicilian derby, with the standout moment being Giuseppe Mascara's incredible volley from inside the centre-circle.
And to cap it off, the match marked Catania's 400th Serie A match since their debut in 1954. Now that's how to celebrate!
Raul & Real Madrid
Raul has now scored eight goals in his last eight league games, which has coincided with Real Madrid's pursuit of runaway leaders Barca, with Los Blancos trailing their arch enemy by only four points have being at one stage 12 points behind.
The comeback is on.
Bad Weekend
Champions League hangovers
Of the 16 teams who played in the Champions League last week, only Chelsea, Juventus, Atletico Madrid and Real Madrid won (in 90 minutes) at the weekend.
By contrast, Bayern Munich, Panathinaikos, Porto, Sporting Lisbon, Inter Milan, Roma, Villarreal, Lyon and Arsenal all drew while Liverpool and Barcelona fell to humbling defeats.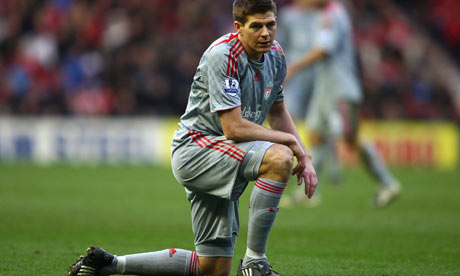 Liverpool
"You could almost say our second goal was the moment they lost the title." – Middlebrough defender, David Wheater.
Would Gareth Barry have eased the burden on Steven Gerrard, who ran himself to a standstill on Saturday? Would Robbie Keane have scored at least one of the opportunities that Nabil El Zhar, Dirk Kuyt and Ryan Babel missed? Where is the specialist right back?
Liverpool's demise since the beginning of 2009 has been rapid and painful: two wins from seven games, and those both requiring last-minute winners. An eight-point lead over Manchester United has evaporated and now turned into a seven-point deficit.
Without Fernando Torres Liverpool are always likely to be exposed, which leaves us wondering what exactly has Rafa Benitez been doing in the last four and half years to try and improve the Reds' chances of winning the title.
The UEFA Cup boycott: Villa & Tottenham
Ok. So it wasn't exactly a boycott, but you have to wonder what O'Neill and Redknapp would have done had their sides actually progressed through to the last 16 of European football's bastard competition. Would they have fielded their academy sides? Or maybe the under 10s? Or maybe, just maybe, they could have gone to the other extreme and called up former legends with Paul McGrath and Gary Mabutt could have laced up their boots once more.
While such speculation is now reserved solely for pub-chat, what was proven at the weekend was the immediate impact of Villa and Tottenham's decision to field understrength sides in the UEFA Cup was far from encouraging. The Villains looked less than fresh as they threw away their 2-goal lead over Stoke in the final minutes, while most of the Spurs team looked dead on the feet as they slumped to defeat in the Carling Cup final.
For Villa, with the Champions League still very much in their own hands full judgment over their UEFA Cup exit is saved for other day. But for Spurs, they have blown their chances to play European football next season, and with it their fans must be wondering what talent they can attract to White Hart Lane next season and, more crucially, which stars will now be heading for the exit door.
Barcelona
No wins in four matches. Are the wheels falling off the Catalans so-called greatest season ever?
Numancia
Seven straight defeats, and eight defeats in their last nine games. The Segunda Division awaits.
Bayern Munich
Jurgen Klinsmann's side have now lost three and drawn one of their out of five league games since the turn of the year.
---
GAMBLING CAN BE ADDICTIVE, PLEASE PLAY RESPONSIBLY