Good Weekend, Bad Weekend
This weekend saw the title race come to an abrupt conclusion in England, barring any miracles, Manchester United's name will be on the Premier League trophy. Likewise, it seems all but certain as to who will win the league in the top divisions in Holland, France and Italy. There is a glimmer of hope that Real Madrid can make up ground in Spain whilst the German Bundesliga is looking the most competitive of all. With this in mind it is lucky the Champions League is resuming tomorrow.
Good Weekend
Cristiano Ronaldo
After scoring 42 goals last season it was never going to be easy for the Portuguese winker. Especially after a lacklustre Euro 2008, an ankle operation and weeks of speculation about a potential move to Real Madrid.
A record of 13 goals in 30 games in the Premier League and Champions League isn't bad going, especially for a winger. However, many of Ronaldo's goals this campaign have come from the penalty spot or have been late in games which have already been won.
The free-kick on Saturday against Blackburn was a trademark Ronaldo strike, which was pretty much unsavable, and serves as a reminder that the 24-year-old trickster can win matches on his own. His detractors will point to a kick out and a dive before the goal came but the fact is if Ronaldo is firing, United really do have a chance to win the quadruple.
Tuesday's visit to the San Siro promises to be a real barometer of the quality of this United side, especially without Nemanja Vidic. For such a relatively small country, Portugal boast two of the main protagonists of this tie, Ronaldo's brilliance could yet secure another Champions League title for the Red Devils before he does finally move to the Bernabeu. And if anything, United will have been stronger for this season having secured the title with major contributions from a number of squad members.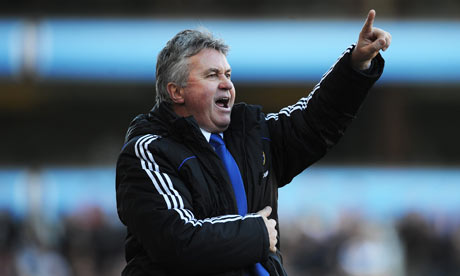 Guus Hiddink
Aston Villa may have looked tired after three games in six days, but this was a crucial win for Chelsea and the perfect start to the Guus Hiddink era. Above all, the victory at Villa Park and Arsenal's home draw with Sunderland has left the Blues seven points clear of their London rivals and looking secure for a Champions League spot at the end of the season.
Now Chelsea prepare for Juventus and Claudio Ranieri. The defensive resilience and team spirit illustrated at Villa will be crucial as Juve has some very talented attacking players. Alessandro Del Piero is still a class act and Amauri can ruffle up even the strongest of centre backs.
Sunderland
Four games undefeated for Ricky Sbragia's side, including two wins and the Mackems are slowly edging away from the drop zone.
Fulham
The Cottagers are in eighth place having failed to win away from home this season.
Ivan de la Pena
The 32-year-old schemer had one of those incredible games which players only seem to have at their former club. Before Saturday night, the "Little Buddha" hasn't scored this season, in fact, he hasn't found the back of the net since the 2004/2005 season.
Add to the mix that he has been dogged by injuries this season and you would not have picked De la Pena to be the match winner prior to kick off. His brace was made up of a fine run to head home the opener and the second was a sublime chip.
Ivan De la Pena has had his ups and downs in a long career but he reminded us again that he is a class act.
Real Madrid
Saturday night in Spain was a role reversal in comparison with what has gone on previously this season in La Liga. Real Madrid pummelled Real Betis, scoring six goals in one half whilst Barcelona struggled against relegation threatened opponents.
Having left England under a dark cloud and with his reputation in tatters, Juande Ramos faces English opposition this week as a man who has rediscovered his midas touch. Madrid have won their last nine league games and with the gap now seven points at the top of the table they are not out the title race just yet.
Mounir El Hamdaoui
When this AZ Alkmaar team are stripped apart at the end of the season after winning the Eredivisie, the player most in demand is the 24-year-old striker who has scored 20 goals this season in 23 league games. His brace on Saturday against Heracles Almelo secured a 2-0 win and ensured the nine point lead at the top of the table stays intact.
Hamburg
After all their title challengers stumbled on Saturday, Hamburg took advantage in a most Manchester United-like manner and are now two points clear at the top of the Bundesliga.
David Trezeguet
Claimed his first goal of the season on his first start of the campaign after a long injury lay-off. The 31-year-old Frenchman still has a lot to offer.
Bad Weekend
The Premier League
The so-called "best league in the world" is in danger of being one of the most boring. The title race is all but decided, Arsenal could well fail to challenge for fourth place and the relegation battle is not looking as exciting as it once was.
No doubt there will be plenty of intrigue and drama in the final weeks of the season but Manchester United's continued dominance of the English game does take away the gloss a little.
Liverpool
In 2004/2005, Jose Mourinho chided Rafa Benitez with the line that "big clubs have to concentrate on more than one trophy." The Spaniard can rest easy as all Liverpool can now win this season is the Champions League.
Liverpool's lack of creative spark has been their undoing and the draw with Manchester City was another stark illustration of how they can struggle without Stevie G. Dirk Kuyt and Albert Riera would likely struggle to get on Manchester United's bench whilst the reliance on Yossi Benayoun, a good but not a great player, in recent weeks says a lot about the strength of the squad.
Mike Jones (referee at Stoke-Portsmouth)
Portsmouth may well be relieved that they came away from the Britannia with a draw but they were very hard done by, thanks to two appalling decisions. Glen Johnson's arm never got close to the ball for the penalty and James Beattie looked well offside when he headed home from close range for the second.
Will Jones be punished? Will there be a long and public debate about the use of video evidence? Probably not, Portsmouth were on the receiving end so no one cares.
Middlesbrough
Gareth Southgate admitted after the game that many pundits feel his side are already down and that Boro will have to go and win at some unexpected places to stay up. He is right on both counts. Without a win in 14 games and having failed to score in the league for five games, things are looking bleak at the Riverside.
Following their next league game, a home match with Liverpool, Boro face Spurs, Portsmouth and Stoke. If this horrible run continues Boro could be all but down.
Kevin Nolan
Somehow a three match ban doesn't seem enough.
If 40 points is the cut off this season for staying up, then Newcastle need 12 points from 12 games. It could be very tight.
The Toon's next five games are: Bolton (a), Manchester United (h), Hull (a), Arsenal (h) and Chelsea (h).
Arsenal
Three league games without a goal and the Gunners are really struggling to even mount a challenge for a Champions League place. The teams they have failed to score against, West Ham, Spurs and Sunderland are hardly the best defences in the league either.
The pressure heaped on Andrei Arshavin says a lot about the rest of the side and on Saturday Denilson and Song were pretty woeful in central midfield. Roma will be quietly confident ahead of their visit to the Emirates tomorrow whilst Arsene Wenger's side MUST beat Fulham next Saturday.
Bayern Munich
Jurgen Klinsmann's side have now lost three out of four league games since returning from the winter break.
---
GAMBLING CAN BE ADDICTIVE, PLEASE PLAY RESPONSIBLY