Good Weekend, Bad Weekend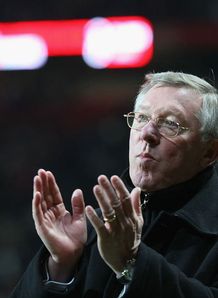 With four of the top five in the Premier League winning and Liverpool playing tonight it was another fine weekend of Premier League football. Spare a thought for all those poor journos who get paid to watch football who frantically had to change their match reports late on at the Reebok and Stamford Bridge on Saturday.
And it is difficult to find new superlatives for the relegation battle that just keeps on giving. Every week, somehow, it seems to get closer with the bottom nine now separated by three points. A number of individual performers are also coming to the fore on mainland Europe, the likes of Messi, Pato, Robben and Baptista have returned from the winter break and are producing some stunning performances and goals.
Good Weekend

Manchester United
This time last week there was much to marvel about after United's 3-0 win over Chelsea. Since then, much to the chagrin of Rafa Benitez, Sir Alex Ferguson's side have been professionalism personified as they saw off two local rivals in tight matches to reclaim top spot in the Premier League.
Yet again it is the United defence that is the true match winner. They have not conceded a goal in the Premier League since Samir Nasri scored three minutes into the second half on November 8, 2008 at the Emirates. Since then, they have scored 14 in 10 games – five of which came in the home victory against Stoke.
Last season, the defence didn't receive any where near the credit it deserved, mainly because Cristiano Ronaldo and his 42 goals took much of the plaudits. This season, Ferguson has also used a greater number of defenders and the likes of Jonny Evans and John O'Shea are not letting him down.
Aston Villa
They rode their luck at times at the Stadium of Light, Milner's equaliser especially, but Martin O'Neill got it right when he said after the game that this was a "magnificent win." Villa have kept pace with the top four incredibly this season and whilst you still wouldn't put money on them winning the title itself, they are very well placed.
How they cope without the suspended Ashley Young in the coming weeks will go a long way to deciding their Champions League ambitions.
Chelsea
Never mind that it was against Stoke, following a week when they were well-beaten at Old Trafford and lost Joe Cole for the season this was a hugely important win. With the form of Aston Villa and Arsenal in recent weeks, if Chelsea don't make the Champions League next season, Roman Abramovich, the new pauper from Russia, really may start to hawk his club round the Middle East.
For the first time in weeks the Blues showed character and this could be massive for Luiz Felipe Scolari. If memory serves correctly, Chelsea were written off numerous times last season and came within a whisker of the two biggest prizes in football, it could still be early to do the same this season.
Robin van Persie
Our good pals at Gunnerblog described it as "The hassistrick" as the Dutchman set up all three goals. In particular the ball for the second for Samir Nasri was reminiscent of Dennis Bergkamp and if he can stay fit then RVP could come close to being another great flying Dutchman for the the Gunners.
Gianfranco Zola
It hasn't been easy for the little man at Upton Park with the club seemingly in endless turmoil. This was further highlighted yesterday by the absence of Craig Bellamy but thanks to three league victories in four games they now look relatively safe. If they can avoid defeat at Hartlepool on Saturday, a mid-table finish and a cup run would do nicely in Zola's first season in charge.
The diminutive Italian should also take much credit for the form of Carlton Cole (5 in 5) which could soften the blow of losing Bellamy.
West Brom
The Hawthorns is now becoming a very tough place to go. The Baggies rode their luck for the first two goals as Brunt was probably offside and Fortune lived up to his name for the second. But, Tony Mowbray's side deserve it after persevering all season and after three consecutive home wins they will now feel that their home could keep them up alone. The ultimate test comes next Tuesday night when they entertain Manchester United.
Sam Allardyce
The 3-0 win over Newcastle must have been sweet for Sam Allardyce against the club who sacked him 12 months ago, Blackburn are still yet to lose under his stewardship and the strike partnership of Jason Roberts and Benni McCarthy means he should probably cash in on Roque Santa Cruz.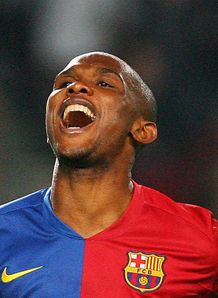 Barcelona
59 goals at this stage of the season is a new record and Real Madrid's 107 goals in the 1989/1990 season is now in their sights. The front three are simply awesome and one can only marvel at the way they dismantle decent sides – Depor were seventh before the start of play.
Like United, the depth of the quality in the Barca squad is unbelievable. In the Copa Del Rey on Wednesday night Iniesta pulled out an incredible run for Gudjhonson's winner and on Saturday Dani Alves' cross for Henry's (rare) header was sublime.
If God is a football fan, Barca will face United in the Champions League final.
Rangers
Rangers won + Celtic lost = Good weekend for the blue half of Glasgow.
AZ Alkmaar
Louis van Gaal's side are still top of the Eredivisie. The next few weeks are massive as they face a number of winnable games and if they can keep their seven-game winning streak going they could pull further away from Ajax.
Alexandre Pato
When The Duck burst on to the scene in Brazil, defenders couldn't get near him. On arrival in Serie A it didn't seem that simple for Pato, in recent weeks however he has come to the fore. He has scored seven goals in his last five games either side of the winter beak and his winner against Fiorentina was a stunning finish.
As an aside, how crazy is it to see AC Milan fans protest about the sale of their best player who is seemingly on the way to Manchester City. If someone had predicted this any time in the last 100 years they would have been locked up.
Arjen Robben
Four in his last five and Robben seems to be enjoying the reign of Juande Ramos.
Julio Baptista
Since leaving Sevilla in 2004/2005, the 6.0ft Brazilian has never really found a true home, now he seems to be finding his feet in Rome. Roy of the Rovers stuff to score a winner in injury-time with a bicycle kick.
Bad Weekend
Darren Bent
It hasn't been easy for the former Charlton striker at Spurs, last season he barely got close to the first team thanks to the form of Keane and Berbatov whilst this campaign, even though he is the top scorer at the club, Defoe and Pavlyuchenko if fit will always be picked ahead of him.
Nevertheless there is no excuse for the shocking miss late on against Pompey. Those two points that went begging could be the difference between Premier League and Championship football next season. More than anything the miss could be the final nail in the coffin of his Spurs career, which in truth would probably not be such a bad thing.
Gareth Bale has to receive his weekly mention – the former Welsh wonder was again lacking defensively and it is a damning indictment that Redknapp admitted after the game that Corluka and Lennon were carrying knocks yet Bale was the player substituted in the second half.
Middlesbrough
"If Steve thinks there needs to be change, he will make a change. I could have no complaints if he did based on the results we have had." – Gareth Southgate.
Four points from a possible 30 is relegation form in any season, let alone a campaign that is turning into the closest relegation battle ever. Much praise is heaped on Steve Gibson but perhaps now is the time when either Southgate or a new manager needs to be backed in the transfer market.
Boro have done well to seemingly hold on to the services of Downing and Tuncay but it won't mean much if they drop down to the Championship in May. There is a certain lack of quality about Middlesbrough this season and they are going to have to show fight and tigerish qualities to stay up.
Southgate and his beleaguered side travel to Stamford Bridge to face the team that beat them 5-0 earlier on in the season next in the league and the FA Cup tie at Wolves on Saturday has banana skin written all over it.
Newcastle
No wins in their last six in all competitions, Joe Kinnear can blame as many former managers as he wants but the Toon are looking a little desperate again.
The former Wimbledon boss also blamed Rob Styles, who he claims has now given three penalties against them this season. Some tricky fixtures are coming up with a trip to Eastlands and the Hawthorns either side of a meeting with Sunderland at St James' Park.
Inter Milan
Jose Mourinho: "That was our worst performance of the season, you could compare it with our match in Cyprus in the Champions League (a 3-3 draw at Anorthosis Famagusta), I can't explain my team's first half hour. When we lose I prefer to speak about how well the other team played but we played so badly in the first half that I prefer to say that we brought this result on ourselves. I will accept all the criticisms you want to direct at me. The press can use all the adjectives they want and I won't complain."
"It was a disaster. Against Cagliari (a 1-1 home draw a week earlier) it was the first match back after the winter break which is never easy but we saw an emotional reaction (from Inter when they went 1-0 down) from a team that wanted it. But even someone who doesn't know football could see that we didn't have the aggression to win the ball or the desire to press, we didn't have the right attitude. If the team didn't manage to do that then the coach is at fault for not being able to make them do it. There were 30 minutes that you can't explain in which we conceded stupid and ridiculous goals."
"One of my players (Maxwell) put the ball at the feet of Floccari, who had his back to goal but our defender (Ivan Cordoba) let him turn and shoot. The whole week we spoke about Doni and how he plays in a certain area and is good in the air, but he found space on his own between two defenders. The coach wasn't able to make a 34-year-old centre-back with 15 years of experience understand that you can't let a striker with his back to goal turn and shoot. My team played really badly but I'm the coach so it's my fault."
Thankfully for Inter, Juve failed to win at Lazio so they still have a three point lead at the top of Serie A. The midweek Coppa Italia clash with Roma, the two teams who have played out the final in the last three years, should be a tasty affair.
---