Good Weekend, Bad Weekend
The bank holiday weekend saw a feast of football and some games even escaped the incessant rain to play in the sun. The new Premier League season is beginning to take shape but the game and performance of the weekend came in the Bernabeu.
Good Weekend
Real Madrid
Whilst the Spanish Super Cup is hardly the most important trophy of the season, Real's win on Sunday night was an amazing comeback which sent out a clear message to all their La Liga rivals that they are very capable of making it three titles in a row.
At half-time they were 4-2 down on aggregate playing with only ten-men. The odds continued to be stacked against them even after they took the lead on the night with the sending off of Ruud van Nistelrooy. But this Madrid team is made of stern stuff and clawed their way back into the tie with a blistering spell late on.
All these years on from the "Galactico" experiment, Madrid and Bernd Schuster seems to have found a formula to get the most from the team. The fine goal from Ruben de la Red is a reminder of how important home grown players can be. And special praise must also go out to Arjen Robben who was sensational and if he stays fit will ensure Robinho is not missed.
West London
Chelsea ground out a win at the JJB, showing two sides to Scolari's team in the first couple of weeks of the season. Prior to the new campaign it was thought that Chelsea had the playing staff and the determination to be the major force in English football this season and this still remains the case.
Deco's free-kick was a joy to behold but the surprise is that the Portuguese playmaker is even taking them with Michael Ballack and Frank Lampard around. Deco's two-in-two masks the fact that he isn't a goalscorer – he only scored 13 in four seasons at the Nou Camp, but his all-round game suggests he could be one of the buys of the season.
Following their disappointing defeat at Hull, Fulham bounced back with a fine win over Arsenal. Roy Hodgson is out to prove that you can be successful in the Premier League without a ball-winning midfielder and the Cottagers have not received enough credit for the performance on Saturday in the aftermath of the win.
Bouyed by their "Great Escape" and some astute signings Hodgson and Fulham should be in for a good season.
Stoke City

Their battling win over Aston Villa will have heaped a little more pressure on West Brom who despite being the favoured team of the promoted three have looked the weakest in the opening two games of the season. As a result it appears the Premier League will not be afflicted this season with another Derby County.
The Potters bounced back from a disappointing defeat at Bolton. Ricardo Fuller's goal was real quality and the way Aston Villa failed to deal with the aerial threat suggests bigger teams will fall at the Britannia Stadium. Rory Delap's long throws could be a very useful weapon.
Steven Gerrard
There isn't much to add about Gerrard that hasn't been said already, but he has an unnerving ability to hold his nerve at the most crucial times – a truly un-English characteristic.
Djibril Cisse
He could lead a one-man chorus of "can I play you every week" to Spurs. His first goal in English football was at White Hart Lane and so was his winner for Sunderland on Saturday on his return. With all his recent injury problems he deserves to be a success at the Stadium of Light.
Darren Fletcher
Besides his personal ambitions, the Scotsman is proving that it actually isn't that hard to score 42 goals for Manchester United in one season from the right wing. Fletcher doesn't take free-kicks or penalties unlike the Portuguese winker.
Hoffenheim
The "Village Team" now have two wins from two games, sit at the top of the Bundesliga, are yet to concede a goal and in Vedad Ibisevic have the joint top scorer in the German top division. It can't last, can it?
Bad Weekend
North London
Arsenal put in one of their worst performances in recent seasons at Craven Cottage at tea-time on Saturday. New signing Mikael Silvestre is already injured and the midfield duo of Emmanuel Eboue and Denilson failed to stamp any authority on the match against what is not the most physical team in the Premier League. To rub it in, it was "Captain-not-so-Fantastic" William Gallas who was at fault for the Fulham goal.
It may be early to say, but if there is one of the "Big Four" that could be caught this season, it looks like being Arsenal, the only consolation for Gunners fans is that it won't be Spurs overtaking them.
Juande Ramos' Premier League record is looking distinctly average and Spurs' start to the season has yet more sympathy being sent the way of Martin Jol. And whilst the club have placed much of the blame for the poor start to the season on the Dimitar Berbatov situation, it isn't the Bulgarian's fault that Darren Bent was anonymous against Sunderland. And with so many short midfielders, Tom Huddlestone must surely start for Spurs.
Almost every Premier League team
Over the last few days we have heard how the transfer window should end when the season starts – which is undoubtedly a solid argument. But almost every Premier League team is currently scrabbling around to bring in more players before the window closes next Monday.
Everyone knew when the window closes so why do many clubs (Manchester United, Arsenal, Chelsea, Spurs, Everton, West Brom to name just a few) wait till the last minute?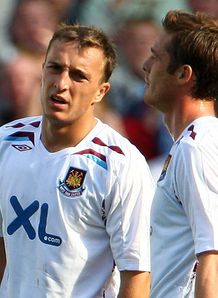 Mark Noble & Alan Curbishley
Noble's first yellow card was foolish, and he conspired to help lose the game for West Ham when he received his red card just before half-time at Eastlands. Prior to kick-off the Hammers would have felt that they could get a result at Eastlands and now Curbishley is under yet more pressure as Paul Ince makes another return to Upton Park on Saturday.
Portsmouth
Once the euphoria of the FA Cup win died down, it has probably dawned on Harry Redknapp that this could be as far as he could take the south-coast club. Pompey haven't invested enough this summer to challenge for a Champions League place and in their first two games have lacked any guile or creativity.
Bayern Munich
The Bundesliga champions have made their worst start to a season for nine years and although they fought back to claim a draw with ten-men, they are missing talisman Franck Ribery. To compound matters, Lukas Podolski's future is once again in doubt as he was dropped for the game against Borussia Dortmund.
Click here for more Premier League betting tips
---