Good Weekend, Bad Weekend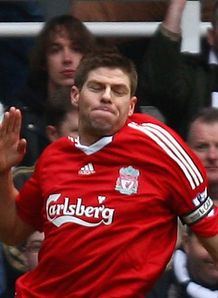 It was a bumper weekend in the Premier League where, for many of us, there was sympathy for the professional footballers who had to play 180 minutes of football in three days. Liverpool reaffirmed their title credentials, Everton threw their name into the hat for what is shaping up to be an intriguing battle for fourth and the relegation battle somehow got even closer.
And, of course, much to the delight of the rumour mongers, the January transfer window has begun to cast a shadow over many of the teams in the Premier League.
Good Weekend
Liverpool
Two games, six points and eight goals will have Liverpool fans believing the long wait could be over. Most encouraging of all was that the bit-part players are now coming to the fore, it is not all Steven Gerrard and Fernando Torres isn't even back in action yet.
Robbie Keane followed his cracking goal at the Emirates to see off Bolton after Albert Riera had claimed his second league goal of the season. Gary Megson's side are no pushovers away from home and Liverpool proved they have the creativity and nous to get past packed rearguards at Anfield. Reports following the game also claimed a new positive atmosphere emanating from the Kop which could prove to be a "12th man" in the second half of the campaign.
The win yesterday at St. James' Park was also another illustration of squad players doing their bit for the cause. Sami Hyypia wasn't even included in the Champions League squad yet the veteran centre-back scored a crucial goal, Ryan Babel was lively in a rare start and also chipped in with a goal, whilst Lucas Leiva played a delicious ball for Gerrard's second.
Liverpool have illustrated in the first half of the season that their title challenge is genuine. It looks like being a two-horse race for first place with Manchester United and when one looks at the recent history of English football it was unlikely to be any other way.
Everton
Wins against Middlesbrough and Sunderland have put Everton right in the mix for a Champions League spot next season. Three points behind Arsenal at this stage of the season is an impressive achievement for a team who have claimed just two wins at home.
Mikel Arteta was undoubtedly the architect of the win yesterday and David Moyes' ability to discover goalscoring midfielders could be one of his lasting legacies. Since Everton's striker crisis kicked in (injuries to Yakubu, Saha and Vaughan) the Toffees have performed admirably.
There is much to be said for the argument that this Everton side are proving that in modern football it is possible to play without out-and-out strikers. In recent years so much emphasis has been on winning the midfield battle that it has been argued that 4-6-0 is the formation of the future.
This may be true, but without midfielders of real class it is difficult to produce the results Everton have achieved in recent weeks. Marouane Fellaini was one of the buys of the season and Arteta and Tim Cahill go from strength to strength. Perhaps this season, Everton will have enough experience from recent campaigns to claim that elusive fourth place.
The Merseyside derby on Monday, January 19, 2009 is shaping up to be a very tasty match-up.
Wigan
The Latics quietly went about their business and claimed six points over the weekend, leaving them in seventh. Although they are still in the relegation mix, they are champions of the bottom 13.
West Ham
If there is a fire sale at Upton Park this January, the wins over Portsmouth and Stoke could keep them up. A few weeks ago West Ham couldn't buy a goal, over the past few days both Craig Bellamy and Carlton Cole grabbed braces.
More importantly however seems to be the new mental strength appearing in Zola's squad. Until the visit to Fratton Park, it has been a rule that whenever the Hammers conceded first they went on to lose the match.
Showing new resolve, this no longer the case.
Robinho
The second top goal scorer in the Premier League, Robinho may have made a career choice based on money alone but his class continues to shine through.
West Brom
The "Great Escape" in 2005 also started with home wins against Manchester City and Tottenham.
Celtic
Their first win at Ibrox in over three years and now they lead the SPL by seven points. A fourth title for Gordon Strachan looks on the cards.
Steve McClaren
In one of the only other countries to play football over Christmas, the former England manager grabbed a big result with a 0-0 draw at PSV. As a result, FC Twente remain four points ahead of the Eindhoven giants and are only seven points behind league leaders AZ Alkmaar.
Slowly, slowly, Steve McClaren is furthering his reputation in Holland.
Bad Weekend
Ricardo Fuller
After coming so close against Manchester United, Stoke seized the early advantage at Upton Park and with things so tight at the bottom the Potters had a real chance to lift themselves away from the relegation zone. To have a man sent-off for confronting one of your own players, in this case the captain, is completely unforgivable.
Even the point that Stoke threw away could come home to roost at the end of the season. January's league games could well leave Tony Pulis' men doomed with fixtures against Liverpool (h), Chelsea (a), Spurs (a) and Man City (h).
Tottenham
The 'arry Redknapp revolution is well and truly over. Spurs have picked up just two points in their last four games and Luka Modric's goal at Newcastle is their only one in that period. Tottenham are now just two points off the bottom of the table and are in desperate need of another run of form like the one that Redknapp embarked upon on his arrival.
Yesterday's defeat at the Hawthorns was largely brought about by the sending-off of Benoit Assou Ekotto, which on another day could have seen the left-back remain on the pitch. But this would be just an excuse, Spurs' lack of firepower is almost embarrassing for a team that wants to challenge the top end of the table.
Darren Bent is again struggling to even get into games, Pavlyuchenko is having language problems (something that could have been predicted on arrival) and Frazier Campbell is too lightweight for a team battling relegation. It is no exaggeration to say that Spurs' season could rest on who they sign in the January transfer window.
Portsmouth
Pompey's recent results under Tony Adams make for some sorry reading. The south-coast club have picked up just one win in five and look to be a team in freefall, rapidly sinking into the relegation mire. With Diarra at the Bernabeu and Defoe, Johnson and Distin seemingly on their way, the second half of the season is not going to be a picnic.
Sol Campbell fired a warning shot last week and the suspicion remains that Tony Adams is the wrong man for the job at the wrong time. Could last year's FA Cup winners face relegation just 12 months after their famous Wembley triumph?
Newcastle
It was quite simply an awful Christmas for the Toon army. Two defeats was bad enough, especially the humbling 5-1 rout at home, but Mike Ashley's desire to continue his control of the club has left the future of Newcastle looking decidedly bleak.
Injury problems are mounting for Joe Kinnear and there are some real six-pointers coming up with games against West Ham, Blackburn, Manchester City, Sunderland and West Brom.
Sunderland
Appointing Ricky Sbragia looked like a smart move when the Mackems scored eight in two games. But one point over Christmas is not enough and Sunderland are now firmly in the relegation mix, led by a man with seemingly little charisma and not much experience.
---
GAMBLING CAN BE ADDICTIVE, PLEASE PLAY RESPONSIBLY