Good Weekend, Bad Weekend
The weekend didn't quite live up to expectations, with the Premier League matches failing to really ignite. Across mainland Europe, there were some significant results but for many the winter break is here and it is a time to reassess.
Good Weekend
Joe Kinnear
Undoubtedly Newcastle's finest win of the season and when you look at the finishing it is simply difficult to comprehend how they find themselves near the bottom of the table. Kinnear must be ruing the last minute goals conceded to both Stoke and Wigan, if the Toon would have held on to those wins they would now be in eighth position in the Premier League.
Kinnear first proved us all wrong by holding on to the job until the end of the season, he could well stay much longer than we all expect. Newcastle's next game at home to Spurs is crucial.
Aston Villa
Gabrial Agbonlahor and Ashley Young are now putting in consistent performances and popping up with regular goals. Not only is this good news for England but Villa's charge for fourth or even higher is well and truly on – they were the only team in the top six to record a win over the weekend.
Bolton are no pushovers away from home this campaign, although the manager of the month curse did strike again. Villa's next two games are away at West Ham and then the big one, at home to Arsenal. Two wins and Martin O'Neill's side would really have people believing they can do it.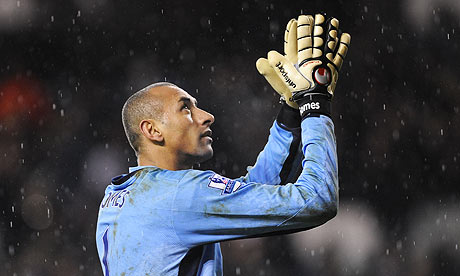 Heurelho Gomes
To say it has been a roller-coaster season for the former PSV custodian would not be doing it justice. Gomes has gone from the ridiculous to the sublime. He took center stage on Saturday late on in the game as Spurs' high-octane game began to flag a little.
His save from Ryan Giggs' free-kick was as good as any you will see this season and his handling is becoming more assured by the match. Whether Gomes needs to learn to catch the ball from deep crosses is an argument for another day. For now, he continues to make the pundits and the transfer gossip journalists look stupid.
Manchester United
Does anyone else get the feeling that United will return from Japan and the fixture list and table will look so welcome for them. If they can get their attack to click into gear the quadruple is not impossible.
Phil Brown
"To be a Hull City manager and to be disappointed with getting a point at Anfield is maybe a sign of where we've come from" – Phil Brown. That pretty much sums it up.
Everton
It is surely no coincidence that David Moyes' side keep bagging late winners. In their last eight Premier League games Everton have scored seven goals in the last ten minutes and they can now put three wins directly down to late headers at Bolton (Fellaini), home to Fulham (Saha) and now away at City (Cahill).
Without the extra six points gained from the above three matches, Everton would be one point above the relegation zone, instead they are seventh, four points off a Champions League place.
Barcelona
Some have denigrated the result due to the fact that Real Madrid have so many injuries. But Barcelona are now eight points clear and it would take a brave man to bet against them for the La Liga title. The big question is whether they can take this form into the last few months of the season and the latter stages of the Champions League.
Zlatan Ibrahimovic
If Barcelona have been the team of the first half of the season, Zlatan has been the player of the campaign so far. He has often been derided as the player for the YouTube generation thanks to his spectacular goals and fancy flicks, but he is really stepping up to the plate under Jose Mourinho.
Yesterday he scored when it counted the most – if he can do it in the Champions League, many of his doubters will start to praise him too.
Leaders going into the winter break
Everybody loves the Hoffenheim story and the fact they are leading the Bundesliga going into the winter break will bring a lot of Christmas cheer. Barca and Inter look odds on to win their respective leagues and it looks yet again like no one in France is willing or able to challenge Lyon.
Bad Weekend
Arsenal
Another disappointing result for the Gunners, somewhat masked by the fact the teams around them, besides Villa, all drew. The amazing point of note about the Gunners at the current time is that they lack a creative spark and real searing pace that was provided by Theo Walcott.
When Arsene Wenger first came to England he preached the importance of pace and his teams, with players such as Overmars, Anelka and Henry, were some of the quickest seen in English football. In comparison this team is pedestrian, Abou Diaby and Denilson are functional footballers at the moment, neither can provide a killer pass or beat a number of opponents.
Liverpool & Chelsea
Home draws against Hull and West Ham do not win Championships at the end of the season. Sadly for both of these title challengers these were hardly aberrations.
Chelsea's home record before the game with Zola's Hammers was the worst for 15 years, which compared with the Blues pre-Abramovich is some statistic. Away records are all well and good if your home form is adequate, but under Scolari Chelsea are failing to beat teams that they murdered at Stamford Bridge under Jose Mourinho. Their poor home form could also put too much pressure on their away matches and the game with Everton next week looks like a potential banana skin.
Liverpool's problems at Anfield have been well documented and it was another sad indictment that Robbie Keane didn't even get on the pitch. They have the excuse that they were playing a top six side in Hull but the home draws with Stoke, West Ham and now the Tigers could come home to roost at the end of the season.
Blackburn & West Brom
For so long it wasn't clear who would be relegation certainties going into the New Year. In many ways it is easy to feel sorry for both sides. Paul Ince did all the hard work in the lower leagues and failure at Ewood Park could cost him his reputation. The Guv'nor has not been helped by losing some of his best players in the summer.
Tony Mowbray's side have played some great football but are really struggling without a top-class forward. The loss of Ishmael Miller for the season has compounded matters. The good news for both Blackburn and West Brom is that salvation could be close.
Blackburn are at home to Stoke and West Brom are at home to Manchester City, both teams will feel they can drag two teams right into the relegation zone. Failure to claim victories though could mean Ince out of a job and Mowbray buying in January for another assault to get out the Championship.
Juande Ramos
Reading 0 – Tottenham 1 (Premier League, May 4, 2008) was Juande Ramos' last win in a league match. This could be a statistic we hear more often after the winter break as sixth placed Real attempt to push up the table.
---
GAMBLING CAN BE ADDICTIVE, PLEASE PLAY RESPONSIBLY