Good Weekend, Bad Weekend
In all honesty, that wasn't the greatest weekend of football. Sure, there were some intriguing results and the crisis enveloping at Arsenal is worth keeping an eye on but there was a distinct lack of goals in the Premier League with the top five all failing to register a single goal. Mainland Europe hardly improved matters with Real and Barca struggling for goals and Inter needing just one to see off Juve.
Good Weekend
Manchester City
Having failed to win four Premier League games on the trot, the 3-0 win over Arsenal was crucial for City and Mark Hughes. If you add in to the mix that this was only the second time they have beaten the Gunners in the history of the Premier League it really stands out as a result of great importance.
City were not great in the first half but after taking the lead just before half-time they showed their attacking qualities after a team talk from Sparky Hughes. On their day, City can beat anyone since they have attacking players of the highest order. Robinho and SWP looked electric against a laboured Arsenal side in the second half and despite Arsene Wenger's protestations they were good value for their win.
In the last few days, City have been linked with a move for Gianluigi Buffon, which should come as a surprise to many. With all their riches from Abu Dhabi, Mark Hughes needs to sign a forward of real class to finish off much of the approach play of Robinho and Wright-Phillips. Jo has claimed one Premier League goal this season and Benjani is not the long term solution.
This result proves City can live with the "Big Four," next weeks home game with Manchester United is looking very tasty.
Aston Villa
Arsenal's defeat and Villa's point against Manchester United has left Martin O'Neill's men alone in fourth place. Yet again they showed that they can live with a big team following their 2-0 win at the Emirates.
Villa showed excellent energy throughout and whilst they were hanging on at times they also had their own chances to win the game. If they can hold this form they can grab a Champions League place.
Stoke
Tony Pulis' side pulled off another massive win for their survival hopes. Stoke have won five home games this season, as many as Liverpool and Manchester United, their form at the Britannia could keep them up.
Bolton
Another impressive win for Gary Megson's side, who have the best away record in the bottom half of the table. Matty Taylor, who set up one and scored one, was an amazingly astute signing, the former Portsmouth winger always seems to impress. Add in a Johan Elmander strike of real class and such is the nature of the Premier League, that Bolton can look towards the European places for now.
Gianfranco Zola
A first win in seven games should settle things down for Zola at Upton Park, especially with games against Liverpool (a), Spurs (h), Chelsea (a) and Aston Villa (h) to come.
Harry Redknapp
'Arry Houdini has overseen four league wins at Spurs since his arrival, three of these have come against ten men. What was that about Napoleon and lucky generals?
Jose Mourinho
As always, it wasn't that pretty but Inter were marginally the better team and were well worth the win as the "Special One" grabbed a victory over Ranieri. Most importantly, with AC Milan picking up just a point, Inter are favourites for the title again.
Hoffenheim
Without exaggeration, this is the best story of the European season so far. The "village team" may be bankrolled by a wealthy benefactor but nobody expected this kind of success. Hoffenheim have signed some incredible good players for cheap (Ibisevic, Obasi, Ba) and are playing a brand of attacking football that is taking the Bundesliga by storm.
They have now won seven in eight and are three points clear at the top of the Bundesliga. With just three games until the winter break, the clash with Bayern Munich in two weeks time takes on greater importance all the time.
Osasuna
A win at last.
Bad Weekend
The "Big Four"
Could not score a goal between them.
So much of the hype around the Premier League is built up around Manchester United, Chelsea, Liverpool and Arsenal and this past Saturday proved that they are not all they are cracked up to be. Long may it continue.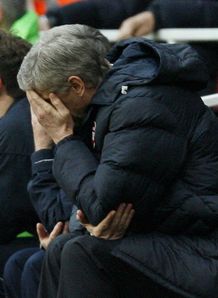 Arsene Wenger
The most damning indictment of Arsene Wenger during the past weekend was that the two candidates to be captain at Eastlands following the William Gallas outburst, were Manuel Almunia and Gael Clichy. The Spaniard is an average goalkeeper at best and the French full back is experiencing his worst run in the Arsenal team having scored an own goal last week and set up City's first on Saturday.
The "Professor" has to take an enormous amount of the blame for this defeat and the position Arsenal find themselves in. Many Arsenal fans had predicted for a long time that William Gallas was a poor captain, in retrospect it seems incredible that he was kept on after his strop at St. Andrews last season. Wenger's biggest problem may have been that he refused to acknowledge his error until it was too late.
The lack of sympathy shown towards Wenger was only heightened following the 3-0 defeat as the Frenchman failed to give City any credit citing goals in injury-time of the first-half and dodgy penalties. Quite simply, the Arsenal team put out at the City of Manchester Stadium wasn't good enough, sure the Gunners have injuries, but that is why all the big teams have large squads.
Now, every game looks tricky and there is sure to be a whole heap of pressure on Arsenal's youngsters for the game against Dynamo Kyiv and Chelsea coming up this week.
Liverpool
No Steven Gerrard and the second 0-0 home draw against a side they should be beating if they are to win the title. Yet again Rafa Benitez's side fail to show the necessary craft and guile to claim a win at Anfield and question marks must again be raised about Robbie Keane (just two goals in the Premier League against the bottom side), the lack of width and full backs who fail to cross the halfway line.
West Brom
They won't be the last team to come a cropper at the Britannia, by all accounts they did deal admirably with Stoke's direct football. Tony Mowbray's side are though struggling for goals, just 10 in 14 games is not good enough to stay up, despite all their fine approach play a cutting edge is a must in the Premier League.
Blackburn
Paul Ince's side are in freefall, they last won a Premier League game at the end of September. Now is not the time for a poor run of form and the "Guv'nor" is under pressure.
Ligue 1
Lyon lose at PSG and still have a five point lead at the top of the table. Saturday in France was also short of goals – 10 in seven games.
St. Etienne
The curse of Damien Comolli continues.
Best football betting tips & free bet offers
Click here for more Premier League betting tips
---