Good Weekend, Bad Weekend
Another weekend of immense league action has left league tables around Europe starting to take clear shape. In England, its looking like a three-horse race for the league, two playing off for fourth and almost the rest of the Premier League fighting relegation. Whilst in Spain and France there are clear leaders, Italy and Germany are also witnessing a three team battle for the Scudetto and Bundesliga respectively. Lots to chew over…
Good Weekend
Aston Villa
A massive win for Martin O'Neill's side who dominated the game and could well have won the game before the break. Villa's manager, not known for hyperbole, described his team's performance as "brilliant," and it has undoubtedly illustrated that Villa can claim fourth position in the Premier League.
If Villa do challenge for a Champions League place, and they do look like the only team who can trouble the "Big Four," then this result could go down as the turning point. Defeats to Newcastle and Middlesbrough put Villa under pressure and now that Villa are level on points with Arsenal they have to make it count.
Much will depend on next week's home game with Manchester United, if they can get something from that they have a run of winnable games before they face Arsenal again on Boxing Day, and if they are still challenging for fourth by then it might just be possible for Villa to break the stranglehold of the "Big Four."
Danny Wellbeck
Not a bad debut goal for the 17-year-old.
Nicolas Anelka
The Frenchman is in the form of his life, scoring thirteen goals this season for the Blues. With Didier Drogba not having a campaign to remember so far, Anelka is a key reason why Chelsea remain top of the league and if he can carry on scoring goals whilst big players remain out, the Blues will be in a good position come the back end of the season.
Zlatan Ibrahimovic
The Swedish striker is head and shoulders above his team mates and in a league full of great attacking talent, Ibrahimovic is the star man. He single handedly produced a crucial away win for Jose Mourinho on Saturday night with two more goals that prove what a great right foot he has.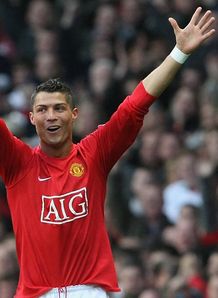 Cristiano Ronaldo
When the annals of history record who were the greatest players in world football, a key asset for every player will be their own signature move. To really be seen as a true legend, one has to bring something new to the beautiful game. For example the Cruyff turn or the Delap throw.
In all seriousness, Cristiano Ronaldo's free-kick technique has revolutionised a part of modern football. The Portuguese winger does not always need to place his free-kicks into the top corners, the swerve on the ball often deceives even the most competent of keepers. It is also fair to say that no one, as yet, has managed to copy the technique which should also be a credit to the Manchester United number seven. Who, lest we forget, scored his 100th and 101st goals for the club.
Roy Keane
Such is the nature of the Premier League that even the smallest of mini-blips can suck talented teams into the relegation zone and the doom and gloom merchants come out from the woodwork. The Mackems had lost four games on the trot and on Friday bookies stopped taking bets on Keane leaving the Stadium of Light, such were the force of rumours suggesting he was disgruntled.
Not many teams turn round a losing position at half-time to win the game and Keane should take a lot of credit for this win. Not just for whatever he said at half-time, but also because he showed attacking intent in the second-half by bringing on Andy Reid for Teemu Tainio after the equaliser.
With a strike-force of Djibril Cisse and Kenwyne Jones, Sunderland should have enough goals in them to fighting it out in mid-table this season.
Titus Bramble
He always did know how to put the ball in the Newcastle net.
Luciano Spalletti
Roma's manager looked dead and buried just a few weeks ago. Massive wins over Chelsea and now Lazio have brought the bald-pated manager back from the brink.
Barcelona
Pep Guardiola's side are now three points clear at the top of La Liga, as all their title rivals stuttered. Barcelona currently average over three goals a game and in the form theyv'e begun the season it is difficult to see them failing to win the title.
Bad Weekend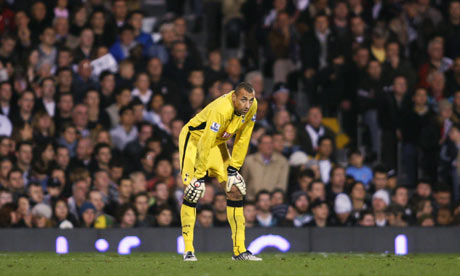 Heurelho Gomes
The Brazilian custodian has had an awful start to his Premier League career, with a number of errors that have led directly to Spurs conceding goals.
Gomes has now made simple mistakes in games against Aston Villa, Udinese, Arsenal, Liverpool in the Carling Cup and now Fulham. Of all of the previous errors, this one could have been the most costly, coming as it did just days after he had rushed from his line on two separate occasions against Liverpool.
The crazy thing about the former PSV goalie is that he makes some incredible saves. At Craven Cottage he was responsible for at least two saves from long-range shots that kept Spurs in the game. Gomes seems to prefer facing the long-range spectacular rather than the bead and butter of catching crosses.
'Arry Redknapp has vowed to stick with Gomes, although his comments on his keeper seem to indicate that he has nobody else rather than real faith in the Brazilian. After four successful seasons with PSV, Gomes came with a glowing reputation, the next two months will be make or break as we can expect Redknapp to wheel and deal come the January transfer window.
Arsene Wenger
If anything, the previous week, whilst showcasing the immense amount of young talent built up by Arsene Wenger at Arsenal, has made the Frenchman even more responsible for the club's current position.
It has almost become boring to argue that last summer Wenger should have purchased a ball-winning defensive midfielder to replace Flamini, preferably someone of the quality of Emmanuel Petit or Patrick Vieira and a centre back in the mould of a Tony Adams, Martin Keown or Sol Campbell.
The fact the "Professor" has at his disposal some of the most exciting talent discovered in English football since the Scholes/Beckham/Giggs generation at United is almost irrelevant if it is not backed up by players who can lead as well as do the "dirty work."
The defeat to Villa could well have been Arsenal's worst ever performance at the Emirates and their home form this season has not been great. Going by the Gunners form this campaign, a run in the Champions League is much more likely than challenging for the title. At least now they know they have a battle on their hands for fourth place – in what should be another intriguing sub plot this campaign.
Newcastle
Such is the situation at the bottom of the league, that if the Toon would have secured a 2-1 win they would now be sitting in 11th place. As it is, we can expect Joe Kinnear's side to drop back into the bottom three next Sunday following their defeat to Chelsea at Stamford Bridge.
West Ham
Does anybody else think the Hammers are in major trouble?
The 0-0 home draw with Portsmouth means West Ham have picked up two points since the end of September. Their next four games at Sunderland, Liverpool, home to Spurs and away at Chelsea don't look very winnable at the moment either.
Gianfranco Zola seems unsure of his tactics, the 4-3-3 formation does not seem to be paying dividends, although perhaps it would have if Dean Ashton had stayed fit. Coupled with all the off-field problems, West Ham look the most vulnerable of the non-promoted teams near the bottom of the table.
Real Madrid
Without Ruud van Nistelrooy for the rest of the season, Madrid look a little short up front. The sale of Robinho and the unsuccessful pursuit of Ronaldo has left Los Blancos weak in attacking areas without the "galactico" talent that has become synonymous with the club.
Without the firepower, Madrid will find it hard to reclaim La Liga from a Pep Guardiola revitalised Barca.
Bayern Munich
Letting in two goals late on to Monchengladbach to throw away a win wasn't a result of Nou Camp 1999 proportions, but it was a mini setback after a recent upsurge in form. Leverkusen and Hoffenheim appear to be worthy title rivals.
Osasuna
Played 11. Drawn: 5Â . Lost: 6. Won: 0.
Best football betting tips & free bet offers
Click here for more Premier League betting tips
---