Good Weekend, Bad Weekend
Whilst the match at the Emirates was a joy to behold, there were some crucial games in England which suggested a number of teams (West Ham and Sunderland for example) are in freefall.
There were also some incredible performances in Europe, in particular Higuain and Samuel Eto'o produced individual heroics…
Good Weekend
Arsenal & Arsene Wenger
What a difference 90 minutes make in football. In the lead up to the clash with Manchester United, the pundits were all singing from the same hymn sheet. Arsene Wenger had lost the plot and the Gunners would struggle to challenge even for a Champions League place this season.
Just to back up the above point it is worth noting some of the criticism that came the way of the "professor" last week. Steven Howard in The Sun called it the "madness of King Arsene" and Sam Wallace in the Independent claimed "his faith in this young team is starting to look like a wacky cult."
Of course, this one result does not mean the Gunners will win the title, the defeats to Fulham, Hull and Stoke were very damaging and there is still some very hard league games to come in November (Aston Villa, Manchester City and Chelsea).
But, this young Arsenal team showed that there is class running through the side and that they may have learnt from the damaging draw with Spurs, as after the Rafael goal, they didn't allow United another chance on goal.
Praise must of course go to Wenger, the team is undoubtedly improving and there is enough class in the attacking positions which means they can beat anybody. In particular, Wenger made another astute signing in Samir Nasri who has now scored five goals this season – a total we can safely say Alexander Hleb would likely not have achieved all season.
Yet again, those who have written off Arsenal and Arsene Wenger have proved to be foolish. But, their title challenge must start now.
Higuain & Samuel Eto'o
An incredible Saturday night in La Liga saw two players bag four goals. First Eto'o, the Cameroonian was informed he could leave Barcelona in the summer, in his typically stubborn style, the former Mallorca striker stayed and is the top goalscorer in Spain's top division with 13 goals so far.
Coming in second in the table is Higuain who is almost single-handedly keeping Real Madrid in touch with the top of the table. Whilst Barca are hitting tons of goals past bewildered opponents, Bernd Schuster's side are scraping past some average opposition. In the absence of Ruud van Nistelrooy and Raul on Saturday night, the former River Plate striker was sensational, scoring no less than three equalisers.
How long till Diego Maradona calls up Gonzalo Higuain to the Argentina national side?
Darren Bent
For Spurs fans, watching Bent after Dimitar Berbatov is like eating sardines having been gorged on caviar. Nevertheless, the 24-year-old now has five in four days and he is justifying his ridiculous transfer fee.
Everton
It is no coincidence that the Toffees have won their last three games late on. Clearly David Moyes has one of the fittest teams in the division and they are reaping the rewards.
Gary Megson
Bolton's win at Hull didn't quite get the headlines it deserved, but this was a big result for Gary Megson and his team. Jussi Jasskelainen has rightly taken the plaudits for an excellent performance and the Trotters have now recorded two crucial wins on the spin. Gary Megson was booed in the defeats to Spurs and Everton, Megson has done well to turn it round.
Gareth Southgate
The former Aston Villa defender returned to his old club and produced a terrific result. Boro passed the ball well and could well have scored the second a long time before they did. Southgate should also be praised for the astute signing of two-goal hero Tuncay – on a free.
Alessandro Del Piero
Another brilliant free-kick from the 34-year-old, to cap an incredible week. One of the true greats.
Robbie Keane
Two fine left-footed finishes got the Irishman off the mark for Liverpool in the Premier League. If he can keep scoring, Liverpool have a chance of the title.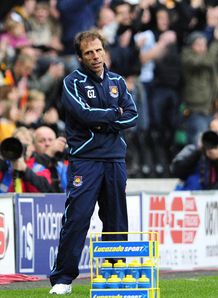 Bad Weekend
West Ham
It is a close league and this is not the time to be in freefall. It is difficult to know where to begin with the Hammers. The Icelandic owners are desperate to sell and whilst the Carlos Tevez affair rumbles on, it will undoubtedly cost a whole lot to settle. January is likely to see a clear out just when Gianfranco Zola will be looking to strengthen.
Now to the problems on the pitch. Zola started with two league wins (against Newcastle and Fulham) this has been followed by a run of five defeats in six. The way the Hammers capitulated in the final minutes against Everton was a real warning sign of a team who could be in trouble come May.
Dean Ashton can't come back quick enough and the early injury to Matthew Upson will be a concern. The next two games against Portsmouth and Sunderland are looking crucial before a trip to Anfield.
Aston Villa (Nicky Shorey & Steve Sidwell)
A home match to gain a place in the top four against Middlesbrough should be a formality if you have ambitions of grabbing a Champions League position. Both goals were gifts and with Arsenal winning, it looks like it will be a step too far for Martin O'Neill's side.
Sunderland
Since beating bitter rivals Newcastle, Sunderland have lost all three games. With the bottom of the league so tight, this is not the time for a poor run of form. Two games with Blackburn this week will tell us a lot about Roy Keane's side.
Mark Hughes & Richard Dunne
A number of clubs have taken the mantle of "crisis club" so far this season – including Newcastle, Spurs and most recently Arsenal. Now it could be City's turn. The new owners want Manchester City to be the biggest club in world football – they are going to have to be patient.
If the current run continues and Middle Eastlands hosts a relegation battle will the Abu Dhabi United group be so patient?
Chief among Hughes' problems is the form of Richard Dunne. The big Irishman has been sensational in recent seasons but is turning into a liability. Two recent own goals against Newcastle and Bolton were bad enough, but yesterday Dunne produced a horror show. Gifting Darren Bent his first goal and then getting sent off for fouling the same player.
With all the riches now at City, Dunne must fear for his position at the club. Money doesn't always buy happiness.
Afonso Alves
What a miss!
St. Etienne
The guillotine is hanging over coach Laurent Roussey's head, as the 10-time French champions fell to their fifth straight league defeat in Ligue 1 leaving Les Verts teetering on the brink.
Having been given just two games to turn round the fortunes of the club, Roussey was obviously feeling the pressure on Saturday night. Needing to change the focus and take some of the weight off his shoulders the club appeared to scurry looking for a white knight to help salvage the situation. And who did they decide on? Damien Comolli.
Ligue 2 beckons. Fast.
---
GAMBLING CAN BE ADDICTIVE, PLEASE PLAY RESPONSIBLY