GIF: Georgios Samaras dived to win Celtic a penalty but no-one cares as the Scots go through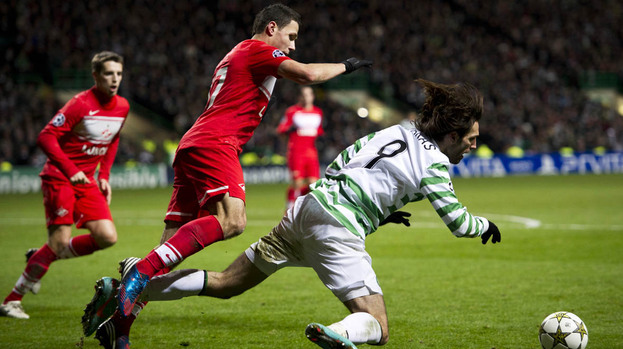 Pooping on Celtic's parade this Thursday feels a tad harsh after the Scots miraculously progessed to the knockout phase of the Champions League, however the Super Hoops' victory against Spartak Moscow was achieved by cheating tactics.
Celtic needed to better Benfica's result at Barcelona to leapfrog the Portuguese giants out of the group, and the Parkhead faithful watched their dreams come true as Kris Commons slammed home a match-winning penalty in the 81st minute against the Russians.
Celtic's penalty, though, should arguably never have been awarded after Georgios Samaras used underhanded means to con the match officials.
Samaras, looking to sidestep Spartak defender Marek Suchy in the visitors area, used his nous to tumble to the floor despite limited contact between the pair. The Greek definitely dived as the forward pretended him he had his foot clipped out from underneath him, and the referee was duly duped into awarding a penalty.
But has Samaras been roundly hung-dried-and-quartered for his dirty dive? Has it heck!
Barely a squeak has been mentioned over the Greek's cheating tactics in the media this Thursday, as the story of Celtic's underdog triumph is the only thing people want to talk about. Except on Twitter, obviously.
The GIF of Samaras' dive can be seen below, while below the fold are a series of tweets calling out the Greek for his bad behaviour.
Good dive by Samaras for that Celtic penalty but the football world won't care because it's a 'nice story' that Celtic may go through

— Doron Salomon (@DoronSalomon) December 5, 2012
I'm hearing Celtic are only through by virtue of a Samaras dive. Where's the Eduardo style witchunt? I'm waiting #Celtic #Cheats

— William(@GGooner) December 6, 2012
Still waiting for the massive media storm to engulf Samaras for penalty dive to get Celtic through. Only fair after all the Eduardo nonsense

— Pascal Zidane (@PascalZidane) December 6, 2012
Who'd have thought it. Not a mention on @sportsbreakfast of Samaras' dive to win Celtic their penalty. Doesn't fit their agenda. #Eduardo

— m shepherd (@marcsenal) December 6, 2012
---